Faye Wong is all woman
Among the female Mando-pop stars, there's a fairly clear division between the girls and the women, and it's not simply an issue of age.
In the girl camp, Jolin Tsai (蔡依林) epitomizes the lasting appeal of the girl next door, with the barely concealed, budding sexuality that she flaunted at a concert last weekend in Taipei.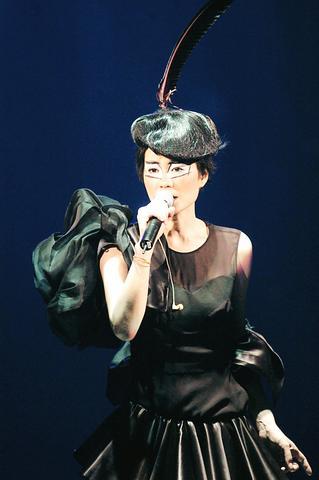 As Mando-pop's enduring diva, Faye Wang is certain to put on a lavish show tomorrow in Taipei.
PHOTO COURTESY OF SILVER FISH
Meanwhile, on the women's side, Faye Wong (王菲) reigns supreme for her grace and captivating unattainability, a type of regal aloofness nurtured over 15 years as a vaguely mysterious superstar whose audiences with the public are carefully staggered and always preceded by much fanfare and excitement. Her concert tomorrow at Taipei's Municipal Stadium is no exception.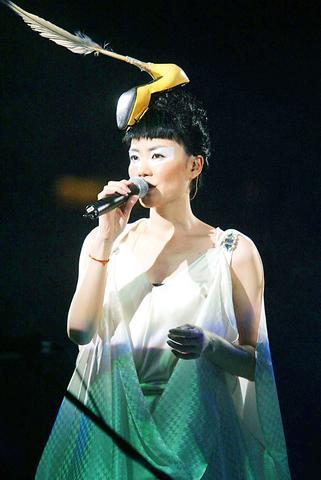 PHOTO COURTESY OF SILVER FISH
As of press time, the only tickets remaining are for the "rock and roll" section of the stadium, which is the standing area on the field starting from about 50m from the stage. These are going for NT$1,500 a piece, but before anyone chokes on their tea, those are the medium-priced tickets. All the prime tickets in the NT$3,000 to NT$2,500 range were sold out weeks ago, along with the NT$800 and NT$1,000 tickets. The sales so far ensure a crowd of about 40,000.
Wong generates such massive following by being, first and foremost, one of the most gifted singers in Mando-pop, a talent handed down, she says, by her mother who was a revolutionary opera singer in China. It no doubt also helped that she inherited a 175cm frame and a model's good looks.
Her first album was her self-titled debut when she performed under the name Shirley Wong, released in 1989, less than two years after migrating from her native Beijing to Hong Kong's greener pastures. Since then, she's transformed herself multiple times, first ditching her original stage name in favor of her current one after taking a break in the US between 1991 and 1992, and later taking the path of most Hong Kong pop stars to experiment with movie roles, notably in Wang Kar Wai's (王家衛) Chunking Express (重慶森林) and most recently 2046.
Wong also had a brief fascination for the ethereal music of the Cocteau Twins in the mid-1990s, which manifested itself in three covers of the Scottish band's songs on Wondering Music (胡思亂想, 1994) and collaborations with the band on Impatience (浮躁, 1996), and Faye Wong (快樂不快樂, 1997). The collaborations seemed tailor-made, as Wong shares the same distant-sounding, high-pitched siren voice of the Cocteau Twins' Elizabeth Fraser, and the gauzy aesthetic of the Twins' album covers even made its way onto Wong's album cover art.
The overwhelming Cocteau Twins influence began to wane, though, with the release of Sing and Play (唱游, 1998) and Only Love Strangers (只愛陌生人, 1999), when Wong set off in a more blatantly pop direction. She still retained some of the edge that continued her flirtation with anti-pop status, but the sound became more accessible, and, dare one say it, KTV-friendly. Her most recent album, To Love (將愛, 2003), is a mosh of her two recent artistic tendencies: saccharine pop and daring avant-garde.
By juggling these two styles, Wong's status has only risen over the years. So much so that, even without releasing any new material, she can drop into town and pack a stadium, as she's sure to do tomorrow.
Performance notes:
What: No Faye, No Live
When: Tomorrow, 7pm
Where: Taipei Municipal Stadium, 46 Bade Rd, Sec 1, Taipei (台北市八德路1段46號)
Tickets: Available at door or through Era ticketing at www.ticket.com.tw. Only tickets for NT$1,500 remain.
Comments will be moderated. Keep comments relevant to the article. Remarks containing abusive and obscene language, personal attacks of any kind or promotion will be removed and the user banned. Final decision will be at the discretion of the Taipei Times.