Arts get regional in Fangliao
The southern artist residency program offers a break for artists and the public from stuffy `high' art
The arts in Taiwan have coexisted along parallel streams, often without mutual contact. At the highest, Government-funded arts cater to the elite avant-garde who glorify university fine art departments and national or municipal museums. \nEvery two years in Venice, some of these Taiwanese artists meet other avant-gardists (again), exchange the latest ideas and then bring them back to their respective lands. Such contacts make the world a smaller place as images and concepts spread -- sometimes like a virus -- affecting Venice art participants and their associates at home yearning to "modernize." Their videos or installations, however, usually remain unknown to Taiwan's population at large. \nAt the lowest end are the traditional "backwater" manifestations at temples and temple-markets that still exude strong regional flavors, tastes and images encountered nowhere else on earth. \nIn between fall high school art classes and workshops teaching people to sketch from Western plaster busts, and the vast majority of Taiwan's modern public who are too urbanized to recognize local traditions, or too lacking in art education to be interested in experiencing "modern art." \nIn recent years, however, there has been a healthy development in Taiwan bringing arts to people by way of artists colonies. The government has been funding imaginative reclamation projects where abandoned sugar factories in their park-like environs are transformed into open-air theaters, art galleries, warehouse-sized show-cases, conference sites and individual artists' housing complexes. \nIn Taiwan's southernmost Pingdong County is the little fishing village of Fangliao. Its waterways are crammed with fishing boats and nets, and its restaurants resplendent with fish and seafood freshly caught. Fangliao is celebrated for bell-shaped "Black Pearl" bell-fruit of glowing dark crimson skin, and tiny whitebait called Burahi. \nNow we can say that Fangliao is celebrated also for its admirable Fangliao Artists' Village (枋寮藝術村), still in process of being elegantly transformed. \nMy visit was upon a gray day, but the sea was a bright green. Not far from the beach is the Artists' Village set along a lane with row-houses built of local dark brick. Many of these abandoned dormitories are renovated -- while keeping the original facade. Young artists and architects are invited to live and work there on an annual contract basis in the 20 two-story brick houses that function as residences. \nLast year there were several avant-garde installation artists. Today there are 18 resident artists, all from Taiwan, including a woodcut printmaker, a stone sculptor, a wood sculptor, a paper sculptor, a leather carver, several oil painters, a traditional ink painter, a mosaic artist, an interior decorator, a puppet-maker and puppeteer, and a the piano and drums percussion musician. \nThe portly, humorous Huang Mingdao (黃明道) has been a resident artist in many regions of Taiwan, where he learns the local lore of each location and creates puppets to enact them, spreading them island-wide. \nHuang's puppets are made of recycled bottles brightly painted. He writes the plays and goes to different districts to teach school children to make puppets, manipulate them and act out ancient local myths. \nSculptor Huang Jingyung (黃敬永), too, exemplifies the creative self-taught artist who appeals to most Taiwanese people with his passion for peace and love, ("Peace and Love" is the title of his coming show between July 3 and July 27 at Guandi Salon in Taipei). He carves and polishes stone with designs that depict lotus flowers, or mothers with babies in arm, or childhood innocence in a piece called Hope. Even his paving stone dances with flying fish. These are but two of the 18 Fangliao artists, and a drive to Fangliao any day should bring many unexpected delights.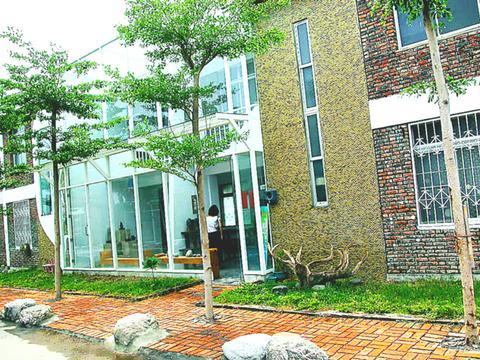 Fangliao, Pingtung County, has a buzzing artist community.
PHOTO COURTESY OF FANGLIAO ARTISTS' VILLAGE
Comments will be moderated. Keep comments relevant to the article. Remarks containing abusive and obscene language, personal attacks of any kind or promotion will be removed and the user banned. Final decision will be at the discretion of the Taipei Times.