Gordon Liu kicks butt again - thanks to Tarantino
The kung fu master was in Taipei this week to promote 'Kill Bill II' and talked to "Taipei Times" reporter Yu Sen-lun about the experience of working on the two films, revealing stories of how he made Uma Thurman suffer, and more
Gordon Liu (劉家輝) is not just the only Chinese actor playing in both volumes of Kill Bill, he also enjoys the privilege of playing two different roles in the movies. Both Kill Bill films exemplify director Tarantino's personal obsession with Japanese manga as well as 1970s Hong Kong kung fu movies. So he lets Liu play Johnny Mo, the head of the "Crazy 88" Japanese assassin gang in the first movie; and then Pai Mei (白眉), the white-eyebrowed master who teaches Uma Thurman deadly Shaolin-style kung-fu.
Taipei Times: How did Quentin Tarantino talk to you into making the movies?
Liu: When I was told about Quentin's interest in working with me, I told his producer "tell him that I don't know him." When we met in Shanghai, I wore a Chinese suit in order to be formal. I did not expect him to appear in a Chinese suit also! And the first word he greeted me with was shi-fu! (師父, master). Then he began talking about his collections of my movies. He really has researched a lot about Chinese martial arts.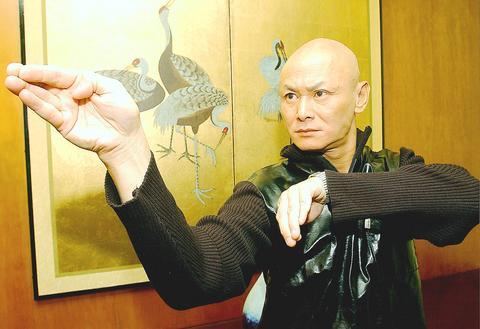 Gordon Liu show off his moves while visiting Taipei, this week. Liu starred in both volumes of Quentin Tarantino's Kill Bill movies.
PHOTO: TAIPEI TIMES
TT: Why are there two roles? Was it yours or Tarantino's idea to have Pai Mei fondling his beard a lot?
Liu: Originally, my role was just Johnny Mo and Quentin wanted to play Pai Mei himself because he is so obsessed with such a vintage character. But when he was in make-up and asked my opinion, I told him, "You look like a Santa Claus, not a martial-arts master." He didn't play the role, instead he did Pai Mei's voice for the US and European version of the movie. It was my idea to make the comic gesture of Pai Mei stroking his beard. It was a different character compared with Johnny Mo. Being Mo the emphasis was on the actions and your expression had to be fierce. But Pai Mei is a role with more humor, he is a softer character (though he is strict with Uma Thurman's character), so the gesture was natural for me.
TT: What was it like to act in the fighting scenes with Uma Thurman?
Liu: If I were her, I would not have taken the two movies. She was punched a lot and slammed against the ground so many times in the movie. During the shooting, in Beijing, she had just given birth to a baby. For me, I've practiced martial arts for decades. But she was trained only for a few months and flew all the way to Beijing to shoot the fighting scenes. Actually, in the beginning, she only fought me in the air, maybe out of respect, until I said to her "Come on, hit me!" After that she had a killer's eyes when she fought with me.
TT: Was that real kung fu in the movie? The Eagle Foot style (鷹爪功) or the Tiger-Crane style (虎鶴雙形拳)?
Liu: Of course. The scene when Thurman and I are practicing kung fu together in a cartoon format was the real Tiger-Crane style. It is one of the most famous kung fu styles of my martial arts clan, the Hung Gar style kung fu (洪拳). Quentin is such a fan of the Tiger-Crane style and he wanted me to display it once again on the big screen. As for the Eagle-Feet style, this was a style that contrasted well with the Tiger-Crane style. Actually both these two styles do not belong to Shaolin, or the legendary Pai Mei in history books. Quentin just did mix-and-match for the fun of it.
TT: Being a martial artist, a stuntman and an action actor for decades, how different is real kung fu from what we see in the movies?
Liu: For me, in a movie, you need not just the real kung fu to make believe, but you also have to be able to deliver the plot through the actions. That is the hard part. For a movie you have to express physical beauty in the fighting choreography, and also in your facial expressions. You have to fit in with the atmosphere and take on the personality of a role in relation to an opponent. I remember the most difficult scene in Kill Bill was a fight with Uma Thurman standing on the verge of a banister. I have to make several spins in attacking, while at the same time making my gestures beautiful and convey a killer's spirit toward Thurman. At the same time I had to be careful not to fall from the two-story building!
TT: How did it feel to work in a Hollywood movie?
Liu: It was luxurious, very comfortable. The division of labor is very clear and well-organized. You take enough breaks after a working day. It was much less hectic than in Hong Kong. I'm very honored, as a Chinese actor, to have played a role in both movies and I have to be thankful to Quentin, who has brought my clan's martial arts to the world.
TT: Have you been practicing kung-fu regularly, outside of the movies?
Liu: Yes, every day. I practice kung fu for my health. I can do without making movies but not without kung fu.
TT: What is your next project?
Liu: I am doing a martial-arts TV drama, about my great grand master Wong Fei-hong (黃飛鴻), and another period drama after that. Both will be shot in China.
Publication Notes
Actor profile: Gordon Liu
* Originally named Louis Sin, (烍杞熙) * Born in Guandong in 1955 *Has practiced martial arts since he was 10 years old, with his brother Hong Kong martial arts champion Liu Chia-jung (劉家榮) *Excels in the Hung Gar style of martial arts, of which the master was Wong Fei-hong at the turn of the 20th century * Movies: Challenge of the Masters (1976), The 36th Chamber of Shaolin (1978) and The 18 Legendary Weapons of China (1981)
Comments will be moderated. Keep comments relevant to the article. Remarks containing abusive and obscene language, personal attacks of any kind or promotion will be removed and the user banned. Final decision will be at the discretion of the Taipei Times.