Teh Vinly Word: TeXound bows to police pressure
Taiwan's longest-running dance club, the legendary TeXound has been hassled into submission and is bowing to police pressure with a final party tomorrow night, after which it will say adieu and close down for good.
The sound system that became the notorious underground club TeXound on the intersection of Jianguo South Road and Nanjing East Road and then morphed into the predominantly gay club across the road on Nanjing East Road, will be no more after tomorrow night's "Adieu, I Love TeXound."
"TeXoundians" may mourn and Taipei will lose its only licensed non-commercial electronic music club, but constant raids by the police have taken their toll and even full-on clubbers have become bored and scared off by ID checks, the threat of urine testing and being told to get face down on the floor for 30 minutes at a time.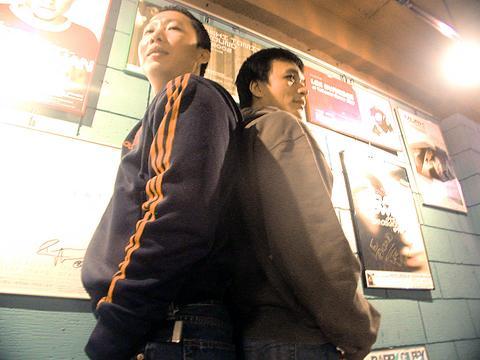 DJs Jimmy Chen and Tiger from TeXound go back-to-back for the legendary nightclub's final night.
PHOTO: JULES QUARTLY, TAIPEI TIMES
"TeXound is closing down because of the police problem. They come every single Friday and Saturday and it just makes the business really bad," said Jimmy Chen, a DJ and promoter from the club. "If I was a customer and I came twice and the same thing happened [a police raid], then I wouldn't come either."
"Taiwan's clubs always last for a short time, there's always an end. It's just like a relationship. I'm still going to be DJing and doing promotions, but not for TeXound. TeXound will be no more," Chen said.
Fellow DJ and TeXound founder Tiger agreed and said five years and four months was long enough for a club to do business and it was time to move on.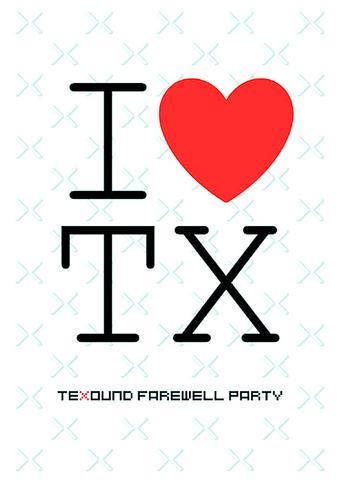 TeXound's farewell flyer.
PHOTO: JULES QUARTLY, TAIPEI TIMES
"For me, I guess the best times were in 1999 and 2000, it was really underground and more mixed and there was plenty going on. It was exciting. Now I just want to rest for a while."
The 36-year-old has been DJing for 18 years and before starting TeXound was a resident at Kiss and at a gangster's dive called Queens, which wasn't gay at all.
"That was a mad place," Tiger said. "Sometimes when we went there it was crazy with fighting. One time, two gangs were facing off and the bottles were flying through the air as we played."
TeXound on Jianguo was known for pulling in the more raffish elements of society and also had a reputation for being connected with organized crime itself.
That didn't prevent TeXound becoming ever more popular, however, which was the reason it moved across the road to bigger premises.
Partly because of Chen and DJ Victor -- who are gay, proud of it and attract a large following to any club they play at -- TeXound became known as a late-night spot for taking your shirt off, sweating with hundreds of other men and passing out from male hormone overload.
The club was also connected with drugs. The high-profile arrests of Anya (安雅) and Hong Kong's William So (蘇永康) for being under the influence of ecstacy led to an outcry which closed the club down temporarily in 2002.
It opened again, fittingly enough, on Valentine's Day last year, but police action intensified, despite pulling in big-name DJs from abroad such as Richie Hawton, Satoshi Tomiie, Tom Stephan, Paulo Mojo and Lee Burridge.
Though TeXound was licensed -- "We paid a lot of money, to the authorities, the police, everyone," Chen said -- it could not avoid media opprobrium and police action.
The fact is, the city council and police had no power to close the club or suspend its water and electricity supplies, even though it was proven ecstasy was taken on the premises. But constant harassment by the police wore down the punters.
Tiger said he had plans for a new place that would feature progressive, tribal and tech house, and which would be more mixed, but still underground. He said TeXonians should keep their "Adieu, I love TeXound" flyers as holders would be given a "special surprise" in about three months.
In the meantime, for the last time, and head-to-head, it will be TeXound's top DJs: Main room 11pm to 1am Taco and Floyed go temple-to-temple, Gravity and Eric Huang from 1am to 3am, Victor Cheng and Jimmy Chen from 3am to 5am, Stone and Tiger duel it out 5am to 7am, and Joe and Teddy Dong battle to the end from 7am to 9am. In the X-Bar: Floyed, Teddy Dong and Eric Huang.
Publication Notes
For your information:
Admission is a bargain basement NT$400 before 12 and NT$600 afterwards, with advance tickets NT$400. At B1, 217 Nanjing E Rd, Sec 3 Taipei (台北市南京東路三段217號地下1樓)(02)2546 7708
Comments will be moderated. Keep comments relevant to the article. Remarks containing abusive and obscene language, personal attacks of any kind or promotion will be removed and the user banned. Final decision will be at the discretion of the Taipei Times.