Hitting the hot springs and avoiding the hot spots
SARS has affected everyone, including the hot spring business, which is offering discounts to lure back customers
As SARS continues to upset the routines of everyday life and people stay at home rather than risk going out, many businesses are suffering from the effects of the pernicious disease.
Dimmed by the market slowdown, a number of local companies are now coming up with all kinds of bright ideas in the hope of offsetting their losses.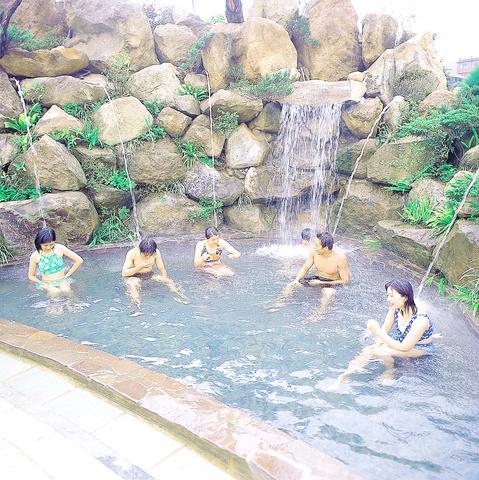 Bathers take a spring spa at Tien Lai Spring Resort on Yangmingshan.
PHOTO COURTESY OF TIEN LAI SPRING RESORT
The familiar practice of low pricing has been effective in bringing back some customers, but hot spring resorts have gone a step further with their claims that a soak in a hot spring pool is so good for you it can boost the immune system and help defend the body against SARS.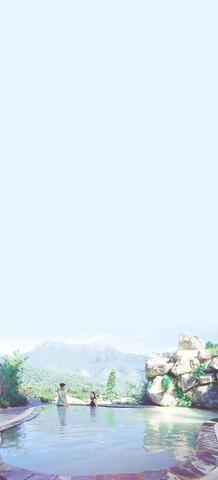 Two women relax and enjoy the scenery at the same resort.
PHOTO COURTESY OF TIEN LAI SPRING RESORT
Lucy Lee (李萬茹), one of the public relation supervisors at the Tien Lai spring resort (天籟溫泉會館) on Yangmingshan(陽明山), said the hotel occupancy rate was "generally low" at present because of the fear of SARS, which has kept people from congregating in public entertainment or leisure areas. As a result, she said, this month hotels have been quick to take a deep cut -- as much as two thirds -- on their normal room rates to lure back customers and are offering free hot spring bathing services until the end of June. The big discount package, Lee said, has been selling particularly well, as hot spring lovers have been eager to return to the pool.
A different tack has been taken by two resorts on Yangmingshan, at Peitou (北投) and Kinshan (金山). They are trying to attract the general public by promoting the idea that one of the most effective ways of beating SARS is to take a healthy hot spring, away from the disease's hot spots in the city and enjoy gourmet food at a scenic hideaway.
As a result of these promotional efforts, or perhaps because they are ready to get back to normal life, people in Taipei have responded to the calls of the hot spring owners, as the large number of visitors to resort hotels on Yangminshan last weekend showed.
The hot springs in these areas mostly originate from the Tatun mountain range (大屯山脈), which give rise to the highest density of fountain heads of any area in the country. Yangmingshan and Peitou alone have about 10 fountain heads, with a total of around 130 on the island, or underneath the ocean in its territorial waters. Two of the best known ocean hot springs are in Kinshan and Green Island.
Bathing in hot springs is a favorite leisure activity of many Taiwanese that was picked up from the Japanese during the 50-year colonial-rule period beginning in 1895. In Japan the merits of taking a daily dip in the hot spring have been preached like a gospel since the eighth century.
The story goes that Taiwan first acquired the habit when a Japanese businessman from Osaka, named Hirada Gengo (平田源吾), set up the first hot spring travel lodge in Taipei, called "Tiangouan" (天狗庵) in 1896. The Peitou Hot Spring Museum (北投溫泉博物館) -- a large Victorian-era British country club-style house built in 1913 by the Japanese and renovated in 1998 -- records in its history book that, "The lodge heralded the establishment of the numerous hot spring lodges in Peitou that were to come."
In addition to Peitou and Yangmingshan, Guanziling (關仔嶺)in Tainan County (台南縣) and Sichongxi (四重溪) in Pingtung County (屏東縣) are known as the four main hot spring areas in Taiwan.
The hot spring waters in Peitou belong to the acid sulfur type, which are quite different from the nearby springs in Yangmingshan, which contain a weak alkali type of water. In Guanziling, however, the spring water carries alkali and salt, whereas in Sichongxi the water is distinguished by its weak alkali and carbonic acid content.
Hot spring resorts have also developed in Wulai (烏來), Taipei County, Chiaohsi (礁溪) in Yilan County (宜蘭縣), Lushan (廬山) and Tungpu (東埔) in Nantou County (南投縣), Kukuan (谷關) in Taichung County (台中縣) and Chihpen (知本) in Taitung County(台東縣). They all have their attractions and are popular with locals, Japanese and other tourists.
All hot spring resorts claim their spring waters have extraordinary healing effects, such as improving skin tone, increasing circulation and digestion, as well as other functions of the body. Also, many scientists have confirmed the beneficial effects of bathing in hot springs.
One thing is certain, however, and that is, when a person relaxes in a hot spring pool, natural or suffused with fragrance, the comfort naturally brings forth a refreshing effect, spiritual and physical, against which little else can compete.
Comments will be moderated. Keep comments relevant to the article. Remarks containing abusive and obscene language, personal attacks of any kind or promotion will be removed and the user banned. Final decision will be at the discretion of the Taipei Times.