Archigram: looking back at yesterday's future
Before there was the World Wide Web, a British architectural movement envisaged urban mobility as inflatable houses and cities with legs
Nowadays business deals have architects. Government policies have architects. There are even architects of sports victories. But architecture hasn't always permeated social consciousness, nor language.
An exhibition that opened yesterday at the Taipei Fine Arts Museum (TFAM), Archigram: Experimental Architecture 1961-1974, looks back to a major British movement that opened up architecture in these new ways and also helped define a 1960s futuristic aesthetic applied by others to Bond villains' headquarters, Monty Python's psychedelic animation and the Beatles' Yellow Submarine.
Archigram was founded as a magazine in 1961 by six London architects and then went on to spawn a movement. The magazine's pages were filled with manifestos, collaged space comics and fantastical drawings of an untold number of architectural projects, not one of which was ever built. It was a mod revolution that wanted to subvert stodgy urban landscapes with "gasket homes," "seaside bubbles," "underwater cities" and even an oil platform to be placed above Trafalgar Square.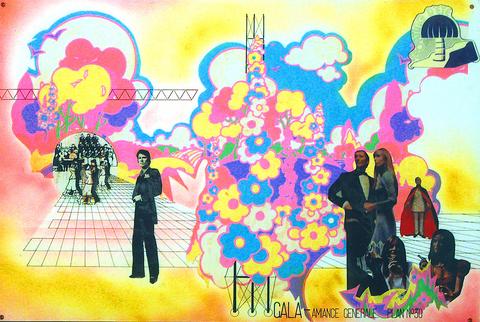 Monte Carlo Entertainment Center by Peter Cook, Dennis Crompton and Ron Heron.
PHOTO COURTESY OF TFAM
"We were designing non-houses, non-cities, non-building, non-places," said Peter Cook, one of Archigram's four surviving members and one of three in Taipei for the show's opening.
The designs were "anti-projects," and by the late 1960s they were part of the aesthetic and ideology of the "anti-establishment" movement. As architecture, the designs were, by and large, so imaginative that they were unbuildable. But they were imbued with a desire to dissolve cities, their existing hierarchies and their concrete exoskeletons. The term "archigram" was created by combining "architecture" with "telegram" and implied mobility, the lack of which they saw as an urban flaw to be rectified. So they invented "walking cities" that had legs and could move, "plug-in cities" that were interchangeable and "expendable place pads" as temporary, ad hoc homes. Drawings often called on materials that were inflatable, collapsible and not there when not needed. It was a vision of a society in flux.
In TFAM's galleries, these ideas are displayed in the form of more than 300 drawings, 14 architectural models and two extensive installations. Cook called it the second largest exhibition they've ever held in more than a decade of touring with their collection. One installation recreates a never-built 1969 design that fills a gallery with a Teletubby-like setting of astroturf, plastic flowers and inflatable dome homes. The second is a barrage of projected images, including a dozen slide projectors, video projectors and four television monitors.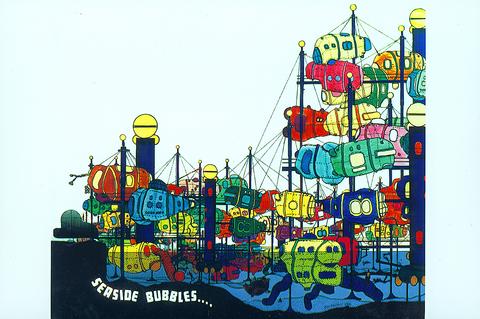 Design for a seaside entertainment building by David Greene.
PHOTO COURTESY OF TFAM
Much as American pop art is credited with bridging the gap between art and media, Archigram is credited with recognizing the confluence of architecture and advertising. (Imagine, for example, New York's Times Square or the Taipei Main Station MRT complex without ads ? it's virtually impossible because the ads are so central to what they are.)
Archigram member Michael Webb, also in Taipei for the opening, said that one of the things they realized was that "the labelling no longer applies," because in a dynamic environment, spaces can be used for anything. Advertisers discovered this long ago. As an example, Webb brought up the example of a New York commuter, a lawyer, who in a New York Times article claimed to actually enjoy the hours of traffic jams on his weekend commute because by employing a cell phone and a laptop computer sitting next to him in the passenger seat, it was the only time he could work without interruption.
"So you have this fellow doing all his work in an SUV, and still they build these office buildings everywhere. It doesn't work anymore, and it's still happening," said Webb.
"That's why we think the spirit of Archigram is still very much alive."
Archigram is on display through June 8 at the Taipei Fine Arts Museum (台北市立美術館) located at 181, Sec. 3, Chungshan N. Rd. (北市中山北路三段181號). Hours are 9:30am to 5:30pm Tuesday to Sunday.
Comments will be moderated. Keep comments relevant to the article. Remarks containing abusive and obscene language, personal attacks of any kind or promotion will be removed and the user banned. Final decision will be at the discretion of the Taipei Times.