Looking at `Jin Ping Mei' in light of Taiwan's sexual revolution
Local scholar Naifei Ding examines old interpretations of the ancient classic that was banned in China and offers a radical new one of her own
This book is in essence a feminist look at the Chinese erotic classic Jin Ping Mei, penned by a professor at Taiwan's National Central University.
Jin Ping Mei was for long considered a pornographic work. Paul Theroux read it on the rail journey through China he described in Riding the Iron Rooster (1988). There he commented, "I went on reading Jin Ping Mei, marveling at its blend of manners, delicacy and smut. What a shame it was still banned in China after five centuries. Truly, if the Chinese were allowed to read it, I felt, they would discover a great deal about themselves."
Professor Ding's book is in fact mostly concerned with how the book has been read, and not read, over the centuries. She examines, with great erudition and not a little eloquence, how it began life as an elegant article much appreciated among the sophisticated literary classes, went on to become a printed work with a much wider readership, acquired prefaces and editorial glosses that turned it into a work warning of the dangers of lascivious women, and was finally banned as likely to undermine public morals.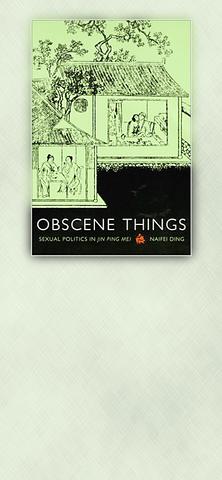 Obscene Things By Naifei Ding 344 pages Duke University Press
Three different approaches, or "readings", can therefore be discerned. First it was seen as stylish and amusing, then it was construed as a moral tract, and finally it was condemned an immoral work and a threat to public decency.
Professor Ding goes into all these readings in depth. But the most unusual part of her book comes at the end. There she asks what the approach might be in the context of "dissident erotic relations" in Taiwan at the beginning of the 21st century. In other words, how about a lesbian reading of Jin Ping Mei?
Jin Ping Mei first appeared in manuscript form in the early 17th century. No author was named. Some scholars have thought it was probably the work of a group, but neither its authorship, nor whether it was a solo or a collective enterprise, have ever been established.
The bulk of the book tells a tale, set in the Sung dynasty, of a self-made man, Ximen Qing, and his many wives, concubines and other lovers. Most notable among these is Pan Jinlian, his bondmaid-concubine and, in Professor Ding's words, the "arch-villainess of the story." She is the agent of the deaths of a string of people, and finally of Ximen Qing himself. As a passage quoted by Theroux has it, "A man who sets no bounds to his passion cannot live more than a short time."
As for the lesbian angle, the author looks at a collection of erotic women-with-woman short stories published in Taiwan in 1995. This is Chen Xue's Enu Shu ("The Book of Bad Women"), issued by Huang Guan, a popular press in Taiwan, and promoted at the time as one of a set of books in the category of "new erotica." This, Professor Ding explains, meant erotica produced by Taiwan's emerging gay and lesbian writers.
In fact, it's not so much the stories she considers as their preface, the work of eminent Taiwanese critic Yang Zhao. This preface, Ding explains, urged lesbian writers not to feel guilty, while at the same time cautioning this one for not placing her erotic fantasies in any recognizable social context.
Ding compares this preface to an early introduction to Jin Ping Mei that struggled to establish the image of its author as a virtuous male critic enjoying this manifestly erotic work without compromising his own moral purity. Jin Ping Mei's author need not have experienced all these sexual situations himself, this ancient commentator argued, because the mind of a genius can create such things simply by using his imagination.
In this context, Naifei Ding interestingly refers to "the new social and political forces at work in Taiwan at the moment, when democratizing momentum is fast transforming into a reticent policing of social and sexual dissidents."
She backs this up by referring to "the police harassment of gays on [Chengde Road]," and the "abolishing of licensed prostitution in Taipei as part of an anti-obscenity and anti-pornography campaign and policy." More from her on this controversial and fascinating topic would have been welcome.
Taiwan is in fact frequently mentioned. There are references to the twilight, "penumbralike" status of its sexual dissidents, plus a story about a "nunnish aunt [who] finds, not so surprisingly, a copy of Chen Xue's book in her tomboyish high-school dropout niece's bedroom."
Professor Ding also refers to "the then-president of Taiwan" taking his entire family to see Li An's pro-gay and Taiwan-related film The Wedding Banquet.
Also mentioned is the way that Filipino, Thai and Indonesian domestic servants in contemporary Taiwan are sometimes perceived as posing a sexual threat to their middle-class housewife employers, a situation comparable to that which existed when husbands had live-in concubines or "junior wives."
Essentially, though, these are marginal points in a dense text largely devoted to literary and historical matters, and aimed at scholarly readers.
The book is part of a proliferating academic genre that promotes radical sexual causes when reading classic literary texts. Such works usually refer to the same set of authorities -- Gayatri Spivak, Julia Kristeva, Georges Bataille and others -- and can, at worst, reduce the range and variety of past literature to a monotonous uniformity, however admirable these critics' socio-sexual aims. Professor Ding's book, however, distinguishes itself from the pack by virtue of its vigor, lucidity, and considerable independence of mind.
An authoritative source informs me that it's rare for a Taiwanese academic to publish with an American university press in this way. But Naifei Ding, the source continues, is fluently bilingual, having been brought up in South Africa (and indeed the country constitutes part of her name). This, therefore, is a significant book, both for Taiwan and for contemporary Chinese studies as a whole. The author is to be complimented, even if some passages proved in the event too specialized for this particular reviewer to grasp in their entirety.
Comments will be moderated. Keep comments relevant to the article. Remarks containing abusive and obscene language, personal attacks of any kind or promotion will be removed and the user banned. Final decision will be at the discretion of the Taipei Times.