Restaurants of the week
This week we visit three Vietnamese restaurants.
Pho Hoa ("和"牛肉粉)
43, Lane 190, Sec. 1, Tunhua S. Rd., Taipei (北市敦化南路1段43號), tel: (02)2751-5578 129, Tingchou Rd., Taipei (北市汀洲路129號), tel: (02) 2365-8222 Open: 10am-10pm. Average meal: NT$200. English menu. Credit cards not accepted.
A well known chain in the US and Canada, Pho Hoa has brought its winning recipe for this Vietnamese staple to Taiwan. Bringing another noodle shop to Taipei might seem strange, given the strong presence of indigenous noodle outlets, but the success of Pho Hoa proves there is still plenty of room in town for another reliable noodle store.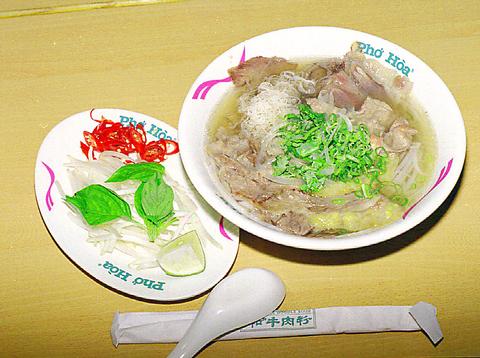 The "combo pho" is one of Pho Hoa's best dishes.
PHOTO: IAN BARTHOLOMEW
"We've been around for two years now," Pho Hoa manager Tang Tsong-yao (湯宗堯) said, and although the restaurant only serves one main dish -- albeit in a large variety of presentations -- the diner-like atmosphere has helped build a solid customer base of local and foreign customers.
Pho Hua's bowl of pho (flat rice noodles) can have a variety of meats, including brisket, tendon, meat balls, lean beef and tripe among others. Diners can even select between fatty and non-fatty broth. All this puts the diner firmly in control. "The food is low-cal, and is not cooked in brown gravy, so it is not as salty," said Tang.
These factors, which may reflect the store's US influence, apparently also has considerable appeal with Taipei diners. "Many people now prefer blander flavors," he said.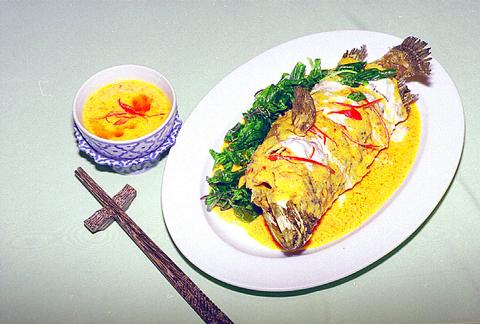 The house favorite, fish with three flavors, adds color to otherwise simple meals.
PHOTO: IAN BARTHOLOMEW
If you want to try the complete pho experience, try the beef combo pho, which has a little bit of everything in it. The light flavorful stock has a richness and variety of taste that is complemented by the textures of different cuts of meat.
"The flavor package [for the soup] is imported, as is the meat and the noodles," Tang said. "Preparation is also completely standardized, so we are not at the mercy of temperamental chefs."
In addition, Pho Hoa also offers fried spring rolls and fish cakes, which make a pleasant complement to a bowl of pho. The simple menu and setting put the focus firmly on enjoying a good, simple meal -- all at a very reasonable price.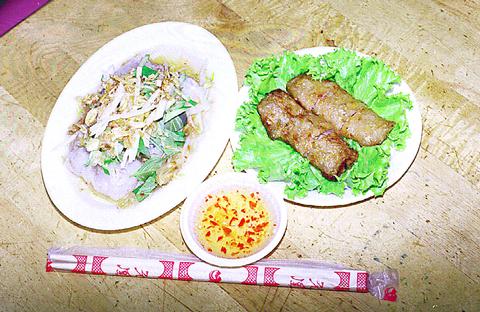 Spring rolls and steamed rice rolls are two of Chen-Chi's many well-priced specialties.
PHOTO: IAN BARTHOLOMEW
Mei-Kung Thai & Vietnam Restaurant (湄河餐廳)
157-3 Yenchi St., Taipei (延吉街157號之3) tel: (02) 2752-3051 Open: 11:30am-2pm, 5:30pm-midnight. Average meal: NT$1,000. English menu. Credit cards accepted.
Given the proximity of Vietnam and Thailand and the similarity in much of their cuisine, it is no surprise that the countries' foods are often served together. But there are some differences between Vietnamese pho noodles and their Thai cousin.
"Vietnamese pho is always served in beef broth and will almost always be served with onions," said David Lim (林明定). "In the Thai variety, the stock is made from a mixture of meats and onions are never used." Mei-kung gives you the opportunity to try both varieties. Mei-kung uses freshly made pho which Lim says is made especially for Thai and Vietnamese restaurants. "It is more firm and chewy than Chinese ban-tiao noodles," Lim said. Dried pho is also imported from Thailand.
In addition to Vietnamese pho and bun noodles, Vietnamese cuisine also provides some of the restaurants small dishes such as fish cakes and the perennial favorite: sugarcane shrimp.
"Vietnamese food is more simple," Lim said. This is one of the reasons that the restaurant has moved toward a predominance of Thai dishes, "which have more variety and offer more potential for banquet dishes."
A dish translated as "fried fish with three good tastes" is a showcase of the restaurant's outstanding presentation. Silken flesh encased in a crispy skin, the whole smothered in red curry and coconut milk is a combination of colors, textures and tastes which is irresistible. To cater to a mixed clientele, Mei-kung also offers a variety of Chaozhou dishes, representing one of Thailand's major ethnic groups. Attentive service and a nice, if small, selection of French and Californian wines all add to the ambiance.
Chen-Chi Vietnamese Restaurant
Home Store: 1, Lane 6, Yungkang St., Taipei (北市永康街6巷1號), tel: (02) 2321-1579 Yungkang Branch: 6, Lane 6, Yungkang St., Taipei (北市永康街6巷6號), tel: (02) 2322-2767 Tinghao Branch: 23, Lane 52, Ta-an Rd., Sec. 1, Taipei (北市大安路一段52巷23號), tel: (02) 2771-5439
Open: Home: 11am to 11:30pm; Yungkang Branch: Lunch from noon to 2pm (3pm on holidays), dinner from 6pm to 11:30pm; Tinghao Branch from noon to 11pm Average meal: NT$200. English menu available. Credit cards not accepted.
In business for 20 years, Chen-Chi's home store is a landmark on the restaurant-crowded Yungkang Street with a range of simple dishes that appeals to locals looking for something lighter than Taiwanese and Thai cuisine. "It's very tasty, and it is not as oily or spicy," said Wu Chia-hui (吳家惠), who oversees the operation of the two Yungkang shops.
"We have made some alterations to the dishes to suit the Taiwan environment and local tastes," Wu said. Fresh local ingredients are used, and some substitutions for difficult-to-obtain products have been made, but "fundamentally, the tastes are authentic."
Simple and common dishes such as spring rolls take on a new dimension at Chen-Chi. The deep-fried skin is light and crisp, the filling a mixture of minced meat, vegetables and vermicelli -- subtle tastes set off by the sour dip. Steamed rice rolls are another simple dish that Chen-Chi's careful preparation takes to a higher level of enjoyment. Again, the thin rice-flour skins are the main attraction, garnished with bean sprouts, minced meat and peanuts.
For those looking for something more exotic, Chen-Chi offers a variety of hot pots, the most distinctive being its sour hot pot flavored with tamarind, tomato, pineapple, lemon and fish sauce. A flourish is added to the sha-cha (barbecue sauce) hot pot with the addition of coconut.
For a light refreshing soup, try the offal soup, which contains a variety of cow insides, served in Chen-Chi's special stock. Naturally, the spices are a closely guarded secret. So that Taiwan's increasingly mobile population can enjoy this special taste on the move, Chen-Chi also sells pre-mixed spice packages and sauces.
Comments will be moderated. Keep comments relevant to the article. Remarks containing abusive and obscene language, personal attacks of any kind or promotion will be removed and the user banned. Final decision will be at the discretion of the Taipei Times.