COVID-19's lessons for climate action
Wealthy countries bear a moral responsibility to provide climate aid to poorer countries, owing to their historical emissions
July was officially the hottest month recorded, serving as a reminder that global warming is happening, with its costs continuing to grow.
"Extreme weather, climate and water-related events caused 11,778 reported disasters between 1970 and 2021, with just over 2 million deaths and US$4.3 trillion in economic losses," according to the World Meteorological Organization.
Like a pandemic, climate change affects everyone, everywhere. Canada's Northwest Territories' capital, Yellowknife, was recently evacuated due to hundreds of wildfires scorching the region, while the US faces a resurgence of mosquito-borne diseases such as malaria, West Nile virus and dengue fever. In Asia, severe monsoon rains have caused floods and destroyed livelihoods in some regions. In Malawi, two storms compounded a protracted cholera outbreak, claiming the lives of more than 1,600 people. The list goes on.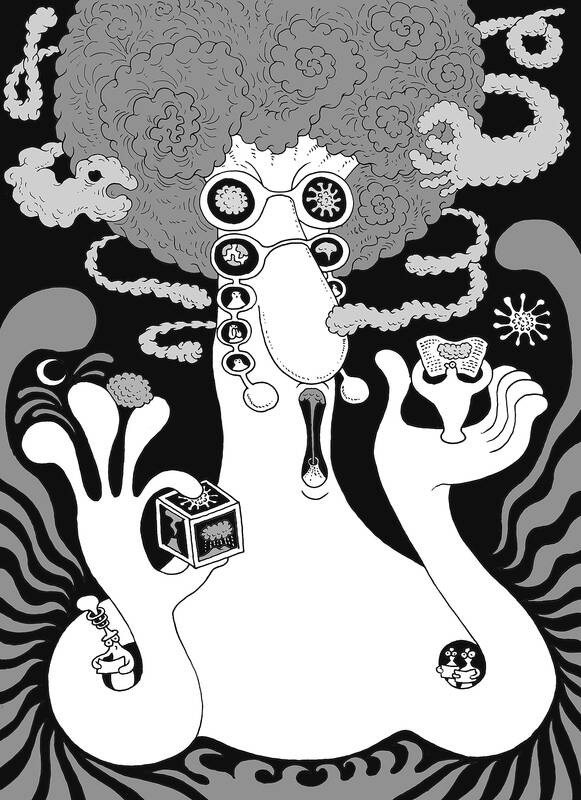 Illustration: Mountain People
However, the effects are disproportionate. Nine in 10 deaths and 60 percent of economic losses from climate shocks and extreme weather are found in developing countries. The devastating impact of landslides can be seen in Nanka, a town in southeastern Nigeria. Over the years, the increase in gully erosion has wiped out homesteads, destroyed farmlands and contributed to rising food insecurity.
The disastrous consequences of climate change are reminiscent of the COVID-19 pandemic, which killed more than 6 million people, destroyed businesses, livelihoods and ravaged the world economy. The response to COVID-19 — now considered an ongoing health issue, rather than a global emergency — holds important lessons for mitigating global warming.
For starters, climate change constitutes what the WHO calls a public health emergency of international concern (PHEIC). Global warming meets the WHO's definition of a PHEIC: "an extraordinary event which is determined to constitute a public health risk to other states through the international spread of disease and to potentially require a coordinated international response."
However, the Intergovernmental Panel on Climate Change (IPCC) is better positioned than the WHO to lead the charge, since it already provides governments with scientific information to develop climate policies.
Second, the Global South must assume a larger climate leadership role. For example. the underrepresentation of African health leaders in the construction of the COVID-19 Vaccine Global Access (COVAX) facility, dealt a major setback to the pandemic response. Gavi, the vaccine alliance, together with the Coalition for Epidemic Preparedness Innovations and the WHO, had created COVAX to ensure equitable access to COVID-19 vaccines, but the initiative — which was conceived with a colonial mindset — fell far short of this ideal.
The IPCC has made the same mistake: Only a small percentage of the authors of its reports are from Africa. Leaders from Africa, which bears a disproportionate burden of the effects of climate change yet has contributed the least to the global emissions driving it, must be at the center of decisionmaking processes.
Third, governments must take steps to counter misinformation and disinformation. Falsehoods ran rampant during the pandemic, resulting in an infodemic — a surplus of both legitimate and misleading information. With nearly 5 billion users worldwide, social-media platforms accelerated the spread of fake COVID-19 claims. To counter this disinformation, policymakers and academics could also use these same platforms to provide the facts.
More scientists and other experts should post on social-media platforms and engage with other users, educating the public about climate change, its consequences and how to build a greener world. Worryingly, nearly half of these experts had become inactive six months after Elon Musk took over Twitter, now called X, which created more space for false information to flourish.
Fourth, all countries should contribute their fair share of global response efforts. During the COVID-19 pandemic, wealthy countries were encouraged to financially help low and middle-income countries access vaccinations, tests and medicines, leading to mixed results.
Similarly, wealthy countries bear a moral responsibility to provide climate aid to poorer countries, owing to their historical emissions. Last year, the UN's Climate Change Conference (COP27) took an important step in this direction with the creation of a loss and damage fund for developing countries facing the effects of global warming. Although commendable, vulnerable countries must also improve governance and combat corruption to mitigate climate change. For example, gold smuggled out of Nigeria amounts to US$9 billion annually. The Nigerian government could have invested that lost revenue in environmental projects, like preventing landslides in Nanka.
Lastly, hoarding is futile when tackling global crises. During the COVID-19 pandemic, many countries in the Global North exacerbated inequity by stockpiling personal protective equipment, tests, vaccines and therapeutics and by clinging to intellectual-property protections.
However, infectious diseases do not respect borders; nor does climate change. All countries are experiencing its devastating consequences, albeit in different forms.
Addressing climate change requires viewing and understanding the global community as one entity. The Igbo tribe in Nigeria has a phrase that underscores the importance of acting collectively: Igwebuike. It means "we are stronger together when we are united." The COVID-19 pandemic demonstrated the necessity of fairness in global governance if civilization is to have any hope of bequeathing a healthy planet for future generations.
Ifeanyi Nsofor, a senior New Voices Fellow at the Aspen Institute, is a senior Atlantic Fellow for Health Equity at George Washington University and an Innovation Fellow at PandemicTech.
Copyright: Project Syndicate
Comments will be moderated. Keep comments relevant to the article. Remarks containing abusive and obscene language, personal attacks of any kind or promotion will be removed and the user banned. Final decision will be at the discretion of the Taipei Times.