Richard D. Fisher, Jr. On Taiwan: What If We Only Have Six Months?
A good friend from a country in Northeast Asia relayed recently how he became drinking buddies with his neighbor, a citizen of China. Apparently, his wife, a member of the Chinese Communist Party (CCP), told him that the CCP's war against democratic Taiwan could begin this December.
If true, then the CCP's high political goal is to prevent Taiwan's January 13, 2024 Presidential election, meaning that the Party greatly fears its potential results.
While it is plausible that the CCP could be so casual in warning its members of its plans for war — why not give its 90 million members most of this year to make personal preparations? — it is also the case that this kind of intelligence is worth its price, perhaps a few beers.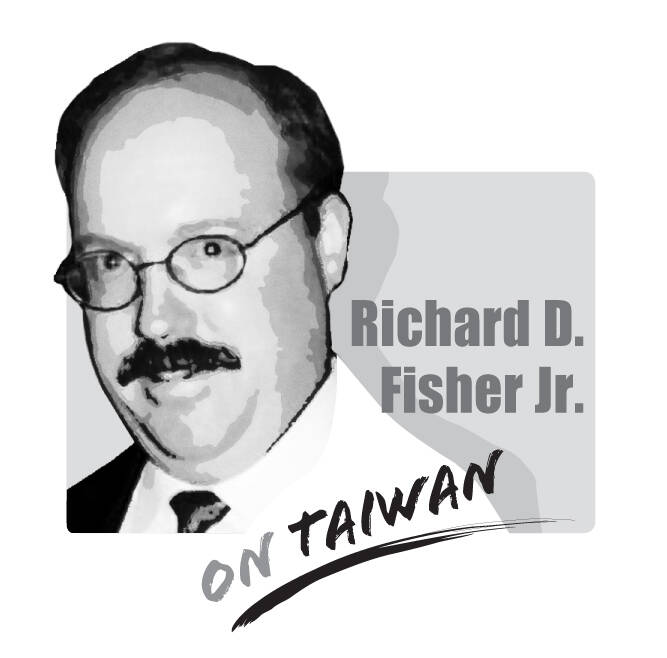 But still, it is a valid question for Taiwanese, Americans, Australians, South Koreans, Japanese, Indians and Europeans: what if we only have six months left until the CCP plunges Asia and the world into not just years, but more likely decades of wars?
A CCP war to extinguish democratic Taiwan will be just the beginning.
Conquering Taiwan will require the CCP to wage two immediate wars to prevent re-invasion: against the Philippines, to control the Bashi Strait and to take Palawan to control the South China Sea; and against Japan to take over the Southern Ryukyu Island Chain, and then Okinawa, to contain Japan.
Chinese fishing base investments in the Solomon Islands will quickly become full joint missile-air-naval bases to outflank US power projection, contain Australia and New Zealand, dominate trade routes to Latin America, and better secure control over Antarctica — to assure passage for new People's Liberation Army (PLA) Fractional Orbital Bombardment System (FOBS) nuclear weapons aimed at the United States.
Expect the CCP to openly arm additional Russian fronts of aggression in Europe; weaponize a gathering naval alliance among China, Iran, Saudi Arabia and the United Arab Emirates in the Persian Gulf; prepare for a real invasion of India's Arunachal Pradesh; start building naval-air bases on the Latin American and African Atlantic Ocean; and enable Cuba to finally get its nuclear missiles, this time from North Korea.
In short, the youth of all democracies will be facing choices not seen since 1939: ascent to the military draft and the potentially fatal wages of war or watch your democratic country become constrained until your government becomes an appendage of a murderous hegemony.
So it is valid to ask: what could be done better to ensure that Xi Jinping (習近平) does not decide to take advantage of his relative superiority in the balance of power on the Taiwan Strait and start his war against Taiwan in December, or in the next two years?
This year's most important Biden Administration upgrade in the US' defensive posture in Asia was its April 26, 2023 "Washington Declaration," made during a summit with South Korean President Yoon Suk Yeol, in which the US strengthens extended nuclear deterrence by creating an Extended Deterrence Strategy and Consulting Group (EDSCG).
While this will facilitate planning for possible US use of tactical nuclear weapons, such as the W76-2 low yield nuclear weapon fired by Trident-D5 submarine launched ballistic missiles, invisible submarines do not have the same deterrent effect as B-61 tactical nuclear bombs deployed to forward Asian bases.
These are what allies like South Korea actually wanted, but a better option would be new regional missiles like the nuclear armed Sea Launched Cruise Missile (SLCM-N) which the Biden Administration refuses to produce.
The PLA likely has hundreds if not thousands of tactical nuclear weapons, though it tells Western scholars it has deployed none. A modest number of deployed US tactical nuclear weapons would be more decisive, as they could destroy a PLA invasion of Taiwan, giving Xi Jinping and the CCP a potentially fatal political defeat.
Also troubling, in order for US regional nuclear forces to deter fully, there must be sufficient US strategic nuclear forces to deter China, Russia, and North Korea from using their growing intercontinental nuclear forces.
China is headed to nuclear warhead levels that could exceed 5,000 by the mid-2030s, as it likely is already pursuing offensive nuclear weapons cooperation with Russia which mirrors their nuclear defense cooperation.
But in a June 2, 2023 Washington, D.C. speech, Biden Administration National Security Advisor Jake Sullivan stated, "the United States does not need to increase our nuclear forces to outnumber the combined total of our competitors in order to successfully deter them."
The US requires thousands more warheads in addition to its 1,550 currently deployed. Doing nothing encourages the CCP to act with impunity as it arms North Korea, builds a global network of military bases, and uses nuclear coercion against the United States, Japan, and Taiwan.
To deter further Russian aggression in Europe, and to promote peace on the Taiwan Strait, the Western democracies were correct to start, and to continue, arming Ukraine, turning Vladimir Putin's February 2022 invasion into a military and political quagmire, while sending a powerful warning to Xi Jinping regarding the economic and political isolation that could be imposed on China.
However, it was unfortunate that Washington and its European allies, out of fear of provoking Russia, delayed for at least a year the transfer of more effective weapons like 3+ generation tanks, 150 to 300km range ballistic missiles, and 4th generation F-16 fighter jets.
The real lesson is that Taiwan must be armed urgently for war. For instance, instead of selling 66 of the 300km range ATACMS short range ballistic missile approved by the Trump Administration in 2020, 200 should be airlifted immediately to increase the vulnerability of PLA invasion forces by forcing their embarkation points on the Taiwan Strait to move further north and south.
Credit goes to the Biden Administration for moving quickly to increase military cooperation with new Philippine President Ferdinand "Bong Bong" Marcos Jr., increasing to 10 the number of Philippine facilities that can host temporary deployments of US forces, and moving "sea denial" equipped US Marines to Okinawa to assist Japan's ongoing reinforcement with anti-ship and anti-aircraft missiles for its Ryukyu Islands close to Taiwan.
While Marcos has stated repeatedly that he will not allow US forces in the Philippines to help fight a Taiwan War, simply helping Manila to achieve a robust defense of its own territory, especially Northern Luzon, can severely complicate a PLA invasion of Taiwan.
While the Philippines is finally rearming and should bear the main burden for its defense, the US and its allies should join to make available to Manila an initial emergency force of 24 F-16 or F/A-18C fighters, that are currently or soon to become excess in Denmark, Australia, Spain and Finland.
Washington should arm them with 950km range Long Range Anti Ship Missile (LRASM) weapons and immediately transfer 200 ATACMS to Manila.
But for Manila and Taipei, the optimal outcome would be to deter China from starting its war against Taiwan. That will result in immediate threats to the 200,000 Overseas Filipino Workers in Taiwan and create horrific refugee flows to Luzon.
For this, simple strategic logic dictates that the Philippines join with the US and Japan to build the capacity to facilitate the rapid sea, air, and land reinforcement, or even "reinvasion" of Taiwan. Combined with new robust Asian-based US tactical nuclear forces, this can prove to the CCP that its war for global hegemony will not start with Taiwan.
For Taiwanese, the coming weeks are the time to be calling or writing to your apartment landlord, your local government officials, and your Legislative Yuan representatives to ask: what supplies should I be stockpiling for my family; how is the defense of my apartment building, my village, my city block being organized; where can I receive emergency medical training; how do I obtain small arms to defend my family; and who is going to publicly insist that the United States deploy tactical nuclear weapons to Asia to defeat a PLA invasion?
Richard D. Fisher, Jr is a senior fellow with the International Assessment and Strategy Center.
Comments will be moderated. Keep comments relevant to the article. Remarks containing abusive and obscene language, personal attacks of any kind or promotion will be removed and the user banned. Final decision will be at the discretion of the Taipei Times.