Ryan Hass On Taiwan: Now is the time to build zones of political consensus
Election seasons expose societal divisions and contrasting visions about the future of Taiwan. They also offer opportunities for leaders to forge unity around practical ideas for strengthening Taiwan's resilience.
Beijing has in the past sought to exacerbate divisions within Taiwan. For Beijing, a divided Taiwan is less likely to pursue permanent separation. It also is more manipulatable than a united Taiwan.
A divided polity has lower trust in government institutions and diminished capacity to solve societal challenges. As my co-authors Richard Bush, Bonnie Glaser, and I recently wrote in our book US-Taiwan Relations: Will China's Challenge Lead to a Crisis?, "Beijing wants to socialize the Taiwan public to the inevitability of unification and the undesirability of living in a domestically fractured, internationally isolated society."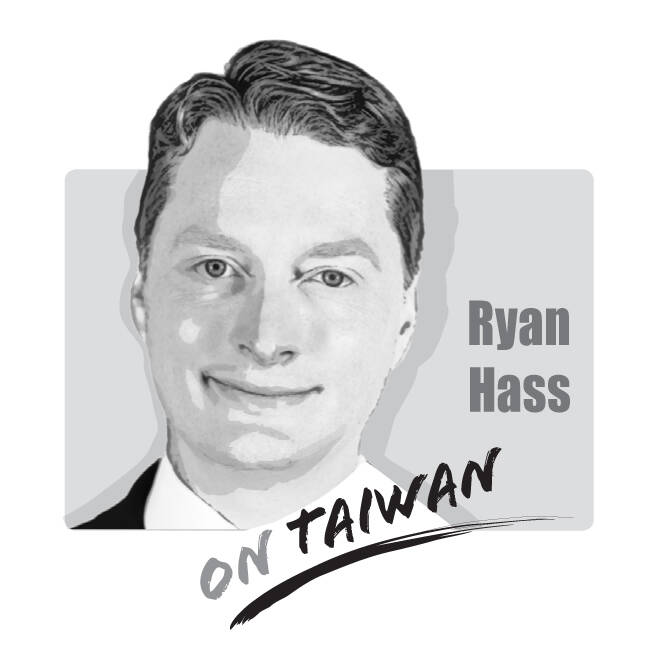 This is the terrain upon which I expect Beijing will seek to make gains in pulling Taiwan in its preferred direction in the coming year. Even as military saber rattling will continue to command media attention, the real contest for Taiwan's future in the coming months will be waged at the political level.
This presents an opportunity for Taiwan's political candidates to demonstrate leadership in carving out zones of political consensus. In other words, certain issues that would be insulated from efforts to claim partisan advantage.
For example, Taiwan would benefit if its leaders reached a consensus that the next administration, whoever wins, will need to generate more revenue to meet Taiwan's responsibilities. Taiwan's tax collection as a percentage of GDP has fluctuated between 12-13% since the 2008 financial crisis. By comparison, the average tax rate for countries in the Organization for Economic Cooperation and Development (OECD) is 34.1%. Peer countries such as Israel raise 35.1% of GDP through tax collection. The figure is 33.2% for Japan and 29.9% for the Republic of Korea. No OECD member country raises as little revenue through tax collection as Taiwan.
As a result, Taiwan lacks resources to meet societal requirements. These include the need for a strong defense against a growing threat, enhanced social care for a rapidly aging society, and new opportunities for rising generations to contribute to a rapidly shifting economy.
The total percentage of Taiwan's government spending for national defense also has remained flat throughout this period at around 10% of expenditures. In other words, through both Blue and Green administrations, the slice of the government budgetary pie devoted to defense has remained the same, despite China's tenfold jump in military spending in recent decades.
Selecting budgetary priorities is, of course, a matter for the Taiwan people to decide. But if Taiwan devalues the role of its own military in providing for its national defense, then it must expect other leaders around the world also to discount warnings of invasion and act with diminished urgency to bolster deterrence.
Another area of potential political consensus could be an agreement that the next administration should prioritize building stockpiles of critical materials. In current circumstances, Taiwan faces greater vulnerability to quarantine or blockade than to an all-out invasion. It is an open secret that Taiwan lacks adequate stores of food, fuel, and medicine to withstand being temporarily cut off from the rest of the world. This is Taiwan's most acute risk. It would be both prudent and fiscally responsible for Taiwan to harden itself against being temporarily cut off from imports, either due to natural disaster, pandemic, or Chinese pressure.
Taiwan also would be strengthened if its next leaders could agree as a matter of principle that any adjustment to Taiwan's relationship with China would require a constitutional amendment to be brought into force. Such a shared understanding would ensure Taiwan's voters have agency to approve any adjustments to the nature of cross-Strait relations. This would place the burden on Beijing to appeal to the interests of Taiwan's entire population, rather than seeking to cultivate a segment of the population to advance its will.
There also could be space for Taiwan's leaders to agree as a matter of principle to reject outside interference in Taiwan's electoral processes. Given the current mood in Taiwan toward China, there is no profit for any political candidate to be seen as benefitting from Beijing's backing. Quite the opposite, in fact.
As an American, I offer these suggestions with humility. America's political system is providing a powerful advertisement of the risks of allowing zones of political consensus to crumble. During the Cold War and in the years following it, leaders of both parties broadly followed President Truman's adage that "politics stops at the water's edge." There also was a firm consensus around the sacrosanct duty of elected leaders to protect the full faith and credit of the United States. American leaders also prided themselves on guaranteeing a peaceful transfer of power after every election. America has abandoned these zones of political consensus at its own peril.
There are both lessons from America's travails and opportunities through the upcoming campaign season for Taiwan's leaders to build zones of political consensus. If Taiwan's leading presidential candidates could acknowledge their agreement on any of these potential issues, it would send a powerful signal. The more they do so, the better Taiwan will be able to withstand pressure from within and without in the years to come.
Ryan Hass is a senior fellow and the Chen-Fu and Cecilia Yen Koo Chair in Taiwan Studies at the Brookings Institution, where he also holds the Michael H. Armacost Chair in the Foreign Policy program.
Comments will be moderated. Keep comments relevant to the article. Remarks containing abusive and obscene language, personal attacks of any kind or promotion will be removed and the user banned. Final decision will be at the discretion of the Taipei Times.