Ryan Hass On Taiwan: External Factors Will Inform Taiwan's Politics In 2023
The defining issue of the coming year in Taiwan likely will be the upcoming presidential and legislative election. This election presents a competition of ideas about the future of Taiwan and the nature of its relations with the People's Republic of China and other countries. Taiwan will once again have an opportunity to show the world the strength of its democratic system.
The outcome of the election will turn on the strength of the candidates and their visions for the future. Even so, events outside of Taiwan also will inform the contest. Although there are a virtually limitless number of potential contingencies that could impact Taiwan, I see the following six as rising above the rest and representing the most important external issues to watch. All these issues could impact the political and policy terrain on which Taiwan's candidates will vie for support.
The first is the nature of war in Ukraine. If Russia is repelled or halted from making advances in its efforts to seize territory through force, it will give greater confidence that stability can be sustained in the Taiwan Strait. If Russia succeeds, however, it will raise concerning questions about what lessons Beijing might draw. Even if it does not succeed, Moscow's continuing degradation of Ukraine through long-range strikes could heighten scrutiny of how well-prepared Taiwan and its partners are to deter or defeat PRC military campaigns in the Taiwan Strait.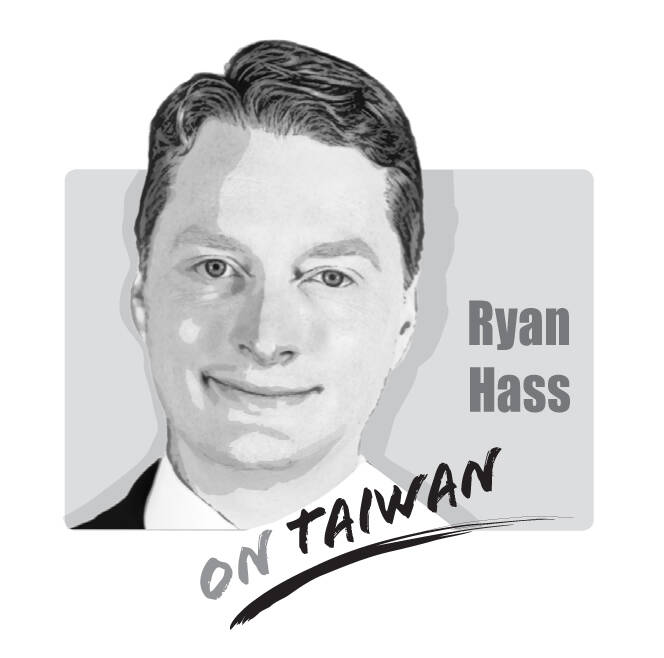 Second, US Speaker of the House of Representatives Kevin McCarthy has announced his intention to visit Taiwan. Even though McCarthy lacks strength to coherently lead his own political party, let alone influence the Biden administration's thinking on Taiwan, the symbolism of his visit will trigger a robust Chinese response. If the Tsai (蔡英文) administration welcomes such a visit, Beijing likely will respond in ways that exceed its response to Speaker Pelosi's August 2022 trip. Beijing will seek to drive a narrative that Taiwan under DPP leadership produces risks and instability that could court disaster. China's leaders also will seek to use such a visit to sell a story in the region that America's penchant for political point-scoring on Taiwan could drive crisis.
If China uses McCarthy's visit to ratchet up pressure on Taiwan, including through visible military intimidation, Beijing might compel other countries to respond by showing greater support for Taiwan. As a rule of thumb, US and Taiwan officials generally make larger strides in encouraging other leaders to demonstrate visible support for Taiwan following high-profile Chinese coercive actions against Taiwan. This third factor, more visible international support for Taiwan, could take the form of louder international calls for protecting peace and stability in the Taiwan Strait. It also could take expression in progress on bilateral trade and investment arrangements with Taiwan. There could be invigoration of international efforts to support Taiwan in shoring up potential vulnerabilities, e.g., by helping Taiwan stockpile munitions, medicines, fuel, and food. There also could be forward progress on discussions among allies and partners about potential response actions countries would be prepared to take in the event of Chinese military aggression against Taiwan.
Fourth, there is risk of a global economic slowdown in 2023, and with it, reduced demand for high-end semiconductors. Sagging global demand for Taiwan's leading export sector would lower Taiwan's economic growth outlook, which could in turn prompt debates about Taiwan's proper policy posture toward cross-Strait trade and investment. Similarly, if there is spread of a new and more contagious variant of COVID, it could raise questions about who would be most competent to improve public health.
Fifth, Beijing likely will seek to meddle in Taiwan's presidential and legislative campaigns. Beijing could seek to influence public attitudes by employing targeted economic levers, disinformation, cyber operations, united front activities for preferred campaigns, and military signaling. The more Beijing is perceived to be seeking to influence the outcome of the election, though, the more it might strengthen Taiwan voters' determination to show they will not be coerced or manipulated into doing Beijing's bidding. Visible Chinese meddling likely would bolster the argument of DPP candidates and undercut support for KMT candidates.
Sixth, there is heightened risk of unplanned military incidents in the Taiwan Strait. This risk has grown since Beijing stopped recognizing the unofficial Taiwan Strait centerline following then-Speaker Pelosi's visit in August 2022. The more frequent employment of unmanned, artificial intelligence-augmented systems, such as drones, in sensitive areas also has raised risk. Thus, both through Beijing's boundary-testing and the immature nature of risk reduction and crisis management mechanisms, there is non-negligible risk of escalation by military accident.
Ultimately, I expect the elections to turn on the strength of the candidates and their visions for the future. Nearly one year out from the ballots, anything remains possible. No outcome is foreordained. Even so, the election will not occur in a vacuum. It will be contested in a globalized environment in which outside factors inform debates within Taiwan. Keeping an eye on these six external factors could offer clues about the direction of debates over who will succeed President Tsai. Whoever does so will have large shoes to fill. President Tsai has set a commendable record of steadiness and predictability in managing Taiwan's relations with China and with the rest of the world.
Ryan Hass is a senior fellow and the Chen-Fu and Cecilia Yen Koo Chair in Taiwan Studies at the Brookings Institution, where he also holds the Michael H. Armacost Chair in the Foreign Policy program.
Comments will be moderated. Keep comments relevant to the article. Remarks containing abusive and obscene language, personal attacks of any kind or promotion will be removed and the user banned. Final decision will be at the discretion of the Taipei Times.