Ian Easton On Taiwan: Fixing a broken China strategy
In a perfect world, House Speaker Nancy Pelosi's summer visit to Taiwan this year would have been a non-event, just a routine part of friendly US-Taiwan leadership exchanges. As it happened, the Chinese Communist Party (CCP) reacted in a dangerous and destabilizing fashion. Beijing put on a militant display that included firing ballistic missiles across the skies above Taipei, Taiwan's capital city. The rockets crashed into the territorial waters of both the Republic of China (ROC, Taiwan) and Japan.
Then, in October, at the Communist Party's 20th National Congress, Xi Jinping (習近平) used his airtime to further underscore his regime's opposition to Taiwan's right to self-determination and the broader principle of popular sovereignty, all while signaling that the worst is yet to come for liberal democracies that do not bend to the CCP's will. Whether one looks at Xi's words or actions, both are indicative of hostile intent.
On Xi's watch, China is investing in the largest sustained military buildup the world has seen in at least a century. Even as China's overall national budget approaches a flatline (or worse), the CCP continues to inject enormous resources into its armed wing. To be sure, this is an economically irrational move, but it appears to be driven by two interlocking political imperatives. The first is Xi's aim to annex or otherwise conquer Taiwan using all available means. The second is his plan to surpass the United States, become the globe's predominant military superpower, and achieve what he calls "World Socialism."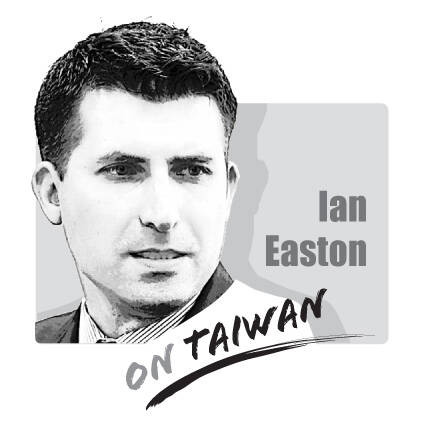 It cannot be stressed enough just how ambitious Xi Jinping is, and how fragile peace is likely to become now that he has unchecked power. America and its allies have never before faced a dictator (or even an axis of them) that could wield such stunning levels of overall national strength.
The implications here are as obvious as they are profound. Going forward, the central problem for US foreign policy is that Taiwan, a tier one democratic country located in a crucial geostrategic location, is probably going to be attacked. Barring major policy changes, it should no longer be a question of if, but rather when and how the attack will come. Thus, the question every American political leader and military officer should now be asking themselves is, "What will we do when Chinese Communists make their move on Taiwan? Are we ready?" An even more important line of questions might be, "What more could we do to make this catastrophic conflict less appetizing to Xi Jinping? What scares him? Is there anything we could do to prevent him from breaking the peace? And if so, why don't we at least try?"
The United States government has been slow to acknowledge and accept that the CCP represents a systemic threat and is the most dangerous source of instability in the world today. It is now imperative that Washington's approach to foreign policy begins to reflect the fundamentally adversarial nature of US-PRC relations, including in the spheres of ideology, politics, economics, science, and defense. Washington's strategy should be to use all instruments of power to help Taiwan's free people pursue their destinies and dreams however they see fit and to support them as they resist CCP pressure.
American policy should aim to support the process of political change in China, moving Beijing toward a more pluralistic political system. The power of the CCP must be steadily constrained by institutional checks and balances if China is to peacefully evolve to become a responsible democracy that plays a positive role in the world. China's intransigence has resulted from nothing America has done or failed to do. Rather, it is rooted in the nature of the regime.
In the foreseeable future, there is nothing America could compromise on that might change the fact that Xi Jinping has to approach Washington as an enemy. Only his false narrative of victimization and struggle gives him the basis for concentrating all authority into his own hands, denying self-determination to the Chinese people, and maintaining an oppressive system in the absence of free and fair elections. By treating the United States as a hostile force bent on undermining China's rise, he can justify the infliction of suffering on ordinary people and demand unreasonable sacrifices from them.
American leaders should consider whether or not they are inadvertently helping to support this rival system and strengthening its ability to engage in aggression. For the White House to expect that concessions might be reciprocated and agreements honored is to be naive and to ignore decades of CCP statecraft.
The United States must develop ways to communicate clearly that unacceptable behavior will incur costs that would significantly outweigh any of Xi's hoped-for benefits. Calculations of possible war outcomes in all possible scenarios must always be so unfavorable to Xi Jinping that he does not perceive any incentive to initiate an attack. Elevating the role of Taiwan in US strategy would likely prove to be the single most effective means of signaling resolve and purpose, diminishing the likelihood of a potentially cataclysmic conflict.
Purposefully improving bilateral relations between Washington and Taipei is the best available way to avoid miscalculation and military confrontation with China while advancing the American interest in securing Taiwan from hostile takeover.
Tensions are unavoidable in the Taiwan Strait because of the CCP's aims and objectives, but real progress may yet be possible when it comes to preventing war. Washington's past actions across several administrations have not reflected the gravity of the looming threat, but the growing sense of crisis could be an opportunity for America's leaders to make necessary reforms and fix our nation's broken China strategy.
Ian Easton is a senior director at the Project 2049 Institute.
Comments will be moderated. Keep comments relevant to the article. Remarks containing abusive and obscene language, personal attacks of any kind or promotion will be removed and the user banned. Final decision will be at the discretion of the Taipei Times.