The Paralympics loses its innocence
In a bid to avoid a repeat of the Sydney games, in which Spain's basketball team was packed with frauds, Paralympics organizers have banned all athletes with learning disabilities from the Athens games this month. This is not likely to end the cheating
Carlos Ribagorda does not appear to be a man who suffers from learning difficulties; a journalist for a Spanish business magazine, he has just published a book on young rightwing politicians. Four years ago, however, he won a Paralympic gold medal in Sydney as a member of Spain's learning-disabled basketball team. \nA few weeks later Ribagorda sent his medal back to the Paralympic headquarters in Bonn. He also returned his Spanish team kit and the UK ?150 spending money he had been given. For, he explained, he was just one of 10 members of the 12-man squad who had absolutely nothing wrong with them. He had simply been "signed up" to boost his country's chances of winning a medal. His revelations shocked the Paralympics -- held every four years by the city that hosts the full Olympics -- shredding its image as the benevolent moment of the international sporting calendar. \nThe shockwaves are still being felt and athletes with learning difficulties have been banned from competing in the Athens Paralympics. \nIn the Paralympics, just as in the Olympics, people cheat. It was not just the Spanish basketball team that was stuffed with frauds in Sydney, according to Ribagorda. Two swimmers on the Spanish team as well as a table tennis player and at least one track and field athlete were not, as they claimed, learning disabled, he says. \nComplaints, inevitably, began to spread. "There were two or three players from both Spain and Russia who could have competed in our national basketball league," complained one Australian coach. "What they did with, and without, the ball was way above what any of our athletes could have achieved." Ribagorda, who helped beat the Russians in the final, agreed. \n"There were three players in the Russian team, especially one of them, who were just too good," he says. \nRibagorda says he was invited to train in Madrid with the basketball team five months before the Sydney games and saw an opportunity for a journalistic scoop. \n"There were five months of training with not a single disabled person in sight. The two genuinely disabled players came from outside Madrid," he says. \nSome of his new teammates had already been to a world championship in Brazil. Ribagorda himself went to Portugal with the team. But the big prize was Sydney. \n"I think people saw it as a free trip to Australia. There was even some pride at wearing the Spanish team strip [uniform]," he says. \nIn their first match, the team played too well and, when more than 30 points ahead at half-time, were ordered by their coach to slow down their scoring and let the other team shoot more. But their biggest mistake was to win gold -- part of a haul that put Spain third in the medal table behind the US and Britain. A photo appeared on the front page of the popular Madrid sports daily, Marca. Rumors began to circulate that some players, including the coach of an amateur team, had been recognized, as people without learning difficulties. \nThey were advised by officials to wear dark glasses and hats and grow beards in order to pass unnoticed at the team's triumphal return home at Madrid's Barajas airport. Then Ribagorda blew the whistle. The halo of saintliness that accompanies the Paralympics, which started out at Stoke Mandeville hospital, north of London, England, as the International Wheelchair games in 1948, lost its shine. It was a startling reversal for a UK ?29 million event which Australians had supported with heart-warming enthusiasm, buying 1.2 million tickets. \nFingers soon began to point at one of the most powerful men worldwide in the field of disabled sport, Fernando Martin Vicente. A former Madrid city councillor, he was a member of the International Paralympic Committee's (IPC) ruling executive and vice-president of Spain's Paralympic committee. He was also head of one of the six international federations of disabled athletes that make up the Paralympic family INAS-FID -- the International Sports Organization for Persons with an Intellectual Disability. \nIn 1975 Vicente, the father of a disabled child, founded the National Association of Special Sports (Ande), dedicated to disabled sports. Every year it reportedly received huge sums of state cash. \nWhile Ande grew, Vicente's personal wealth also increased. El Mundo newspaper tried, but failed, to prove that there was a connection, claiming his wealth had reached UK ?five million. Martin, it said, owned a yacht, eight cars, including a Porsche, five houses and half a dozen large pieces of land. \nVicente protested his innocence, then resigned. His case is now in the Spanish courts. Contacted by the London-based Guardian newspaper last Tuesday, he angrily denied making money from disabled sports. "It is very sad. There was no bad intent," he insisted before adding that he, as head of INAS-FID, had been too important to get involved in checking the credentials of individual players. \nThe IPC eventually set up its own investigating committee. \n"It was only just this sport," explains IPC media director Miriam Wilkens."It was just the Spanish team." \nBut all learning disabled athletes were banned until INAS-FID could come up with a way of making sure there was no further cheating. Its proposals have, so far, fallen short of what the IPC wants. \n"A lot of athletes around the world are devastated by that," says Nick Parr, chief executive of the English Sports Association for People with Learning Difficulties. "This goes beyond disappointment. \n"They have trouble understanding. There are English athletes who think that, as they are being punished, they must have done something wrong," he says. \nHe worries that people with learning difficulties may now be permanently excluded from the games, insisting "as long as there is a system in place, there is no reason why the athletes should not compete in the Paralympics." \nThe Paralympics, however, is not the only international sports organization for learning-disabled athletes. The International Olympic Committee has also given its backing to a separate games for them -- the Special Olympics. \n"The Special Olympics is not an elitist sports organization. People of all levels of ability can compete," says Kirsten Suto, its spokeswoman in Washington. "The philosophy is all about doing one's own personal best." \nIn practical terms, that means dividing athletes into divisions so they compete against those of similar ability and, if they improve, can move up a division to compete against more capable athletes. \n"We like the spirit of competition, but we don't focus on medal counts, or countries doing best. We focus on the individual and their accomplishment" Suto says. \nThe Sydney scandal provoked "sadness," she says. \n"We are always sad when people aren't true sportsmen and don't take sports seriously by faking and ridiculing it,"she says. \nEven though athletes with learning difficulties are barred en masse from Athens,we are unlikely to have seen the end of Paralympic cheating. The Sydney games also turned up 11 doping cases. Medals were taken away from, among others, the US runner Brian Frasure and the Azerbaijani powerlifter Gundus Ismailov. Ismailov had been taking both nandrolone, an anabolic steroid, and methandienone. Frasure, billed as "the world's fastest amputee", had also been taking nandrolone. At the winter Paralympics two years ago in Salt Lake City, Germany's skier Thomas Oelsner had to return two gold medals after a doping scandal. \nOne of the mottos for the Athens Paralympics is "spirit in motion". Organizers and, above all, the 4,000 athletes from 143 nations will be hoping that, for the 11 days of competition, nothing more is done to deflate that spirit.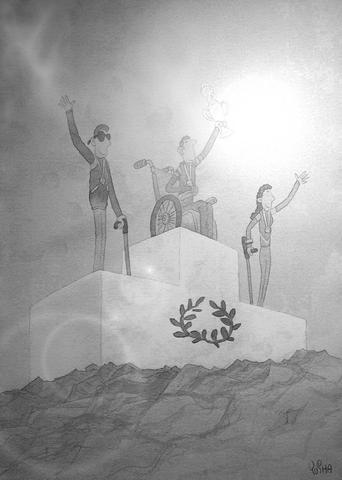 ILLUSTRATION: YU SHA
Comments will be moderated. Keep comments relevant to the article. Remarks containing abusive and obscene language, personal attacks of any kind or promotion will be removed and the user banned. Final decision will be at the discretion of the Taipei Times.