Setting Afghanistan ringing
A New Jersey adventurer who claims that he has already had a lot of experience in the world's hot spots now wants to help the Northern Alliance reconstruct Afghanistan
From the living room of his home in a gated community here, Gary Breshinsky is plotting his return to Afghanistan.
Spread on the floor are political and physical maps he acquired from the Shah M. Book Co in Kabul. Entered into speed-dial on his telephone are the phone numbers of Northern Alliance representatives. Hanging in the closet is traditional Afghan garb ready to be donned at a moment's notice.
"My aspiration is to be part of Afghanistan's reconstruction," said Breshinsky, a tall, burly 53-year-old with a nasal inflection that reveals his Long Island upbringing. "I would like to put my skills to use."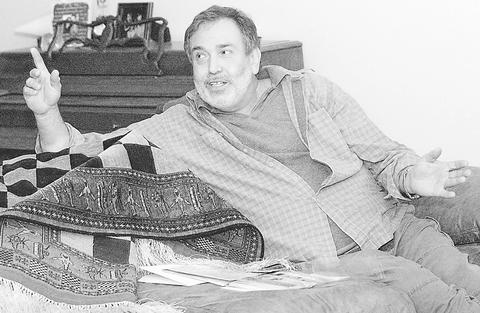 Gary Breshinsky helped persuade the Taliban in the late 1990s to allow the building of a new phone system in Afghanistan. The Afghan Wireless Communication Co network emerged largely unscathed from recent bombing and it is an important link to the rest of the world. Breshinsky, above, at his home in Hackettstown, New Jersey.
PHOTO: NY TIMES
Defining those skills more precisely, Breshinsky lets loose a torrent of autobiographical detail, describing an odyssey that took him from the suburbs of New York to hot spots in the Middle East, Africa and Central Asia before returning to the US, with his wife, who is Swedish, and their triplet daughters, to settle down in New Jersey.
At the top of Breshinsky's resume-cum-life story is his experience setting up a telecommunications network in Afghanistan in the late 1990s. Together with investors from the US, Britain and Sweden, Breshinsky struck a deal with the Taliban to establish the Afghan Wireless Communication Co, whose network has emerged largely unscathed from bombing raids in recent weeks.
Breshinsky says he left the venture after the US imposed trade sanctions against Afghanistan in 1999, but Afghan Wireless, with about 9,000 customers, remains afloat. That not may sound like a lot, but in a country with only about 40,000 telephone lines for a population of 26 million, it is one of Afghanistan's most important links with the rest of the world.
Now, with the nation's power structure in flux, Breshinsky is hoping to return as an executive at the company or in another capacity to help manage Afghanistan's telecommunications system.
Breshinsky's ambition of returning to Afghanistan could be viewed as a reflection of a midlife crisis or a yearning to make money in a far-flung foreign venture. But the explanation of his interest in Afghanistan is derived from something more fantastical, if not entirely absurd.
According to Breshinsky's own account, he first became interested in Afghanistan when he went there as "a concerned private citizen" in the early 1980s to fight with mujahidin against the Soviet army. His involvement there came after forays to other flash points in the 1970s.
After graduating from Fairleigh Dickinson University in New Jersey with a degree in psychology, Breshinsky said, he moved to Europe, where, after a spate of hijackings and bombings, he developed an interest in the psychological study of kidnappers and terrorists.
It is at this stage that Breshinsky's story becomes murky. Through contacts at the CIA, he said, he began advising European officials on how to negotiate with terrorists.
With the CIA's support, Breshinsky says, he formed an organization whose mandate was to work against terrorists and their supporters through blackmail, depletion of funds through offshore banking operations and, at times, assassination.
Breshinsky says he coordinated the group from a small base in Cyprus. The work was grueling, however, and it took its toll, he says.
After suffering an injury in an operation, he says he felt burned out, so he took a break and moved to southern Spain, where he lived a playboy's existence, complete with a red Maserati and several beautiful girlfriends.
The jet-setting life did not last long, however, and work soon took him to places like Angola and Afghanistan. But by the mid-1980s, after the birth of his daughters, Breshinsky decided to retire as an anti-terrorist operative.
Breshinsky acknowledges that the tale of his experiences before he became a New Jersey satellite telephone salesman in the 1990s and then, in 1997, became involved in the Afghan venture, sounds outlandish.
But he says he cannot provide proof of his activities because photographs and written documents related to his time as an anti-terrorist operative have either been lost or stolen in burglaries.
Without such evidence, it would seem that Breshinsky's account is the product of a vivid imagination. The CIA declined to comment on his claims and the FBI, which Breshinsky says he briefed on his recent business dealings in Afghanistan, also declined to comment.
He has his detractors, including Lord Michael Cecil, one of the investors in Telephone Systems International, the New Jersey company that carried out the investment in Afghanistan.
"Breshinsky was an employee of TSI and not an investor," Lord Michael said. "It would be quite amazing if any intelligence agency had ever employed or worked with Breshinsky or anyone remotely like him." Others have a different view.
"Gary is one of the most fascinating people I have ever met," said Len Sherman, whose company, ECG Films of Phoenix, has acquired the movie rights to Breshinsky's life story. "I honestly don't know if every detail of what he says is the truth. What I do know is that this guy has been through a lot in his life."
Relatively little can be easily confirmed about Breshinsky, aside from information gleaned from real estate, court and voting records. Fairleigh Dickinson does not have any records of his attendance or graduation. His only living relative, he says, is his brother, Jeff, also of Hackettstown. The brothers went into business together in the early 1990s with a venture to sell satellite telephones and other telecommunications products that was shut down earlier this year. Jeff Breshinsky declined to be interviewed.
Nearly all of the available public information on Breshinsky is the result of a bankruptcy filing he made in 1988.
He was born on Dec. 23, 1947, and is registered as an independent voter. He owns the comfortable, sparsely furnished home where he has lived with his family since 1995. His Social Security number was also used by a man named John Canepa, who died in 1990. He is fairly litigious, having been involved in nearly a dozen lawsuits the last decade as a debtor or a plaintiff.
Some outlandish-sounding accounts from Breshinsky have been verified. For example, in Kabul, he said, he had stumbled upon evidence of trade, or perhaps contraband, between the Taliban and Iran, in the form of telephone switching equipment designed by Siemens, the German electronics company, with writing on it in Persian. Siemens confirmed Breshinsky's claim. Through its office in Tehran, Siemens sold the equipment to Iran's national telephone company, only to have the customer report it missing after a few months.
When a team of Siemens officials from neighboring Pakistan went to Afghanistan in 1998, they saw the missing equipment in Kabul being used as part of the Taliban-controlled telephone system "We cannot tell you how it got there, but it was there," said Bud Grebey, a Siemens spokesman. "Breshinsky's information was correct."
Other claims are harder to confirm, like the meeting Breshinsky says he had in Kandahar, Afghanistan, in early 1998 with Mullah Abdul Wakil Muttawakil, a Taliban official, and Osama bin Laden in which bin Laden gave the telecommunications project his blessing.
"Bin Laden was a weird guy with a facial twitch," Breshinsky said. "His presence was less than impressive."
Breshinsky says he is talking openly about his life of international intrigue in the hope that he can improve Afghanistan's infrastructure while collecting a steady salary.
He needs the job. Aside from some part-time marketing work for Federal Goose Control, a Flanders, New Jersey, company that rids corporate campuses of Canada geese, he has been unemployed since leaving Telephone Systems International more than two years ago. Since then, his wife has been supporting the family.
So far, it seems, his strategy for generating publicity seems to be working. His exploits have been described in Talk magazine, and he has been interviewed by the Fox television network.
But it is not clear whether Breshinsky's career will get the desired boost. He says his negotiations with Northern Alliance representatives are proceeding slowly.
"Gary is a vivid example of the extremes of international business," said Ted Rose, a New York-based writer who has researched Breshinsky's life. "If he was once a player in Afghanistan, there's no reason why he couldn't become one again."
Comments will be moderated. Keep comments relevant to the article. Remarks containing abusive and obscene language, personal attacks of any kind or promotion will be removed and the user banned. Final decision will be at the discretion of the Taipei Times.