Streaming the classics: Record label seeks grandeur in cyberspace
About five years ago Alain Coblence, a French lawyer with a practice in New York, had an idea for a business that would draw on his lifelong passion for classical recordings. It began as a comparatively simple idea: He was going to start a record label, called Andante.
But by the time Andante's first discs went to press -- its first group of six multidisc sets is to be released this month -- Coblence had transformed his business into something grander, a Web site (www.andante.com) where classical music fans would be able to hear both recent and archival concert performances by some of the world's great orchestras and opera companies and where visitors could satisfy a broad range of musical needs, from finding interesting concerts to reading treatises on contemporary music theory.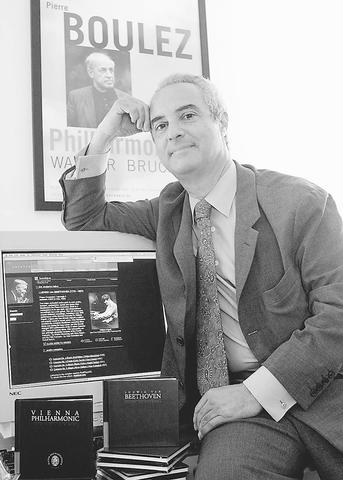 About five years ago, Alain Coblence, a French lawyer in New York, had an idea for a business that would draw on his lifelong passion for classical recordings.
PHOTO: NY TIMES
Andante.com has been online only since April, but it has already become the gold standard among classical music Web sites, a chaotic jumble that includes everything from fan sites devoted, with varying degrees of sophistication, to performers and composers, to Web magazines focused on particular corners of the field (particularly opera, where partisan debates flourish) and commercial sites meant to move concert tickets and recordings but dressed up as sources of news and information.
Most of the world's orchestras, opera companies, concert halls and festivals have Web sites, and some are used creatively. Offering excerpts of programmed works, as well as full program notes, is becoming increasingly common. At the moment these sites are intended primarily as electronic ticket windows and souvenir shops. But that is likely to change as orchestras begin to exploit the possibilities open to them since last September, when they reached an agreement with the American Federation of Musicians about Web broadcasts.
Some go it alone
Among American ensembles, the Philadelphia Orchestra recently committed itself (and its performances) to Andante. But others, like the New York Philharmonic, plan to offer concerts on their home sites.
Part of Coblence's goal for Andante is to establish some order among the Web's classical music resources, and he has made considerable headway. But the genesis of his high-tech classical music playground was, oddly enough, in the analog mists of the 78 rpm era.
Coblence's original plan was to license mostly prewar recordings, and although he subsequently expanded his purview to modern times, historical recordings remain the label's specialty. After having them transferred to compact disc with attention to the details of pitch and instrumental color, he hoped to assemble three or four-CD packages that in some cases bring together contrasting performances of great works.
His dream compilation of the Brahms Symphonies, for example, would include two traversals of the cycle, with each work led by a different conductor. Willem Mengelberg's freewheeling 1932 recording of the Third Symphony would sit beside Bruno Walter's more patrician reading from 1936; Toscanini's driven 1941 account of the First would counter the subjective lushness of the 1935 Stokowski recording. And instead of offering these discs in the record industry's standard packaging -- plastic jewel boxes with flimsy booklets -- Coblence wanted the discs to be bound into hardcover books that include expansive essays on the composers and the works.
The Web site was born of Coblence's desire to set Andante apart from other labels. Hoping at first to bypass record stores, where he was afraid his recordings would be lost in the mass of conventional releases, he decided that the best way to reach music lovers was through the Internet.
As it turned out, he has arranged to have his discs segregated into special Andante sections of stores and sold in concert hall and museum gift shops. And his musings on the Internet led him to develop the Andante Web site, in which he and two partners -- Pierre Berge, a founder of the Yves Saint-Laurent couture house, and Jean-Francis Bretelle, the president of Oleron Finance, a Paris banking concern -- have invested US$5 million.
"We did not want it to be simply an e-commerce site," Coblence said of the Web site. "Our mission is to provide access to knowledge about music, both for music lovers who are not well versed and who need basic references, and for sophisticated listeners, musicians, professionals, musicologists and universities. We wanted to compile exclusive resources that were deep and complex."
Bells and whistles
So although visitors to the Web site can read about, hear excerpts from and order Andante's recordings, they are more likely to be attracted to its other bells and whistles. They can access reports from newspapers around the world, as well as reviews, interviews and essays, some from other publications, some commissioned by the site.
They can also search for performances by date, location, performer or work, or consult the Concise Grove Dictionary of Music, discographies, composers' works lists (still in progress) and biographical information.
The main draw, though, is the "Musicroom," where performances are available as streaming audio and video (formats that can be played but not easily downloaded). Among the current offerings is a recent performance of the Bruckner Ninth by Pierre Boulez and the Vienna Philharmonic. There are also works by Boulez from the Salzburg Easter Festival.
The performance sites are linked to program notes and even to translated song texts. And for more serendipitous listening, there is Andante Radio, which streams a combination of historical and contemporary recordings.
In recent months Coblence has reached agreements for live opera from La Scala, and has established working relationships with Boulez and with Maurizio Pollini, the pianist, who will be undertaking expansive projects for the site. Coblence has also arranged for a Web broadcast of Jessye Norman's performance of Schubert's Winterreise, in a Robert Wilson staging, which takes place in Paris in September. But the heart of his programming will come from the agreements he has reached with the Vienna Philharmonic, the London Symphony and the Philadelphia Orchestra.
The orchestras have given Andante not only the exclusive rights to their weekly concerts during the season but also access to their radio archives, for use both in Web broadcasts and for release on compact discs. Once the performances are Web broadcast, they will remain available as part of Andante's online archives, from which listeners can retrieve them at any time.
Comments will be moderated. Keep comments relevant to the article. Remarks containing abusive and obscene language, personal attacks of any kind or promotion will be removed and the user banned. Final decision will be at the discretion of the Taipei Times.