TWSE looks to new crop of tech firms to diversify
The Taiwan Stock Exchange (TWSE) is focusing on attracting a new crop of innovation and technology companies in an effort to build investor interest and diversify the nation's equity market, an official said on Thursday.
Trading on the TWSE is dominated by Taiwan Semiconductor Manufacturing Co (TSMC, 台積電), which accounts for one-third of the weighting in the benchmark TAIEX.
However, the creation of the Taiwan Innovation board, which groups companies in silos such as green energy, digital services, lifestyle and leisure industries, has helped investors better identify their areas of interest, TWSE chairman and CEO Sherman Lin (林修銘) said in an interview in New York.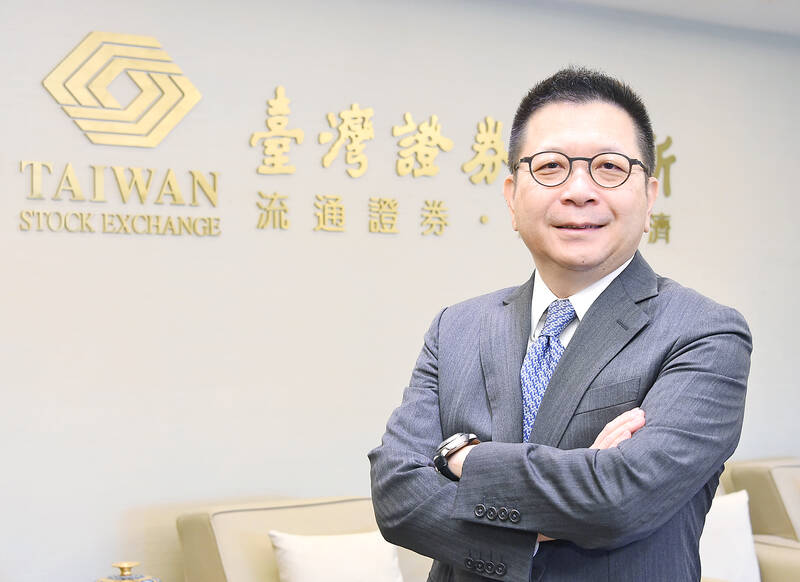 Taiwan Stock Exchange chairman and chief executive Sherman Lin poses for a photograph in Taipei on Aug. 15 last year.
Photo: Tu Chien-jung, Taipei Times
There is no plan to artificially limit TSMC's dominance in the index. Rather, the idea is that the massive chipmaker would help attract smaller, newer companies to the exchange, making the index more balanced and diversified, Lin said.
However, this evolution would not happen overnight.
"Things cannot change suddenly," Lin said.
Lin is meeting with institutional investors and asset managers in New York and Boston this week, urging portfolio managers to look beyond TSMC to its smaller and newer peers, which have the potential to grow as big as the chipmaking giant — the main supplier for Apple Inc and Nvidia Corp.
US foreign investors accounted for more than 40 percent of foreign capital in Taiwan's stock market, making it the exchange's largest source of foreign investment.
TWSE is also exploring the possibility of cross listing exchange-traded funds to track Japanese and Taiwanese securities in each other's markets, Lin said.
The stock exchange operator has already launched similar products with South Korea's stock exchange.
Comments will be moderated. Keep comments relevant to the article. Remarks containing abusive and obscene language, personal attacks of any kind or promotion will be removed and the user banned. Final decision will be at the discretion of the Taipei Times.