Fishers and wind developers need to talk
Experts from Japan and Taiwan underscored the need to establish communication channels between offshore wind farm developers and fishers, during a two-day APEC conference in Taipei on sustainable marine development.
On Wednesday and Thursday last week, Changhua Fishermen Association secretary Hung Yi-ping (洪一平) and Masanori Miyahara, special advisor to Japan's Minister of Agriculture, Forestry and Fisheries, discussed their experiences in fisher-wind farm coordination.
Their comments were shared at the 22nd APEC Roundtable Meeting on the Involvement of the Business/Private Sector in the Sustainability of the Marine Environment, held by Taiwan's Ocean Affairs Council (OAC), during the first session of the conference titled, "Development of Marine Conservation Under Offshore Wind Farm Operations."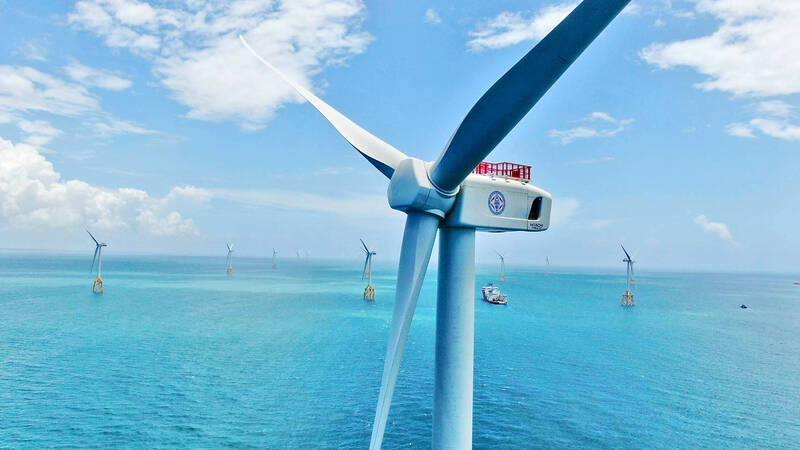 Wind turbines are pictured off the coast of Changhua County's Fangyuan Township in an undated photograph.
Photo courtesy of Taiwan Power Co
Miyahara said the Japanese government was committed to reducing greenhouse gas emissions by 46 percent by 2030 from 2013 levels, with offshore wind power set to be central to achieving this.
The tender process for offshore wind projects in Japan includes promotion area designation, developer selection and occupancy plan certification, he said.
Japan's wind farm operators and fishers have a mutually beneficial relationship, and in addition to advocating carbon reduction, Japan's government has strived to establish communication platforms between the two stakeholders, Miyahara said.
This includes a development model that involved conducting impact assessments for fisheries, compensating the impacts in accordance with related regulations to mitigate possible protest, and an evaluation of competing interests from wind farm development and fishing areas or nearby seafood farms, he said.
Hung said the government has activated energy transition in response to the global roadmap of reaching net zero by 2050 set by the International Energy Agency.
As part of this, Taiwan was aiming to build 10 wind farms off the coast of Changhua County by 2025, he said.
However, the impacts the construction and operation of the wind farms had on the fisheries and ecosystem, such as the vibration, noise and electromagnetic waves generated by the wind turbines, as well as the reduction of fishing areas, have been a source of contention, he added.
Hung agreed with Miyahara that the possible impacts on fisheries caused by developing wind farms must also be taken into consideration.
In addition to the alleviation measures promised in the environmental assessment, such as avoidance, mitigation and compensation, Hung said that wind developers can also set up compensation and cohabitation funds for fisheries or help fisheries build sea farms or transform into patrollers or observers for marine conservation.
Comments will be moderated. Keep comments relevant to the article. Remarks containing abusive and obscene language, personal attacks of any kind or promotion will be removed and the user banned. Final decision will be at the discretion of the Taipei Times.