Huawei mystery phone rallies China against US curbs
SOURCE UNCERTAIN: While some Web sites said the Mate 60 Pro used a 5-nanometer chip, no Chinese chipmaker is known to have mastered technologies that advanced
The surprise launch of a sophisticated US$900-plus Huawei Technologies Co (華為) smartphone has captivated China's technology industry, inspiring hopes that the country's biggest firms can overcome US sanctions seemingly designed to thwart their ascendancy.
The slim-bezeled Mate 60 Pro, which appeared this week for sale online with little fanfare, ignited buzz among Chinese Internet commenters, who saw in the gadget Huawei's resurgence after years of fighting US curbs on software and circuitry.
Many posted screenshots and videos of the gadget's fast wireless performance, triggering speculation Huawei had managed to achieve 5G capabilities.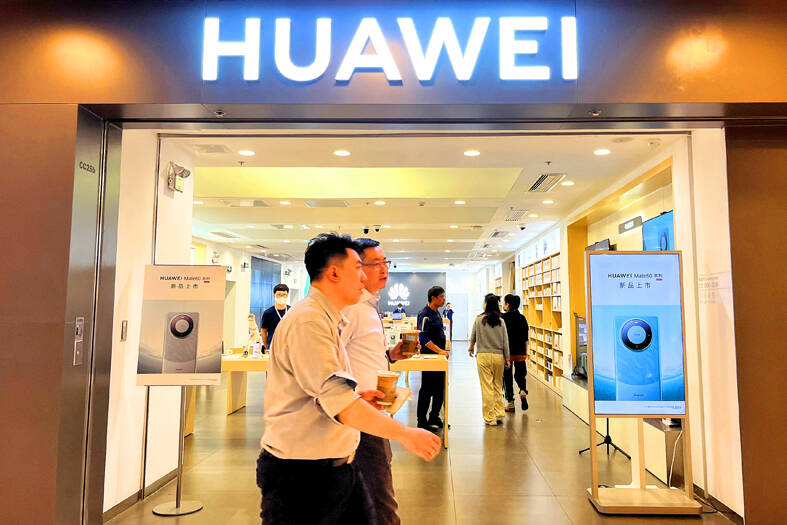 People walk past a Huawei Technologies Co store with advertisements for Mate 60 series smartphones at a shopping mall in Beijing yesterday.
Photo: Reuters
Investors bought in.
Yesterday, shares in more than a dozen Chinese chip designers, gearmakers and Huawei suppliers surged between 8 and 20 percent.
The rally grew out of hopes that Huawei had somehow managed to design, manufacture and deploy a 5G chip capable of matching some of the best the US has to offer, despite a lack of access to advanced chipmaking at players including Taiwan Semiconductor Manufacturing Co (TSMC, 台積電).
Bloomberg News was unable to verify the authenticity of those reports.
The Chinese telecom regulator's Web site did not show registration details for the model, as required of all wireless smartphones sold in the country.
The torrent of online reports only gained momentum, in part because of Huawei's unique status as Chinese national champion and US bugbear. It yesterday topped the list of trending topics on social media Web site Sina Weibo. The idea appeared to endorse the "whole nation" narrative Beijing has espoused, where a nationwide effort can produce breakthroughs to counter the US.
The Mate 60 Pro is powered by a Kirin processor designed by Huawei's chip arm HiSilicon Technologies Co (海思半導體), according to multiple teardown videos circulating online.
Several Web sites reported that the chip employed 5-nanometer node technology — just a generation behind the latest. Bloomberg News could not determine the manufacturer or sophistication of the chip.
Chinese chipmakers are not known to have mastered technologies as advanced as 5 nanometers. Huawei stockpiled such chips from TSMC right before US sanctions hit, but it is unclear whether the Mate 60 Pro might have used remnants of the company's inventory.
"This new phone has huge significance. Though it is evident that Huawei was able to build this model only by sourcing and production in a roundabout way, regardless of what it went through to achieve this, Huawei did it," said Shi Junbo (石軍波), a fund manager at Hangzhou XiYan Asset Management Co (杭州希言資產管理).
"But in terms of the sentiment lift for the industry today, that shares have been at their lows probably is the more important factor than the phone. One model is probably not going to be enough to have a lasting impact on the sector," Shi added.
The rally was unusual not just for a lack of evidence to support the online enthusiasm, but also because it coincides with warning signs of Chinese financial and economic stress — in part because of US pressure.
Huawei is one of several Chinese companies at the center of Washington-Beijing tensions, the target of sanctions over allegations that it aids China's military. The company, once the world's biggest telecommunications provider, has been pulling out the stops since the US Department of Commerce added Huawei to its Entities List in 2019.
Huawei began by assigning thousands of engineers to try and replicate American technology, for instance in wireless chips. And it also began putting in place the infrastructure to ensure its future survival.
The leading association of global chip companies warned this year that Huawei is building a collection of semiconductor-fabrication facilities across China, a shadow manufacturing network that would let the blacklisted company turn its chip designs into reality.
It remains unclear how Huawei could have found workarounds to some of the most sweeping restrictions on China that the US has ever imposed.
Now, investors hope that Huawei can inspire its peers, several of which also labor under sanctions of varying severity. The Mate 60's launch will be a catalyst for more homegrown, high-end smartphones, and trigger demand in the supply chain especially amid a downturn in semiconductors, Huajin Securities Co (華金證券) said in a note.
"It paves the way for Huawei to recover its shipments even quicker in its home country, with an almost zero-cost launch event," Canalys senior vice president Nicole Peng (彭路平) said. "If the rumors are true, it means Huawei's R&D [research and development] capabilities have largely exceeded the industry development timeline, which means it creates huge disruption to the semi industry and its competitors."
Comments will be moderated. Keep comments relevant to the article. Remarks containing abusive and obscene language, personal attacks of any kind or promotion will be removed and the user banned. Final decision will be at the discretion of the Taipei Times.