TSMC negotiating German deal
STATE SUBSIDIES: The talks over a factory in Dresden have a top end on par with what Japan is offering TSMC and outdo a cap other firms are being offered in Europe
Taiwan Semiconductor Manufacturing Co (TSMC, 台積電), the world's biggest contract chipmaker, is in talks to receive German government subsidies for as much as 50 percent of the costs to build a new semiconductor fab in the country, people familiar with the matter said.
The government is in ongoing negotiations with TSMC, as well as its partners on the project — Bosch Ltd, NXP Semiconductors NV and Infineon Technologies AG — the people said, asking not to be identified because the deliberations are private.
No final decisions have been made and the final subsidy amount could still change. Any state aid must also be signed off by the European Commission.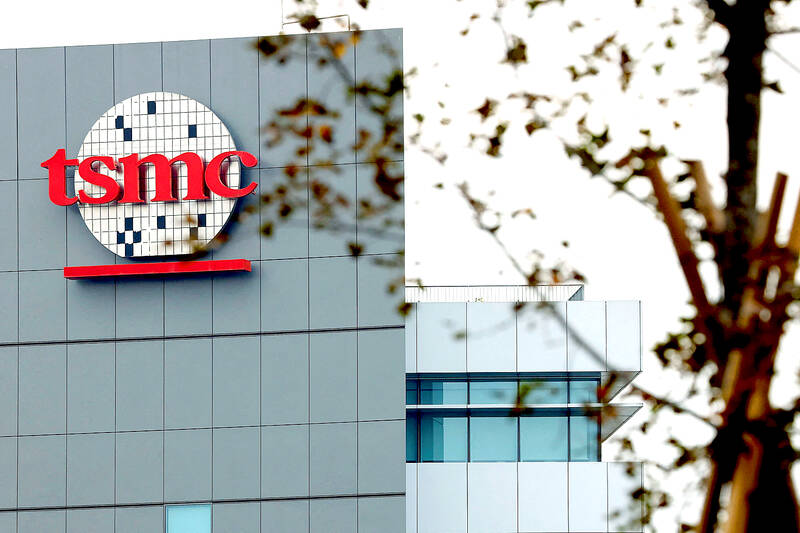 The Taiwan Semiconductor Manufacturing Co logo is pictured at the Southern Taiwan Science Park in Tainan on Dec. 29 last year.
Photo: Ann Wang, Reuters
The deliberations over the Dresden plant, which could cost as much as 10 billion euros (US$10.7 billion) to build, show how competition for semiconductor manufacturing capacity has intensified. The top end of the subsidies being discussed would put German government support for the fab on par with what Japan is offering TSMC to build a factory there. It would also outpace the 40 percent maximum that most other chipmakers are getting for their plants in Europe.
The German Ministry for Economic Affairs and Climate Action said in a statement that it is in a "close exchange" with TSMC "with the aim of jointly discussing prerequisites for an investment decision."
The ministry did not comment on the subsidies beyond saying that the government could fund the project under the European Chips Act.
A spokeswoman for TSMC said that the company is evaluating the possibility of building a fab in Europe and declined to comment further.
TSMC chief executive C.C. Wei (魏哲家) last month said that the decision would be based on demand from customers and the level of support from Beijing.
The plant would be a big win for the EU's 43 billion euro Chips Act, which is aimed at increasing domestic output to avoid supply chain disruptions. STMicroelectronics NV, GlobalFoundries Inc, Infineon Technologies AG and Wolfspeed Inc are among the chipmakers that have announced new investments in Europe since it was first proposed last year.
"The goal is to be close to our customers," TSMC senior vice president Kevin Zhang (張曉強) said at an industry event in Amsterdam this week.
TSMC's board would make a final decision about going ahead with the project as soon as August, he said.
"If we do build a fab in Dresden, likely we would start at the 28-nanometer generation," he said.
Such chips could be used for microcontrollers in vehicles and could be made smaller.
Comments will be moderated. Keep comments relevant to the article. Remarks containing abusive and obscene language, personal attacks of any kind or promotion will be removed and the user banned. Final decision will be at the discretion of the Taipei Times.