Sanofi's Dupixent succeeds in high-stakes lung trial
Sanofi SA's drug Dupixent succeeded in a late-stage trial for chronic obstructive pulmonary disease (COPD), raising the odds that the blockbuster would be the first biologic medicine cleared to treat the lung disorder.
Dupixent, which is already prescribed for asthma and some skin conditions, showed a 30 percent reduction in the rate at which patients' COPD worsened compared with those who received a placebo during the stage-three Boreas trial, the company said in a statement yesterday.
The positive data could herald a new era of cutting-edge treatments for the life-threatening respiratory affliction and provide another major boost in demand for the French drugmaker's lead therapy.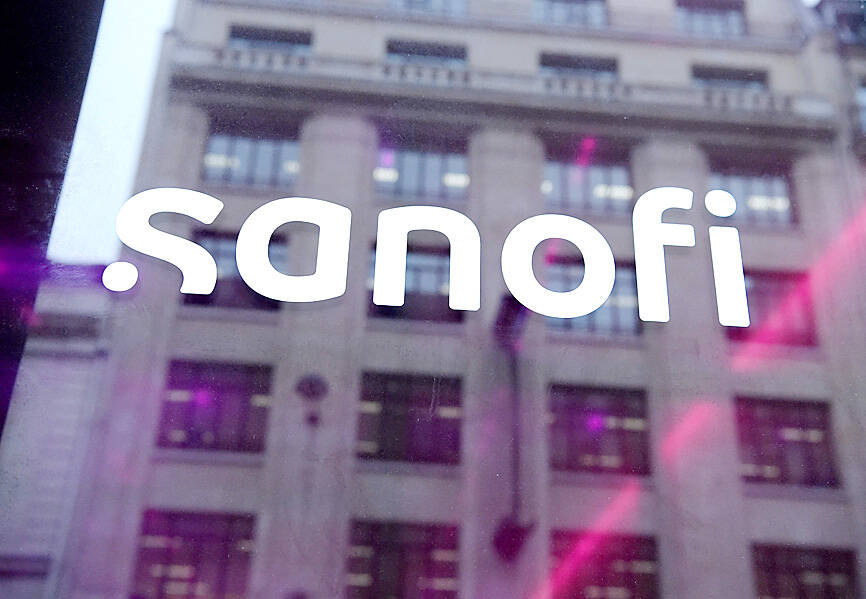 A reflection of the logo of French pharmaceutical group Sanofi SA is pictured in Paris on Feb. 4 last year.
Photo: AFP
Still, Sanofi probably needs Dupixent to also perform well in the related trial, called Notus, before it can apply for approval, said Tim Anderson, an analyst at Wolfe Research LLC.
That study likely would not produce key data until next year.
This is the first time an antibody therapy has shown to be effective against COPD and follows stumbles from AstraZeneca PLC's drug Fasenra and GSK PLC's Nucala, Peter Welford of Jefferies said in a recent note.
In the trial, Dupixent improved people's lung function and quality of life.
The results are "unprecedented and potentially paradigm-shifting," Dietmar Berger, Sanofi's chief medical officer, said in the statement.
Common among current and former smokers, among others, COPD damages people's lungs and can cause persistent coughing and breathlessness, along with anxiety, depression and sleep disturbances.
In the US, about 300,000 people suffer from the type of COPD that was included in this trial, Sanofi said.
There have been no new treatment approaches approved for COPD in more than a decade, Sanofi said.
Sanofi has developed Dupixent with the US company Regeneron Pharmaceuticals Inc. The French company has a peak sales forecast of more than 13 billion euros (US$14.2 billion) for the drug, which does not include any potential revenue for treating COPD.
Some analysts are forecasting that Dupixent would bring in as much as 18 billion euros in sales by 2030.
Comments will be moderated. Keep comments relevant to the article. Remarks containing abusive and obscene language, personal attacks of any kind or promotion will be removed and the user banned. Final decision will be at the discretion of the Taipei Times.