Far EasTone to axe 5,000 Asia Pacific Telecom stations
Far EasTone Telecommunications Co (遠傳電信) yesterday said it is seeking to decommission at least 5,000 base stations using overlapping frequency bands with Asia Pacific Telecom Co (亞太電信) following the acquisition of the smaller telecom.
Far EasTone president Chee Ching (井琪) made the remarks on the sidelines of a forum in Taipei.
With those base stations going offline, Far EasTone would reduce carbon emissions by about 25,000 tonnes annually, Ching said.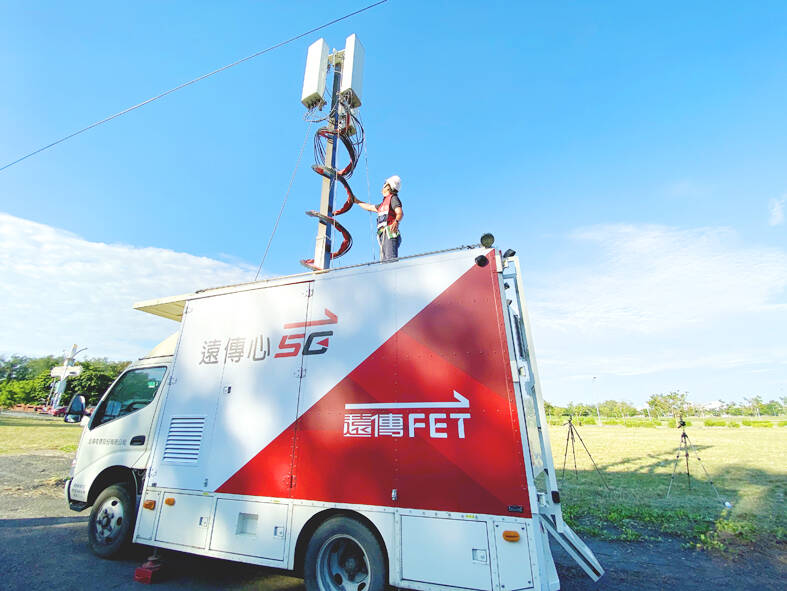 A Far EasTone Telecommunications Co employee stands on top of a service vehicle in an undated photograph.
Photo courtesy of Far EasTone Telecommunications Co
About 92 percent of Asia Pacific Telecom base stations can be integrated with the ones operated by Far EasTone, the company said.
Far EasTone is likely to scrap another 12,000 3G base stations, as a timeframe set by the National Communications Commission stipulates that 3G networks be shut down next year.
Commission data show that each telecom would reduce their electricity use by up to 100 million kilowatt-hours per year by shutting down 3G stations.
Far EasTone said that base stations contribute 75 percent to its power consumption, so reducing their number would contribute greatly to its electricity saving plans.
Data centers and servers account for 23 percent of power consumption, while office buildings and retail stores account for 2 percent, it said.
Far EasTone expects to complete the merger with Asia Pacific Telecom as early as the third quarter of this year, saying that it would create NT$3 billion (US$98.3 million) in synergy benefits within one year of the merger.
Most of the benefits would come from cost saving measures through integrating the two base station ecosystems and spectrum sharing, it said.
The merger is subject to approval by the Fair Trade Commission, after the National Communications Commission conditionally approved the deal in the middle of January.
Comments will be moderated. Keep comments relevant to the article. Remarks containing abusive and obscene language, personal attacks of any kind or promotion will be removed and the user banned. Final decision will be at the discretion of the Taipei Times.