Online O-Bank expecting double-digit record growth
O-Bank Co Ltd (王道商業銀行), the nation's first online bank, is pursuing double-digit percentage growth in core businesses this year on top of last year's record earnings, undeterred by lingering economic uncertainty, top-ranking officials said yesterday.
O-Bank is optimistic about fee and interest income growth, as well as wealth management and foreign-exchange gains, driven by a strategy focusing on lending with affiliates of major Taiwanese corporations, bank president Elton Lee (李芳遠) said.
Conducting business with corporate clients generates higher margin despite a lack of financial protection from their parent companies, Lee said.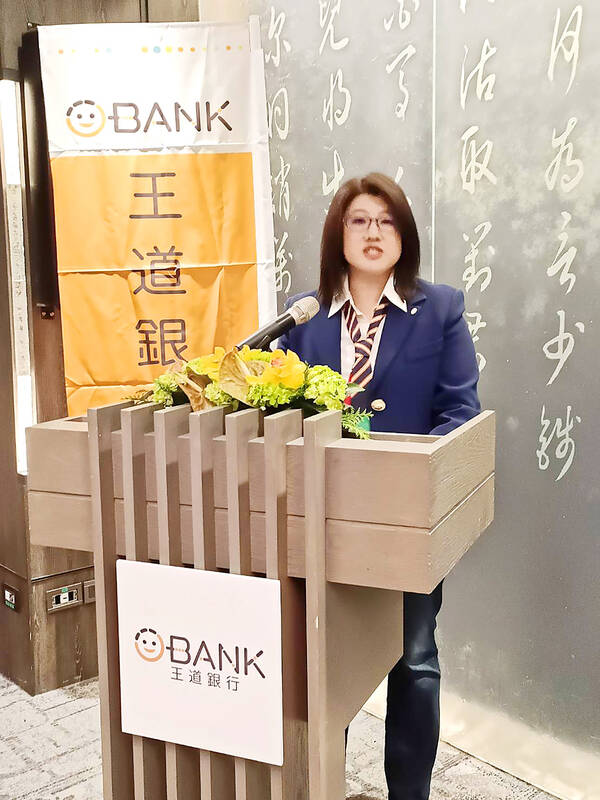 O-Bank Co Ltd chairwoman Tina Lo speaks at a news conference in Taipei yesterday.
Photo: Lee Chin-hui, Taipei Times
O-Bank considers risk controls essential, as evidenced by its improving return on equity to 13.59 percent and return on assets to 1.5 percent last year, he said.
The "bad loan" ratio stood at a low 0.35 percent, and non-performing loan coverage ratios reached 431.51 percent, affirming healthy asset quality, Lee said.
Pre-tax profit in the first two months of this year totaled NT$950 million (US$30.99 million), rising 10.6 percent from the same period last year and ahead of expectations, Lee said.
The figures showed earnings per share rising 18.75 percent year-on-year to NT$0.19, indicating that the bank "stayed on the right track" and grew more profitable three years after new leadership, said O-Bank chairwoman Tina Lo (駱怡君), who assumed her position in 2020.
The lender last year achieved record profit of NT$5.8 billion, supported by improving commercial and retail banking, along with a merger of its IBT International Leasing Corp (台駿租賃) with Jih Sun International Leasing & Finance Co (日盛台駿租賃), Lo said.
O-Bank has a 44.5 percent stake in Jih Sun and would distribute profit proportionately, she said.
When not including the merger benefit, net income at O-Bank last year would have increased 9 percent to NT$2 billion, better than transforming to a commercial bank, Lo said.
The bank aims to add more than 100 employees to its payroll this year to meet expansion needs at its corporate and retail banking businesses, she said.
O-Bank plans to distribute cash dividend this year similar to last year's level at NT$0.3 per share but the board has not reached a decision on the matter yet, Lo said. Like most other peers, O-Bank lost NT$2.8 billion last year due to the global financial tumult.
Additionally, the online banking environment this year appears to be challenging, as stakeholders must increase their economic scale before seeking profit, Lee said.
Taiwan's central bank is likely to slow or halt monetary tightening next week to allow economic growth, Lee said.
Other policy tools to fight inflation exist, and rate hikes should be the last resort, he added.
Comments will be moderated. Keep comments relevant to the article. Remarks containing abusive and obscene language, personal attacks of any kind or promotion will be removed and the user banned. Final decision will be at the discretion of the Taipei Times.