China Airlines' net profit plunges 70% amid higher costs
China Airlines Ltd (華航) yesterday reported net profit for last year of NT$2.85 billion (US$92.5 million), down 70 percent from a year earlier, as rising operational costs weighed on its profitability.
That translated into earnings per share of NT$0.48, the nation's flag carrier said.
Despite lower air cargo rates and intensifying competition in the passenger market, China Airlines' revenue grew 8.5 percent annually to NT$150 billion last year, attributable to higher ticket prices in the passenger market and robust demand from consumers in the second half of the year, it said.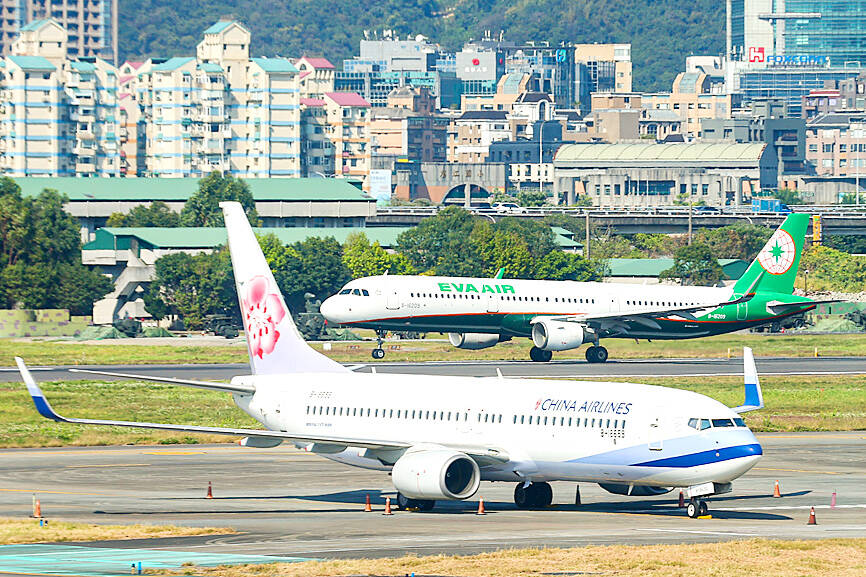 Aircraft operated by China Airlines Ltd and EVA Airways Corp are pictured at Taipei International Airport (Songshan airport) yesterday.
Photo: CNA
However, an increase in operational costs of 20 percent outpaced revenue growth, with costs totaling NT$139 billion, as aviation fuel costs increased 70 percent year-on-year, halving the airline's gross margin from a year earlier, company data showed.
The airline said that its passenger revenue expanded 320 percent from a year earlier as Taiwanese airports resumed transit services in June last year and the government relaxed the nation's border controls in October, the company said in a statement.
Its cargo revenue fell about 7 percent from a year earlier in light of competition from sea shippers, the company said.
China Airlines said it is upbeat about the passenger market this year and would increase the number of flights to earn more passenger revenue.
From later this month, the airline would provide more than 150 flights per week from Taiwan to Japan and South Korea, two of the favorite markets of Taiwanese travelers, it said.
The airline said it is planning to use wide-body Airbus SE 321neo aircraft for its Southeast Asian flights to gain more market share.
As it is planning to expand its offering of long-haul services, it would from next month increase the number of flights to Vienna and London, China Airlines said.
Passenger numbers on flights to North America have recovered to pre-COVID-19 pandemic levels, it added.
The company said it would take delivery of two new Boeing 777F jets to boost its efficiency, adding that it is planning to increase its flights to the US and Europe to maximize its air cargo revenue.
In related news, freight forwarder and logistics operator T3EX Global Holdings Corp (台驊國際投資控股) yesterday reported net income of NT$2.54 billion for last year, down 35 percent from a year earlier, as revenue fell 22 percent amid weaker demand.
T3EX Global's earnings per share were NT$18.03, compared with NT$30.03 a year earlier, company data showed.
Comments will be moderated. Keep comments relevant to the article. Remarks containing abusive and obscene language, personal attacks of any kind or promotion will be removed and the user banned. Final decision will be at the discretion of the Taipei Times.