Cathay Pacific posts first operating profit since 2019
TAKEOFF: The airline said it operated at one-third of pre-pandemic passenger flight capacity in December, but expects to reach 70 percent by the end of this year
Hong Kong carrier Cathay Pacific Airways Ltd (國泰航空) yesterday reported its first annual operating profit since 2019 as the airline fights to return to pre-COVID-19 pandemic flight capacity.
The airline has struggled to catch up with regional rivals, such as Singapore Airlines Ltd, as Hong Kong only began axing harsh pandemic curbs — including mandatory hotel quarantine and strict testing requirements — in the second half of last year.
"Cathay Pacific has experienced three challenging years due to the COVID-19 pandemic, with 2022 very much being a year of two halves," Cathay Pacific chairman Patrick Healy said in a statement announcing the results, referring to a "marked improvement" in performance later in the year.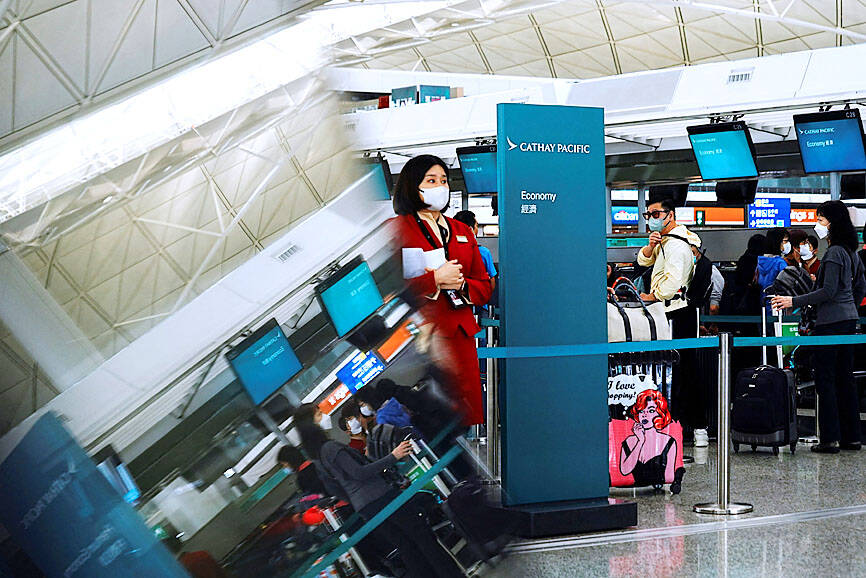 A Cathay Pacific employee, left, is pictured at work at Hong Kong International Airport yesterday.
Photo: Reuters
The company said in its statement that it operated at one-third of pre-pandemic passenger flight capacity in December last year, but expects to reach 70 percent by the end of this year.
It reported an operating profit of HK$3.55 billion (US$452 million) last year, but suffered a loss attributable to shareholders of HK$6.5 billion, weighed down by losses incurred by its associate companies.
Cathay carried 2.8 million passengers last year — nearly four times that of 2021 — which brought in US$1.7 billion in revenue.
Ronald Lam (林紹波), who took over as CEO at the start of this year, said Cathay would seek to lead the market for the "Greater Bay Area," Beijing's regional development blueprint for Hong Kong and surrounding southern Chinese cities.
Last year, the company was buoyed by strong cargo operations, which raked in US$3.4 billion, operating at two-thirds of pre-pandemic capacity by the end of the year.
Last week, it gave away more than 50,000 flights to Hong Kong from Singapore, Thailand and the Philippines as part of the government's "Hello Hong Kong" promotion campaign for tourists.
The company earlier said it was "very encouraged by the enthusiastic response" to that promotion, with the event drawing long online waiting times and tickets being snapped up within hours.
Hong Kong's airport in January saw 2.1 million visitors — a major uptick compared with preceding months, but still only one-third of 2019 levels.
Cathay's flight attendants' union in January began a work-to-rule labor action after accusing the airline of putting a low priority on "providing reliable and practicable working conditions," and competitive pay.
The company said at the time that most of the roster issues had been resolved and that flight services would continue as scheduled.
However, Hong Kong continues to face major hurdles to retaking its place as a regional transport hub. In January, about 20 regional Asian airlines said they were unable to restart services in Hong Kong, because of shortages of ground staff.
Comments will be moderated. Keep comments relevant to the article. Remarks containing abusive and obscene language, personal attacks of any kind or promotion will be removed and the user banned. Final decision will be at the discretion of the Taipei Times.