US likely to cap S Korean chipmaking in China: US official
The US is likely to impose a limit on the chip production capabilities of Samsung Electronics Co and SK Hynix Inc in China, a senior US official said, as Washington works with allies to curb Beijing's access to cutting-edge technologies.
"We're working with those companies on the way forward there," US Undersecretary of Commerce for Industry and Security Alan Estevez said at a think tank event on Thursday.
"What it'll likely be is a cap on the levels they can grow to in China," he said.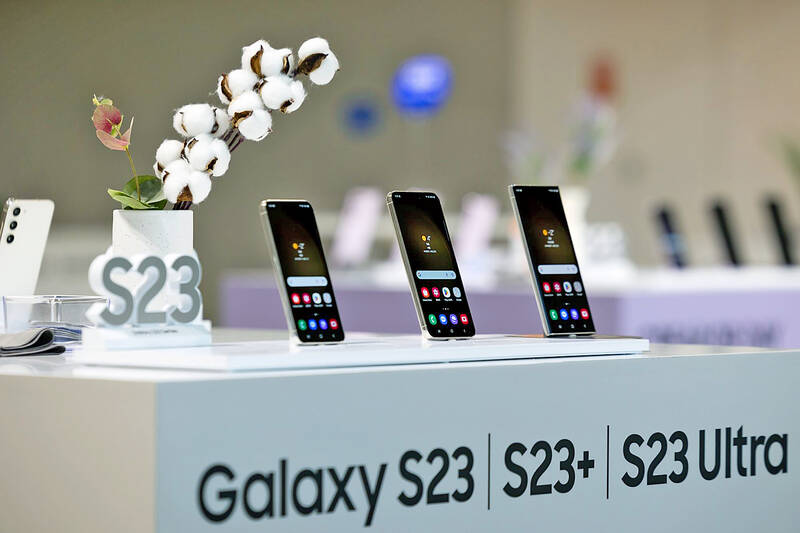 Samsung Electronics Co Galaxy S23 smartphones are displayed in Seoul on Jan. 30.
Photo: Bloomberg
South Korean companies won a one-year reprieve from sweeping US export controls unveiled in October last year that prevent chipmakers from bringing in equipment for their advanced facilities in China.
Without a license extension, it is unclear how Samsung and Hynix would proceed — as they are depend on China as a key market and a manufacturing site for their memory chips.
"If you're at whatever layer of NAND, we'll stop it somewhere in that range," Estevez said, referring to a type of memory chips used in electronic devices including smartphones and servers.
"It'll depend on what the Chinese are doing too," he added.
He did not specify the precise level of chip technology at which the US would seek a cap.
The US and South Korea started a working group on export controls in November last year, he said, without elaborating on the degree of collaboration between Washington and Seoul.
Comments will be moderated. Keep comments relevant to the article. Remarks containing abusive and obscene language, personal attacks of any kind or promotion will be removed and the user banned. Final decision will be at the discretion of the Taipei Times.