Taiwan Mobile in negotiations for Taiwan Star deal
Taiwan Mobile Co (台灣大哥大) said it is negotiating a lower acquisition bid for Taiwan Star Telecom Corp (台灣之星), as the regulator's ruling last month curtailed Taiwan Mobile's access to the 5G spectrum owned by Taiwan Star.
Taiwan Mobile seeks to slash about 72 percent of its offering to absorb financially strapped Taiwan Star through a share swap.
Taiwan Mobile's board of directors yesterday approved an exchange of one Taiwan Star share per 0.0326 Taiwan Mobile shares, compared with 0.04508 shares agreed in December 2021, according to a company filing with the Taiwan Stock Exchange last night.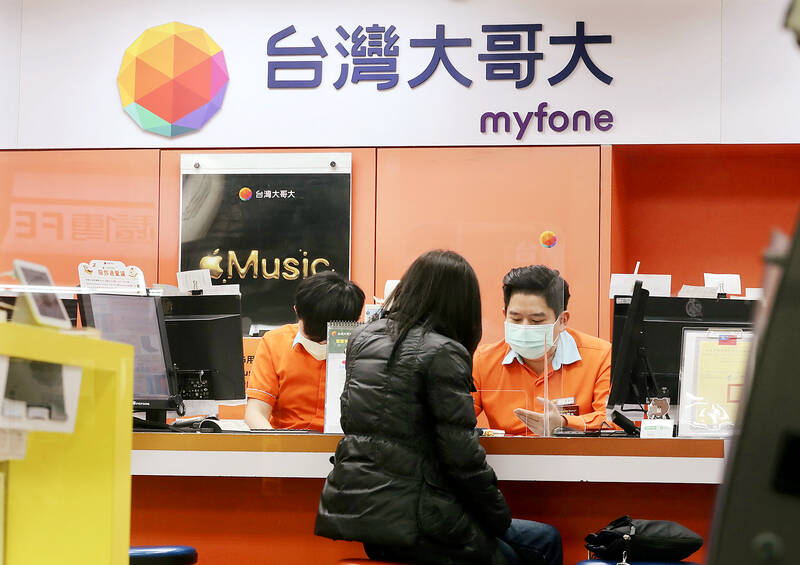 A customer visits a Taiwan Mobile Co store in Taipei on Dec. 30, 2021.
Photo: CNA
That proposal would significantly reduce the transaction to about NT$19.72 billion (US$647 million), based on Taiwan Mobile's share price of NT$96.6, rather than NT$27.23 billion as calculated previously.
Taiwan Mobile said its board of directors met yesterday, but it declined to comment on the adjustment in the share swap ratio earlier yesterday.
"We are renegotiating for new terms," Taiwan Mobile president Jamie Lin (林之晨) told an investors' conference yesterday afternoon. "We hope we will have news to share very soon."
Taiwan Mobile's latest move came after the National Communications Commission gave conditional approval for the merger last month.
Taiwan Mobile is required to return 10 megahertz (MHz) of the 5G spectrum in the 1 gigahertz (GHz) band owned by Taiwan Star by June 30 next year for free, if it proceeds with the acquisition.
The commission's decision is based on the Regulations for Administration of Mobile Broadband Businesses (行動寬頻業務管理規則), which set an upper limit of 5G spectrum acquisition of one-third — or 50MHz — of the total, or of the total auction spectrum of 150MHz.
Taiwan Mobile expects its revenue to grow this year, without counting the contribution from Taiwan Star, Lin said.
Revenue expanded 10 percent year-on-year to NT$172.21 billion, setting an all-time high, it said.
The telecom attributed the growth to a significant increase in monthly fees from 5G subscribers versus 4G users, and robust growth in its e-commerce and home broadband businesses.
Net profits were little changed, totaling NT$11.03 billion, increasing from NT$10.99 billion in 2021. Earnings per share increased slightly to NT$3.91 per share last year from NT$3.9 in 2021, it said.
Taiwan Mobile said it plans to boost capital spending this year to NT$12.8 billion, from NT$9.63 billion last year.
The increases are mainly due to the expansion of a logistics center for its e-commerce subsidiary Momo.com Inc (富邦媒體), it said.
Comments will be moderated. Keep comments relevant to the article. Remarks containing abusive and obscene language, personal attacks of any kind or promotion will be removed and the user banned. Final decision will be at the discretion of the Taipei Times.