Geely plans to turn London cab maker into EV titan
China's Geely Holding Group Co (吉利控股集團) is planning a big investment to turn the maker of London's iconic black taxis into a high-volume, all-electric brand with a range of commercial and passenger vehicles, executives at the unit said.
London Electric Vehicle Co (LEVC) also aims to expand its suite of services, which include cars arranging their own maintenance and recognizing their owner's interests to help them book activities.
"We need a developed product portfolio. We need to make big investments in terms of the technology and infrastructure," LEVC chief executive Alex Nan (南聖良) said at the taxi maker's headquarters in Coventry, central England. "Geely will make consistent investments into LEVC because this is a very unique project."
Workers fit a roof panel on the TX electric taxi production line in the London Electric Vehicle Co factory in Coventry, England, on Wednesday.
Photo: Reuters
LEVC builds a hybrid taxi model that starts at around £66,000 (US$81,900), which has a battery providing 103km of range and a gasoline range-extender giving it a total range of over 480km. The company's business was hit hard by the pandemic and it laid off 140 staff in October last year.
Nan said LEVC and Geely would seek to attract other investors to its zero-emission portfolio and would look to partner with other carmakers to develop new technology.
Executives said the size of Geely's investment would be disclosed later. So far the Chinese group, which took full control of LEVC in 2013, has invested £500 million in it.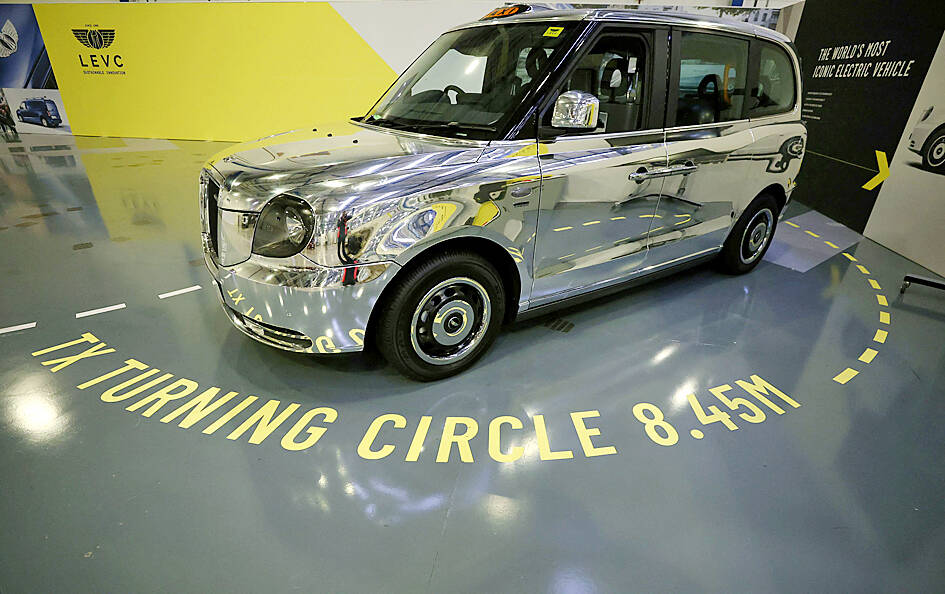 A special silver TX electric taxi made for the queen's Platinum Jubilee celebrations is displayed in the showroom of London Electric Vehicle Co in Coventry, England on Jan. 18.
Photo: Reuters
"Geely fully supports the new transition strategy laid out by LEVC's board and executive team," Geely said in a statement.
In 2021, Geely launched a £2 billion investment in another unit, niche British luxury sports carmaker Lotus, to massively expand production of its sports cars and build high-end SUVs and sedans in Britain and China.
Geely is following a similar path in its plans to grow LEVC, executives said.
Britain's EV ambitions were dealt a blow last week when startup Britishvolt, which had planned to build a major battery factory in northeast England, filed for administration.
"We need to make sure the UK environment as a whole is competitive and has its position on the world stage," LEVC managing director Chris Allen said.
Comments will be moderated. Keep comments relevant to the article. Remarks containing abusive and obscene language, personal attacks of any kind or promotion will be removed and the user banned. Final decision will be at the discretion of the Taipei Times.