Luxury sector eager for return of Chinese tourists
BIG SPENDERS: China's reopening is a key 'mega-theme' for the sector, RBC Bank said, but it remains to be seen how much Chinese tourists will buy
The European luxury sector is welcoming the end of pandemic lockdowns in China, as the return of big-spending Chinese tourists could sustain further growth.
Prior to the pandemic, Chinese tourists visiting Europe were a major source of sales for luxury houses. The Chinese accounted for "a third of luxury purchases in the world and two-thirds of those purchases were made outside China", said Joelle de Montgolfier, head of the luxury division at management consulting firm Bain & Co.
Their return has led RBC Bank to revise up its growth forecast for the sector this year to 11 percent, from 7 percent previously.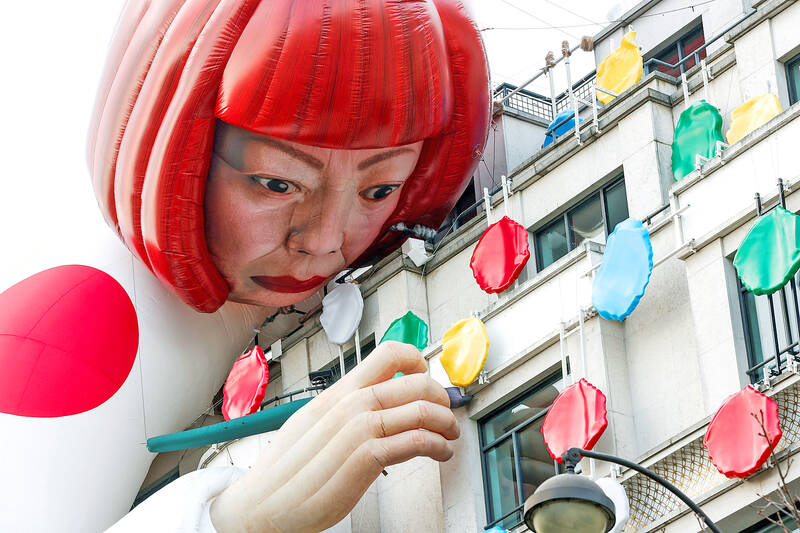 An enormous inflatable mannequin depicting Japanese artist Yayoi Kusama peers over the Louis Vuitton flagship store on the Champs-Elysees in Paris on Saturday. This year is the second time the fashion house has collaborated with the 93-year-old artist following their first joint venture in 2012.
Photo: Reuters
"China reopening is one of the key 'mega-themes' for the luxury sector in 2023," RBC Bank said in a recent note to clients.
After a drop in 2020, the luxury sector managed to surpass its pre-pandemic sales in 2021.
"The Chinese consumed, but only in China," Bain's De Montgolfier said.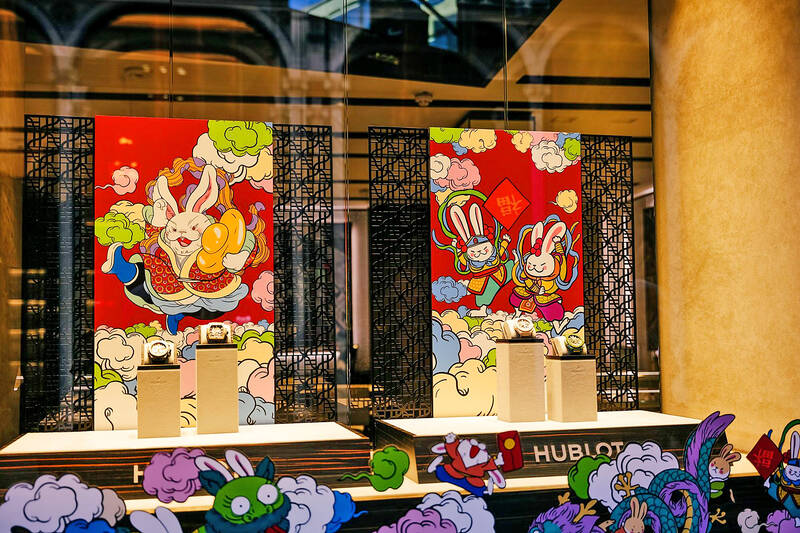 Decorations celebrating the Year of the Rabbit are displayed in the window of the Hublot luxury boutique on New Bond Street in London on Thursday.
Photo: Bloomberg
"In 2022, it was much more complicated with unexpected confinements in the country," she added.
Nevertheless, that did not hold the sector back from making an estimated 22 percent jump to 353 billion euros (US$384 billion), according to a November forecast issued by Bain & Co.
That growth was supported by the wave of post-lockdown US tourists visiting Europe armed with a strong US dollar, as well as South Korean and Southeast Asian tourists.
Another pleasant surprise was Europeans "who had been ignored for decades ... and were more interested in luxury goods than expected," said Erwan Rambourg, a luxury industry insider turned analyst and author of the book Future Luxe: What's Ahead for the Business of Luxury.
With the lifting of travel restrictions in China "there will be a considerable return of Chinese tourists, but that will be more likely in the second quarter," said Arnaud Cadart, a portfolio manager at asset manager Flornoy & Associates.
"The pandemic is still very active in China and it will affect lots of people," Cadart said.
Chinese tourists may be needed if the flow of US tourists slows.
"European boutiques need this rebound in Chinese clientele to replace its American clientele which could buy locally," Cadart said.
They also need to readapt to Chinese customers, who tend to travel in groups, and will join a large number of US tourists.
"There are already lines in front of the boutiques even without Chinese clients ... they need more staff," De Montgolfier said. Otherwise, they risk a "degradation of the experience" of shopping in a luxury boutique.
Another concern: the volume of merchandise that Chinese customers will want to buy is unclear. The sector likes to keep volumes low and does not discount to ensure exclusivity.
Comments will be moderated. Keep comments relevant to the article. Remarks containing abusive and obscene language, personal attacks of any kind or promotion will be removed and the user banned. Final decision will be at the discretion of the Taipei Times.