Gogoro to launch pilot project in Manila next year
Gogoro Inc (睿能創意) is expanding its footprint to the Philippines through a strategic partnership with Globe Telecom Inc's 917Ventures and Ayala Corp, the company said yesterday.
The companies plan to launch a pilot project in Manila in the first quarter of next year using Gogoro's battery-swapping platform and electric scooters, they said in a statement.
"Through our collaboration with Globe, 917Ventures and Ayala Corp, we plan to unlock incredible environmental and sustainability benefits, and introduce new smart mobility efficiencies for businesses by improving how they manage their fleets and deliveries," Gogoro founder and chief executive officer Luke Horace (陸學森) said in the statement.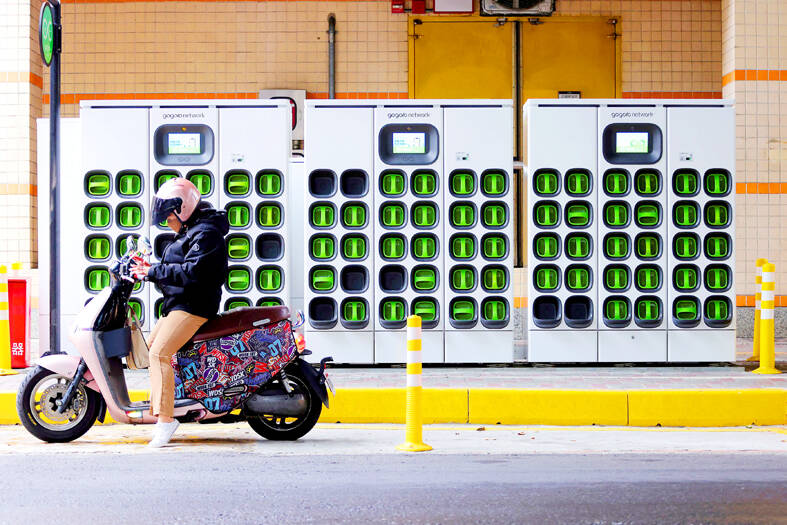 A scooter rider stops in front of a Gogoro Inc battery-swapping station in Taipei on April 19.
Photo: Annabelle Chih, Reuters
In light of Gogoro's experience in Taiwan, the Philippines expects the company's mobility solution to be beneficial in a densely populated region like Metro Manila, Philippine Energy Utilization Management Bureau Director Patrick Aquino said in the statement.
"The success of this pilot will pave the way for a new sustainable business model in other cities in the country as well. The Philippines can learn from Taiwan's experience," Aquino said.
Gogoro's expansion to the Philippines comes after the company early last month announced a similar partnership with Zippy Electric, India's leading EV-as-a-service platform, to accelerate the electrification of urban mobility in the country.
Gogoro expects to launch its business-to-business pilot program with Zypp Electric in Delhi later this month, the company said.
Comments will be moderated. Keep comments relevant to the article. Remarks containing abusive and obscene language, personal attacks of any kind or promotion will be removed and the user banned. Final decision will be at the discretion of the Taipei Times.