Muted Black Friday daunts US retail
HOLIDAY SEASON OMEN: Low-cost brands and high-end retailers had the most foot traffic, leaving mid-range stores struggling on what used to be their biggest sales day
US retailers discounted heavily on Black Friday to clear out bloated inventories, but customers responded with only modest traffic, leaving profitability in doubt for many chains.
Brick-and-mortar retailers, which were hit hard by COVID-19 closures and shoppers seeking to avoid the virus, saw in-store traffic on Friday tick up 2.9 percent from last year's shopping event, data compiled by Sensormatic Solutions showed.
US consumers are still spending, but they are growing more cautious after contending this year with the highest inflation rates in four decades. They are also keeping a sharper lookout for deals, and retailers — many of them still heavy with inventory after misjudging an erosion in demand — are trying to stand out by dangling the deepest discounts since before the COVID-19 pandemic.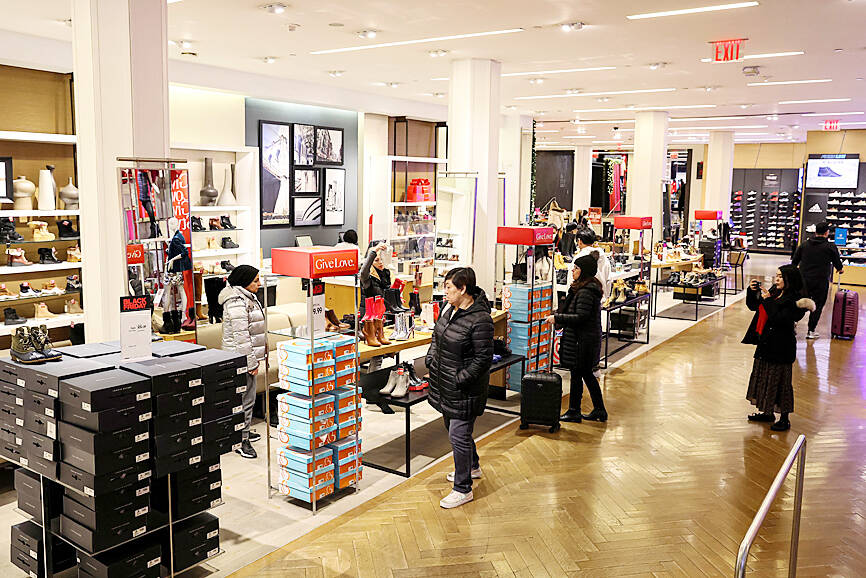 People shop at Macy's department store in New York during the Black Friday retail event on Nov 25.
Photo: Reuters
The US holiday shopping season is likely to see modest or break-even growth in annual sales, said Melissa Minkow, director of retail strategy at digital consultancy CI&T Inc.
"That's still a win," she said, contrasting the outlook with the UK, where high inflation has caused consumers to pull back noticeably on spending.
Still, the steep Black Friday discounts are likely to squeeze retailers.
"Profits will not be where retailers want them to be," in part because they "couldn't pass all of the inflationary costs off to consumers," Minkow said.
E-commerce spending on Black Friday rose 2.3 percent to US$9.12 billion, Adobe Analytics data showed.
That is far less than the US inflation rate of almost 8 percent during the 12 months ending last month.
Salesforce Inc said the average consumer discount on Black Friday was expected to be greater than 30 percent, up from 28 percent last year and close to the 33 percent rate in 2019.
"People are just plainly buying less products because their dollar isn't going as far," Salesforce vice president of retail Rob Garf said.
At Crossgates Mall in Albany, New York, low-cost brands and higher-end trendy retailers had the most foot traffic, while middle-market stores were desolate.
Gap Inc's Old Navy, which was offering 60 percent off most items, had a checkout lines so long that some shoppers turned around as soon as they entered the store.
Drawing big crowds at the higher end were leisure athletic-wear favorite Lululemon Athletica Inc, which had only a few racks of discounted merchandise, and American Eagle Outfitters Inc's Aerie, a popular intimates brand among Generation Z shoppers.
Meanwhile, stores such as Gap's Banana Republic, Macy's Inc and Urban Outfitters Inc had no lines at all, and only a handful of shoppers.
The healthy traffic at some retailers shows that many US consumers are still spending at a robust clip.
US retail sales on Friday were up 12 percent year-on-year, excluding automotive, according to Mastercard SpendingPulse, which measures in-store and online purchases across all forms of payment.
The spending increase is not adjusted for inflation.
However, crowds appeared to be an exception. The checkout line at the toy section at a Macy's in Stamford, Connecticut, had no wait, and the cashier said the store had prepared for more shoppers. A Walmart in suburban Dallas also had cashiers standing at the ready with no lines.
"The historic raucous atmosphere of Black Friday may be in the past," as more consumers shop online and spread their spending out over a longer period, Piper Sandler Cos retail analyst Edward Yruma said in a report.
Comments will be moderated. Keep comments relevant to the article. Remarks containing abusive and obscene language, personal attacks of any kind or promotion will be removed and the user banned. Final decision will be at the discretion of the Taipei Times.