20,000 new hires leave Foxconn's China plant
More than 20,000 employees at Apple Inc supplier Foxconn Technology Group's (富士康) huge Chinese plant, mostly new hires not yet working on production lines, have left, a Foxconn source familiar with the matter said yesterday.
The departures from the world's largest iPhone factory dealt a fresh blow to the Taiwanese company, which has been grappling with strict COVID-19 restrictions that have fueled worker discontent and disrupted production ahead of Christmas and January's Lunar New Year holiday.
Concerns are mounting over Apple's ability to deliver products for the busy holiday period as the worker unrest lingers at the Zhengzhou plant, which produces the US company's iPhone 14 models.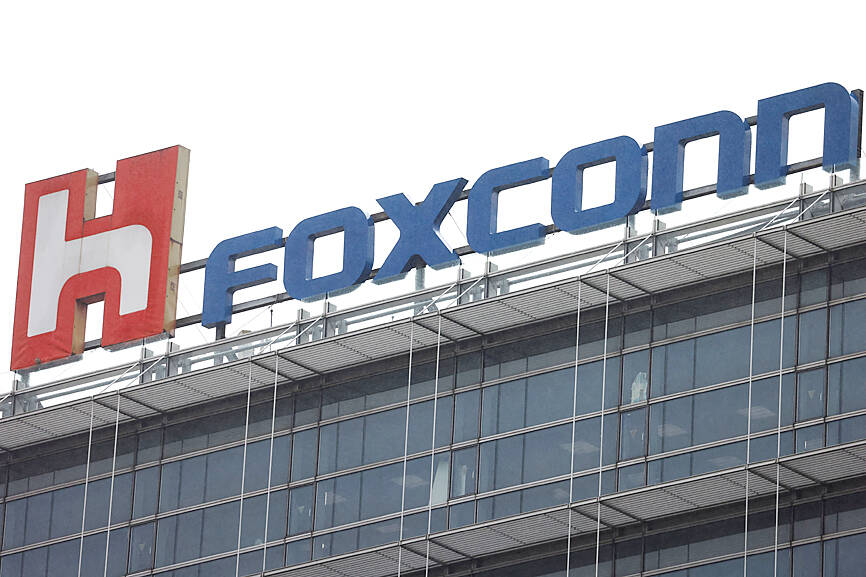 The Foxconn logo is pictured on top of a building in Taipei on Oct. 31.
Photo: REUTERS
The departures could complicate Foxconn's target of resuming full production by the end of this month, after the sometimes violent unrest, the source said.
In a rare case of open dissent in China, employees have complained about sharing dormitories with colleagues who tested positive for COVID-19.
They say they were misled over compensation benefits at the factory, which accounts for 70 percent of global iPhone shipments.
Foxconn on Thursday offered 10,000 yuan (US$1,395) to protesting recruits who agreed to resign and leave the plant.
The company apologized for a pay-related "technical error" when hiring, which workers say was a factor that led to protests involving clashes with security personnel.
Videos posted on Chinese social media yesterday showed crowds and long lines of luggage-laden workers waiting for buses.
"It's time to go home," one person posted.
Another Foxconn source familiar with the matter said some new hires had left the campus, but did not elaborate on how many.
This person said the departures had no impact on current production, as the new staff still needed to take training courses before working online.
"The incident has a big impact on our public image, but little on our capacity. Our current capacity is not affected," the source said.
Comments will be moderated. Keep comments relevant to the article. Remarks containing abusive and obscene language, personal attacks of any kind or promotion will be removed and the user banned. Final decision will be at the discretion of the Taipei Times.