MSCI cut to have minimal effect: FSC
CAPITAL FLIGHT: A US$70 million exodus is expected from a 0.02 percentage point index cut, while China and South Korea have steeper adjustments of 0.08 points each
The latest move by global index provider MSCI Inc to cut Taiwan's weighting in its major index is expected to have only a minor adverse effect on the local equity market, the Financial Supervisory Commission (FSC) said on Friday.
The 0.02 percentage point cut, to 13.35 percent, in the MSCI Emerging Markets Index — which is closely watched by foreign institutional investors — should result in a capital exodus of NT$2.24 billion (US$71.31 million), the commission said.
The expected fund exodus would account for only 0.013 percent of market capitalization held by foreign institutional investors, indicating a small effect on the local equity market, it said.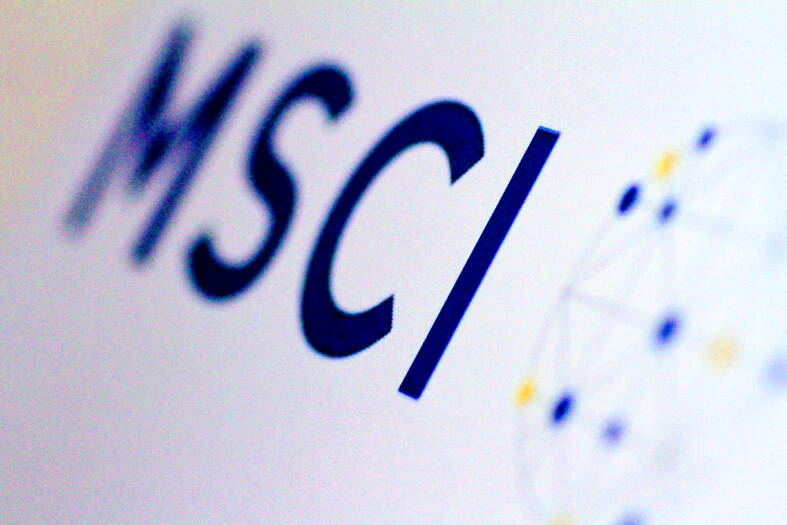 The MSCI logo is pictured in an illustration on June 20, 2017.
Photo: Reuters
MSCI announced the results of its quarterly index adjustments on Friday morning. China and South Korea each had the steepest cut of 0.08 percentage points in their index weighting.
India and Turkey had their weightings rise by 0.2 and 0.09 percentage points respectively, the top two increases among emerging markets.
Despite the cut, MSCI raised Taiwan's weighting in its MSCI All-Country Asia ex-Japan Index and MSCI All-Country World Index to 15.51 percent and 1.46 percent respectively, from 15.49 percent and 1.45 percent.
Compared with China's capital market, Taiwan has a sound legal mechanism in the foreign exchange market with better liquidity and corporate governance, while listed Taiwanese companies have embraced financial disclosure transparency, the commission said.
The local equity market remains attractive to foreign institutional investors, it added.
In addition to the quarterly index adjustments, MSCI added biotech firm PharmaEssentia Corp (藥華藥) and Taiwan Business Bank (臺灣企銀) to its the MSCI Global Standard Indices after the two stocks made sharp gains in recent sessions.
The index provider removed Asmedia Technology Inc (祥碩科技), a high-speed surface integrated circuit (IC) designer, from the index due to its recent slump in share price.
MSCI also added Asmedia into its MSCI Global Small Cap Indices, along with another nine stocks, including Bora Pharmaceuticals Co (保瑞藥業), Delpha Construction Co (大華建設), property developer Farglory FTZ Investment Holding Co (遠雄自貿港投資控股) and connector supplier Hu Lane Associate Inc (胡連精密).
MSCI removed 11 Taiwanese stocks from the MSCI Global Small Cap Indices, including e-commerce services provider 91APP Inc, flat panel maker Amtran Technology Co (瑞軒科技), First Copper Technology Co (第一伸銅科技), high-speed interface IC designer Genesys Logic Inc (創惟科技), biotech firm PharmaEngine Inc (智擎生技) and Taiwan Business Bank.
MSCI added two stocks to the MSCI Taiwan Index while removing one, raising the number of constituents to 88.
PharmaEssentia had the largest weighting increase — 0.37 percentage points — in the MSCI Taiwan Index, while contract chipmaker Taiwan Semiconductor Manufacturing Co (台積電) had the steepest cut of 0.26 percentage points to 40.44 percent due to heavy losses amid volatility among tech stocks in global markets and an aggressive rate hike cycle by the US Federal Reserve.
The index adjustments are scheduled to take effect after the market closes on Nov. 30, MSCI said.
MSCI index reviews are conducted in February, May, August and November each year.
Comments will be moderated. Keep comments relevant to the article. Remarks containing abusive and obscene language, personal attacks of any kind or promotion will be removed and the user banned. Final decision will be at the discretion of the Taipei Times.