Qualcomm sets up second Taiwan innovation center
HEADING SOUTH: The US company chose Kaohsiung as its site as more customers, partners and start-ups have expanded their operations to the southern city
Qualcomm Inc yesterday inaugurated a new innovation center in Kaohsiung as it steps up efforts to foster local start-ups and a 5G technology ecosystem in the city, following in the footsteps of its local partners.
The US chip company's move fits the Kaohsiung City Government's plan to build a semiconductor supply chain within the next five years, highlighted by Taiwan Semiconductor Manufacturing Co's (TSMC, 台積電) first chip plant in the city.
TSMC plans to start building the factory by the end of this year, and to start production of 28-nanometer and 7-nanometer chips there in 2024.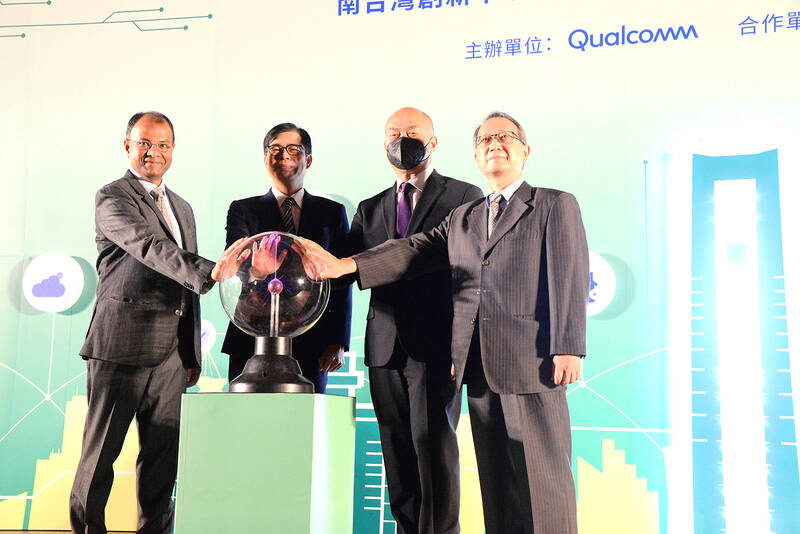 Kaohsiung Mayor Chen Chi-mai, second left, Qualcomm Taiwan president S.T. Liew, second right, and others touch a ceremonial orb at the inauguration of the Qualcomm Innovation Center in Kaohsiung yesterday.
Photo: Hsu Li-chuan, Taipei Times
Qualcomm said it had been considering setting up operations in Kaohsiung for the past two years, as it had found that more customers, partners and start-ups have expanded their operations to the city.
Some of the start-ups participating in the innovation challenges arranged by Qualcomm are from southern Taiwan, the company said.
"Some of our partners have started building their operations in Kaohsiung, such as Compal Electronics Inc (仁寶), which unveiled a 5G AIoT [artificial Internet of Things] research center in August," Qualcomm Taiwan president S. T. Liew (劉思泰) told reporters in Kaohsiung.
"With our partners and start-ups thriving in southern Taiwan, we have to be here with them," Liew said.
With the new Qualcomm Innovation Center, Southern Taiwan, Liew said the company aims to provide incubation support to start-ups, including business instructions, talent training, and advanced testing labs supporting 5G AIoT, O-RAN, small-cell base stations and robotics tests.
Qualcomm would also share its knowledge with the start-ups regarding patent applications, commercialization and technology support, he said.
Some start-ups have entered Qualcomm's supply chain after joining programs created by Qualcomm's Taipei Innovation Center, Liew said.
The innovation center in the Asia New Bay Area 5G AIoT Innovation Park in Kaohsiung is its second one in Taiwan.
The company has also set up similar innovation centers in Vietnam and India, given the robust start-up and technology ecosystems in those countries, Qualcomm vice president Sudeepto Roy told reporters.
Qualcomm has tripled its workforce in Taiwan to about 1,500 from about 500 since Liew took the company's reins in 2016 to support its rapid business expansions.
The company is recruiting engineers specialized in software and hardware design, it said.
Comments will be moderated. Keep comments relevant to the article. Remarks containing abusive and obscene language, personal attacks of any kind or promotion will be removed and the user banned. Final decision will be at the discretion of the Taipei Times.