Fed risks are pushing global funds to flee Asia
Another jumbo interest rate hike by the US Federal Reserve this week might accelerate global funds' exodus from emerging Asian stock markets that are already reeling from the impact of a stronger US dollar.
Foreign investors withdrew from emerging Asian equities excluding China for a fourth straight week, pulling US$858 million in the period through Friday last week, the latest exchange data compiled by Bloomberg showed.
The longest run of outflows since July has pushed regional currencies to historical lows, further dampening the outlook for stocks.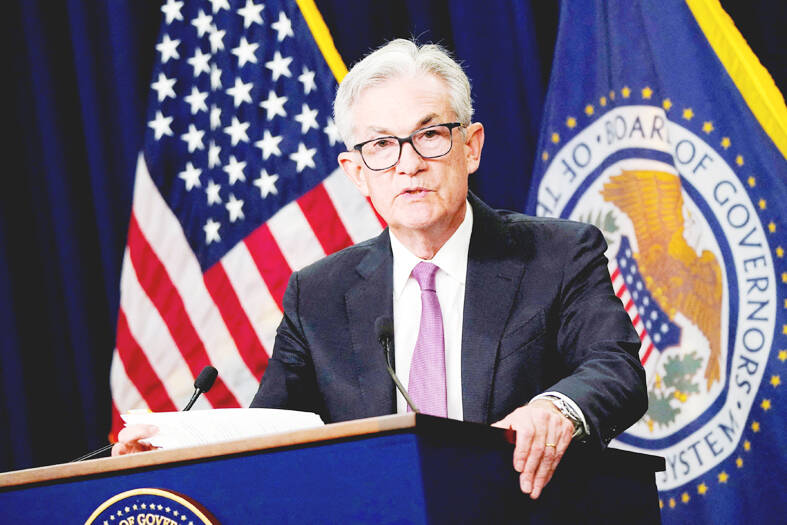 US Federal Reserve Chairman Jerome Powell speaks at a news conference following a two-day meeting of the Federal Open Market Committee in Washington on July 27.
Photo: Reuters
"The recession risks and severe monetary tightening in developed economies are hampering Asian earnings expectations and emerging market flows like never before," BNP Paribas SA head of Asia-Pacific equity research Manishi Raychaudhuri wrote in a note on Saturday.
Until there is some visibility about the Fed's policy path, "there seems to be no respite from outflows in Asian EM [emerging markets]," he wrote.
Even though emerging Asia's foreign reserves and overall policy management have been better than during the taper tantrum of 2013, a supercharged US dollar that is forcing monetary tightening across the region has spared few markets from a rout.
Outflows this year have amounted to about US$65 billion, already more than what was seen for the whole of last year.
The tech-heavy markets of Taiwan and South Korea have been hit particularly hard, with their stock benchmarks among the worst performing in the world this year.
Traders are now watching for additional tightening signals down the road when the Fed announces its decision — an expected 75 basis point increase — today.
The negative correlation between emerging-market stocks and the US dollar has become more pronounced of late, according to Bloomberg Intelligence.
Some differentiation has emerged within the region. While North Asia is seeing weakness, outflows from India have reversed and markets such as Indonesia are attracting inflows.
India's NIFTY 50 has gained more than 13 percent this quarter, while gauges in Thailand and Indonesia are up more than 4 percent. That is in contrast to a 1.7 percent gain in South Korea and declines in Taiwan.
Meanwhile, global investors in private equity and venture capital funds say they are rotating away from China as clients reassess risks because of the nation's rapidly changing environment.
Investors are paring their holdings in the once-booming economy, despite their conviction that long-term growth would continue, said speakers from Partners Group, Hamilton Lane and others firms, which collectively invest billions of dollars across the region, at the SuperReturn Asia conference in Singapore yesterday.
"We represent people and they define the kind of risk they want us to take," Partners Capital managing director and cohead of Asia-Pacific Emmanuel Pitsilis said at the conference.
Even though the firm believes in the rise of China, "there's been a rotation and a desire from clients to diversify away from China," he said.
The firm has switched from a program that is heavily weighted toward China and venture-oriented programs to one that is much broader spread across different sectors and more geographically diverse, Pitsilis said.
However, the caution on China is not resulting in a retreat from Asia. For sovereign wealth fund GIC Pte's head of Asia private equity Kevin Looi, the rotation away from China has helped highlight the region's other giant: India.
"India has been a bit overshadowed by China historically, but if you look at the mood in India it's very buoyant," he said. "There are good reasons for that, a supportive government, good investment policy, India's also benefiting from the realignment of supply chains."
The city-state of Singapore is also benefiting from the changes. The number of private equity firms in Singapore rose to 428 as of June from 336 at the start of last year, Monetary Authority of Singapore Managing Director Ravi Menon said.
Comments will be moderated. Keep comments relevant to the article. Remarks containing abusive and obscene language, personal attacks of any kind or promotion will be removed and the user banned. Final decision will be at the discretion of the Taipei Times.