Siemens Digital Twin: building a turbo-charged R&D platform for King Steel machinery
The global fourth industrial revolution in smart manufacturing and automation requires intelligent solutions. On Wednesday (Aug. 18), German engineering giant Siemens started a month-long Digital Enterprise Virtual Expo. The expo specially showcases a collaboration project between Siemens and King Steel, Taiwan's leading producer of shoe-making machinery. The expo demonstration how the project used full-spectrum digital solutions to assist companies in implementing a successful digital transformation of their manufacturing processes.
King Steel manufacturing machinery use Siemens SIMATIC controllers integrated with Siemens Digital Twin digitization solutions to accelerate the development of new machines and more efficient management of component wastage. Siemens and King Steel, two powerhouses within their respective industries, are joining hands and making great strides toward decoding the fourth industrial revolution.
Siemens continues to promote digital industries in Taiwan, this year signing a memorandum of agreement to collaborate with King Steel in the development of key fourth industrial revolution applications for the manufacturing industry.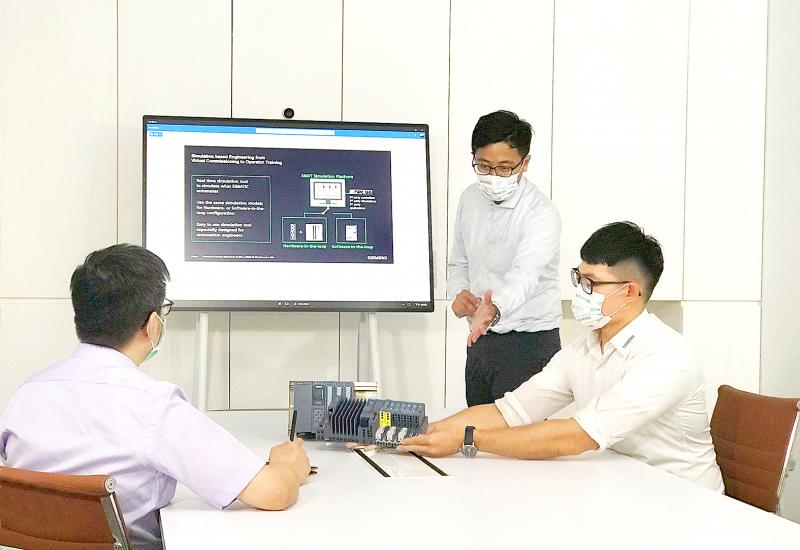 Siemens salesman, right, introduce an automation solution to King Steel.
Photo courtesy of Siemens/King Steel
Siemens Taiwan's general manager of digital industry, Tino Hildebrand, said: "Taiwan is a world-class center for shoe manufacturing and Siemens is fortunate to have the opportunity to work closely with top manufacturer King Steel to introduce Siemens' full-spectrum digitalization solutions. Siemens is assisting King Steel to upgrade its shoe machinery design and manufacturing to help drive forward industrial productivity, improve flexibility, realize digital transformation within a fast-changing global market."?
According to Jim Chen (陳璟浩), special assistant to King Steel chairman, "As we enter a post-COVID-19 era, many of our customers are facing staff shortage problems, particularly involving the production process of rubber soles, which is quite complex.
In the past, one piece of equipment would require between four and six people to operate it, consuming both time and labor cost.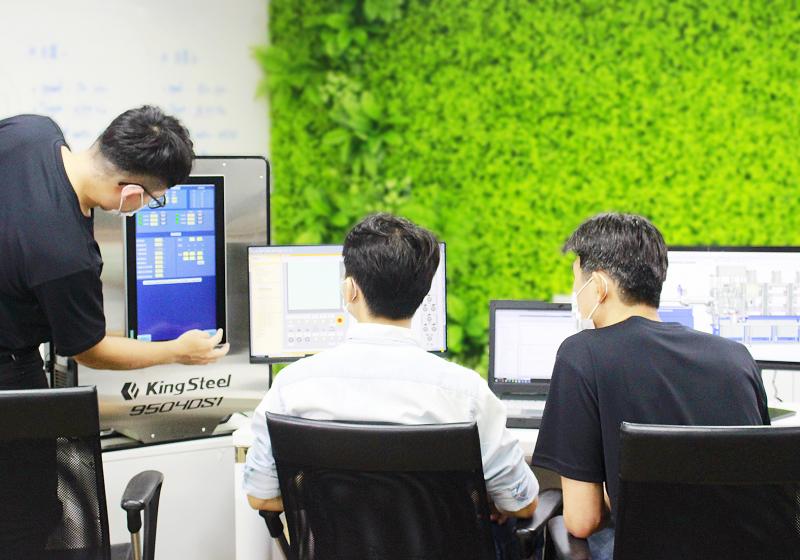 A King Steel employee, centers, discusses Digital Twin system integration with Siemens engineers
Photo courtesy of Siemens/King Steel
By teaming up with Siemens and employing its highly-efficient SIMATIC S7 series of controllers and integrating this with Siemens digital software, we have been able to significantly increase the production efficiency of our equipment, reducing labor intensity by as much as 80 to 90 percent.
Additionally, during the early stages of the equipment's development, Siemens' Digital Twin solution — abbreviated to NX MCD — allows for pre-production virtual reality simulated testing. This greatly shortens the product development timeline and allows King Steel to produce bespoke digital transformation platforms for its customers.
The successful collaboration between King Steel is an important milestone, providing a basis for future cooperation between the two companies, facilitating rapid research and development and producing a competitive edge for King Steel.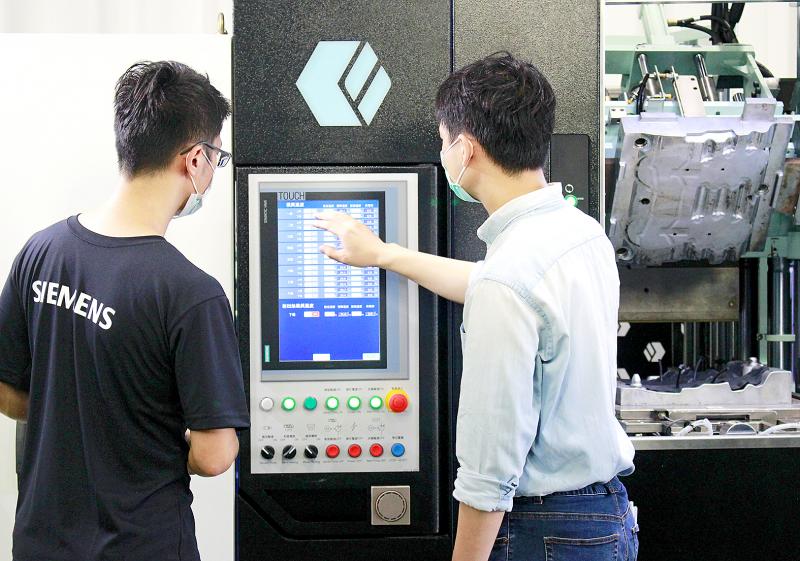 Siemens (left) and KingSteel (right) testing of machine interface functionality.
Photo courtesy of Siemens/King Steel
For more than 40 years, King Steel has placed an important emphasis on research and development as well as innovation. Responding to industry requirements for digital transformation and smart manufacturing, King Steel has partnered with Siemens to develop a new generation of smart machinery with leading industries in mechatronics, open communication and integrated virtual reality.
Siemens provides a comprehensive integrated automation platform, called the TIA Portal, which pairs the high-performance SIMATIC S7-1500 controller with Digital Twin integrated virtual reality solutions, which also incorporates motor components on the same platform. The fully-integrated mechatronic platform achieves the aim of improving the efficiency of high-end manufacturing machinery research and development.
Siemens emphasizes that its SIMATIC S7-1500 high-performance controller has excellent system functions, an extremely short response time, and the best and safest technical integration.
Paired with the Digital Twin solution and NX MCD mechatronics conceptual design, which incorporates CAD 3D modeling, digital modeling of equipment and machinery can be generated. This allows for simulation testing and adjustments to be carried out during the early stage of the development and procurement, greatly reducing the development time of new machinery and equipment, and saving on development costs.
King Steel is leading position as a world-class producer of shoe-making machinery and equipment has working with Siemens to develop and integrate the latest technologies. Through seamless connection of digital software and hardware, and the use of big data, King Steel has been able to streamline the development process and shorten time-to-market.
As the industry marches on towards the goal of factory automation, King Steel is well-placed to meet the goals of automated smart production and remote, real-time management that its customers demand; helping its clients build smart factories for the future and enhance their international competitiveness.
For more information on the Digital Enterprise Virtual Expo, which runs through to Sep. 17, please visit: https://www.siemensdi.com.tw
Comments will be moderated. Keep comments relevant to the article. Remarks containing abusive and obscene language, personal attacks of any kind or promotion will be removed and the user banned. Final decision will be at the discretion of the Taipei Times.