TSMC lifts bourse to intraday record
'ONE-STOCK SHOW': Turnover hit an all-time high as TSMC continued to determine the local market's direction and surpassed Visa in market capitalization
The TAIEX early yesterday hit an all-time intraday high on the back of soaring Taiwan Semiconductor Manufacturing Co (TSMC, 台積電) shares, before tumbling back to the previous day's close as the contract chipmaker could not single-handedly prop up the index.
The TAIEX rose more than 400 points in the first 20 minutes of trading to hit a record 13,031.7 points, but later pared its gains to close down 0.01 percent at 12,586.73.
Turnover was NT$343.252 billion (US$11.63 billion), the highest in the Taiwan Stock Exchange's history.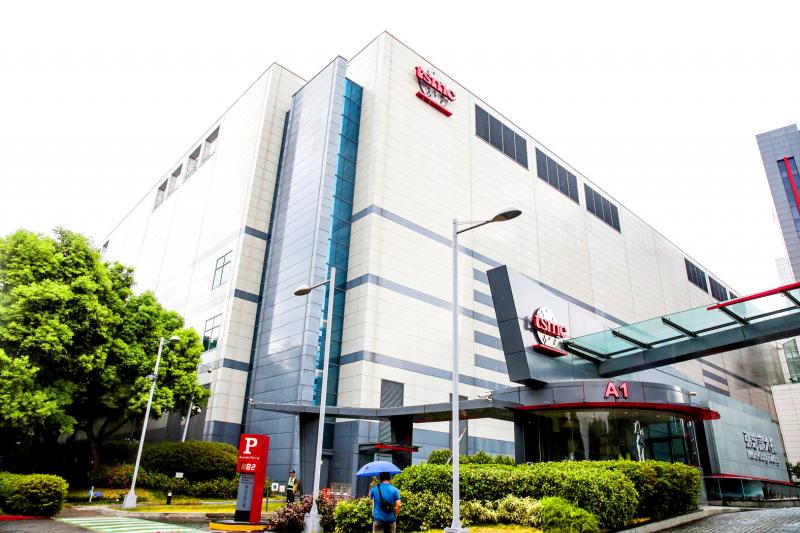 The Taiwan Semiconductor Manufacturing Co headquarters is pictured in Hsinchu yesterday.
Photo: Bloomberg / I-Hwa Cheng
TSMC continued to dictate the market's direction, as its early surge by the daily maximum 10 percent to NT$466.5 accounted for more than 350 points of the TAIEX's early gains.
The company also vaulted into the world's top 10 firms in terms of market capitalization, ahead of Johnson & Johnson and Visa Inc.
TSMC shares later retreated, closing up 2.47 percent at NT$435, which still represented a 39 percent gain this month.
Its gains kept the TAIEX from falling steeply, after contributing 327 points to the benchmark index a day earlier, when the overall index rose 284.26 points.
"TSMC's one-stock show has been rarely seen in decades," Shin Kong Investment Trust Co (新光投信) chairman Quincy Liu (劉坤錫) said.
"The broader market has been held together by TSMC the past two days. Yesterday, MediaTek Inc (聯發科) helped out, and today support was seen from LED, Apple Inc-concept and bicycle stocks, which is a healthier trend than yesterday," Liu said.
The TAIEX rose 2.31 percent on Monday, despite 763 stocks falling and 150 stocks rising.
"With every NT$1 increase in TSMC equaling an 8.5-point increase in the TAIEX, TSMC has accounted for about 90 percent of the index's gains in the past two days," Liu said.
Among other gainers in the Apple supply chain, iPhone assembler Hon Hai Precision Industry Co (鴻海精密) rose 0.5 percent to NT$78.4 and smartphone camera lens supplier Largan Precision Co (大立光) gained 2.49 percent to NT$3,910.
Several other electronics stocks could not stay in positive territory.
MediaTek ended down 6.59 percent at NT$680 after a 4 percent rise earlier, Marketech International Corp (帆宣) plummeted 7.57 percent to NT$116 to erase an earlier gain of 9 percent and Yageo Corp (國巨) fell 5.42 percent to NT$384, off a high of NT$420.
Liu said that TSMC's success is due to its favorable position in a world where China is "de-Americanizing" and other countries are distancing themselves from China.
"TSMC's ability to make high-end chips for artificial intelligence, high-performance computing and smart manufacturing applications in the 5G era gives it an invaluable role, allowing it to benefit from both the 'de-Americanization' and 'de-Sinicization' trends," Liu said.
Tsai Ming-han (蔡明翰), a manager at Cathay Futures Corp (國泰期貨), said the TAIEX's rally has come to an end for the time being.
He said he expects the market to remain turbulent in the short term, but remains bullish regarding medium and long-term prospects.
Comments will be moderated. Keep comments relevant to the article. Remarks containing abusive and obscene language, personal attacks of any kind or promotion will be removed and the user banned. Final decision will be at the discretion of the Taipei Times.