Toyota's US$400 companion robot fits in cup holder
Toyota Motor Corp took one giant leap for robot-kind by launching the first humanoid robot into space to converse with astronauts. Now, it is taking one small step toward commercializing robots for the masses.
Japan's largest automaker is to begin selling a 10cm tall talking robot called Kirobo Mini across Japan early next year. Priced at ¥39,800 (US$393) and small enough to fit into a car cup holder, Toyota is billing Kirobo as capable of responding to human emotions while engaging in conversation and moving its head and hands.
Toyota is to position Kirobo as a communication partner developed for companionship just as surveys of Japanese consumers show a declining affinity for automobiles. One poll by Japan's automakers association released in April found about 30 percent of respondents under age 30 had no interest in cars at all.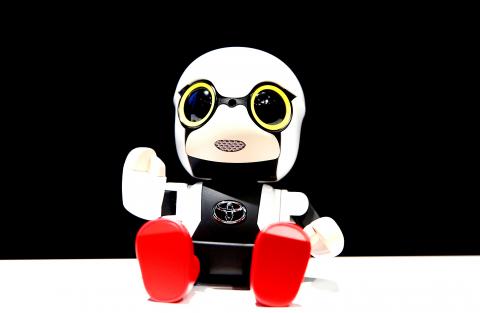 Toyota Motor Corp's Kirobo Mini robot is displayed at a news conference in Tokyo on Thursday last week.
Photo: Reuters
The Toyota City, Japan-based automaker will try to leverage Kirobo's capabilities to help make driving safer. The robot may shout "Oops!" when its owner slams on the brakes, start speaking to perk up a sleepy driver, and offer praise once it has arrived home after a long drive. Kirobo connects via Bluetooth to a smartphone app costing users ¥300 per month.
Toyota has pledged US$1 billion in investment over five years toward an artificial intelligence and robotics institute that is leading research efforts on areas including autonomous driving.
The funding going to the Toyota Research Institute is equal to what the company spent developing the first Prius hybrid, president Akio Toyoda said during a speech at the Paris Motor Show last week.
Kirobo is to start selling in Japan roughly a year and a half after Softbank Corp's Pepper robot, which initially cost ¥198,000 along with a ¥14,800 per month service plan that gave users access to cloud-based voice recognition and an app store.
A larger version of Kirobo spent 18 months on board the International Space Station on a journey that ended in February last year.
Before returning to Earth, Kirobo became the first robot to speak in space, including with Japanese astronaut Koichi Wakata.
Comments will be moderated. Keep comments relevant to the article. Remarks containing abusive and obscene language, personal attacks of any kind or promotion will be removed and the user banned. Final decision will be at the discretion of the Taipei Times.