Pegatron expects single-digit growth
INVESTMENT: The company has allocated US$300 million for capital expenditures this year, with most of it earmarked for new facilities and equipment purchases
Pegatron Corp (和碩) expects to grow its revenue by a low single-digit percentage this year after reporting robust annual revenue growth of about 20 percent last year, company chief executive officer Jason Cheng (程建中) said.
"We hope to maintain the growth momentum, but the about 20 percent annual growth is a great challenge. I hope we could grow by a low single-digit percentage this year from last year," Cheng told reporters on the sidelines of an investors' conference.
Cheng made the remarks after Pegatron, one of Apple Inc's iPhone assemblers, reported a record-high net profit of NT$28.87 billion (US$873.54 million) for last year, up 52.5 percent from the previous year's NT$14.65 billion.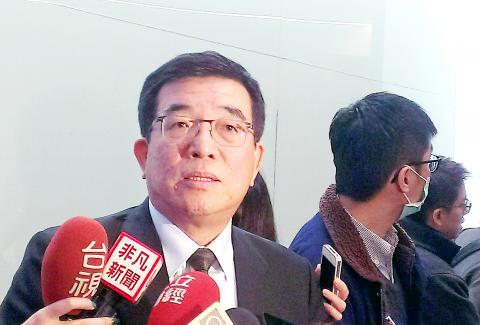 Pegatron chief executive officer Jason Cheng speaks at a news conference in Taipei yesterday.
Photo: CNA
Earnings per share was NT$9.23 last year, compared with NT$6.24 a year earlier.
Gross margin was 6.2 percent last year, up 0.4 percentage points from 5.8 percent a year earlier, while operating margin improved by 0.5 percentage points to 3.3 percent from 2.8 percent in 2014. Consolidated revenue totaled NT$1.21 trillion last year, up 19.01 percent from NT$1.01 trillion a year earlier, according to company data.
Cheng said the first half of the year is a slow season for consumer electronics and communication products, and it is difficult to predict the second half's performance given the uncertain global economy.
He said the firm's operations will be slow in the first half of this year, while the performance of next quarter might hit a trough due to industry seasonality.
"We forecast revenue this quarter to plunge significantly from last quarter and remain flat next quarter," he said.
The company said that its non-computing segments, which accounted for 78 percent of last quarter's sales of NT$411.98 billion, are expected to see a 40 percent to 45 percent quarterly decline in sales this quarter.
Shipments of notebook computers this quarter are to drop by 25 to 30 percent from last quarter, while motherboard and desktop computer shipments are to be flat or fall by 5 percent from a quarter earlier, the company said.
Pegatron chief financial officer Charles Lin (林秋炭) said the company's capital expenditure is US$300 million this year, with most of the money to be allocated for new facility and equipment purchases in the second half of the year.
The company's board yesterday approved a proposal to distribute a cash dividend of NT$12.95 billion, or NT$5 per share, based on last year's earnings of NT$28.87 billion, or NT$9.23 per share.
That translates into a payout ratio of 54.17 percent, lower than the previous year's 65.7 percent.
The planned cash dividend suggests a dividend yield of 6.15 percent, based on Pegatron's closing price of NT$81.3 in Taipei trading yesterday.
Separately, Cheng welcomed former minister of finance Lin Chuan's (林全) appointment as the premier of the Democratic Progressive Party administration, which is to take office on May 20, saying that Lin's familiarity with Taiwan's industries will definitely benefit the nation.
Lin is an independent director of the Pegatron board and its subsidiary Castek Holdings Ltd (鎧勝).
"Lin has been serving as Pegatron's independent board director since we split from Asustek [Computer Inc, 華碩] in 2010 and he has offered insightful advice to us over the past six years," Cheng said.
He said Pegatron would seek a suitable candidate for independent director with Lin to assume his new post.
Comments will be moderated. Keep comments relevant to the article. Remarks containing abusive and obscene language, personal attacks of any kind or promotion will be removed and the user banned. Final decision will be at the discretion of the Taipei Times.