FEATURE: Iranian cosmetics sector booms despite obstacles
With more than 38 million women and girls, Iran is the second-largest cosmetics market in the Middle East in terms of revenue, behind Saudi Arabia, and the world's seventh-biggest.
"Iranian women wear makeup as soon as they get up in the morning. Even if they feel ill, they know that they must look beautiful in the street," fashion designer Tina Zarinnam, 30, said.
The French luxury brand Lancome recently announced a return to Iran after decades away, inviting about 400 industry types and artists to one of the biggest hotels in Tehran to celebrate.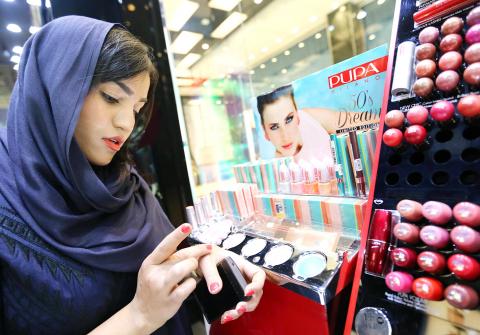 An woman tests a makeup sample on her hand at a cosmetics shop in northern Tehran, Iran, on May 6.
Photo: AFP
It was the first time since the 1979 Islamic Revolution that a major Western brand — Lancome is the No. 1 luxury line of the L'Oreal group — had been launched with such fanfare.
No US cosmetics brands have been sold on the official Iranian market since the US imposed a trade embargo in the 1980s.
US and EU sanctions on oil and other industries remain in force in Iran, despite an interim deal aimed at ending the nation's nuclear standoff with the West, but many foreign businesses have blamed the restrictions for hampering trade.
Makeup professionals estimate that Iranian women buy about one tube of mascara per month, dwarfing the one every four months bought by the French.
Lancome is presented in Iran by the Safir perfume chain, a leading official distributor of beauty products. Created in 2010, the chain has about 20 branches across the country.
"It is a booming market, which is about several hundred million dollars," a brand representative said, adding that this amount is split between its own distribution and the so-called "gray market."
Only 40 percent of Iran's market is controlled by official distributors. The rest is divided among bootleggers who operate in parallel in bazaars and small shops that import cosmetics and makeup illegally, Safir chief executive Pegah Goshayeshi said.
Imports are costly, as regulations are strict and various government officials must approve a product before it is given a label that guarantees its quality.
Wearing makeup does not violate the laws of the Islamic Republic, because Islam does not prohibit perfumes or cosmetics.
"The Prophet Mohammed himself used perfume," Goshayeshi says.
Makeup is also a form of personal expression in a society where compulsory wearing of hijab requires women to cover their hair and their body in loose clothing when outside, regardless of their religion.
Tastes in makeup vary in different parts of the country. In northern Iran, a colored mascara and flowery perfumes are preferred, while women in the south tend to buy black mascara and stronger, more musky perfumes.
Iranian men are also using more cosmetics.
"They take better care of their skin because they want to look younger," Goshayeshi said.
In Iran's severe economic crisis, makeup is considered expensive, but customers bear the costs.
"Makeup affects the wearer... I put on makeup because I love it. I enjoy wearing it. It makes me feel fresh and calm," 42-year-old physiotherapist Forough Heidari said.
The Iranian market is by no means saturated.
"There is still room for luxury goods in the medium or low-end market" despite the presence of 20 Iranian and foreign brands, says Vista Bavar, founder and director of the Caprice brand.
"Iran has a large youth population, most of whom still live with their parents. They do not have to care too much about expenses" and can spend a lot on beauty products, she added.
Comments will be moderated. Keep comments relevant to the article. Remarks containing abusive and obscene language, personal attacks of any kind or promotion will be removed and the user banned. Final decision will be at the discretion of the Taipei Times.