TSMC to expand wafer capacity
POSITIVE OUTLOOK: The expansion is in response to surging demand as emerging economies continue to grow and signs from developed economies look brighter
Taiwan Semiconductor Manufacturing Co (TSMC, 台積電), the world's biggest contract chipmaker, yesterday said it would expand its 12-inch wafer capacity by more than 30 percent next year to meet customer demand.
To support that capacity expansion, TSMC is increasing next year's capital spending to more than this year's US$5.9 billion, which would represent a record-high investment on new equipment, TSMC chairman and chief executive Morris Chang (張忠謀) said yesterday.
HUGE DEMAND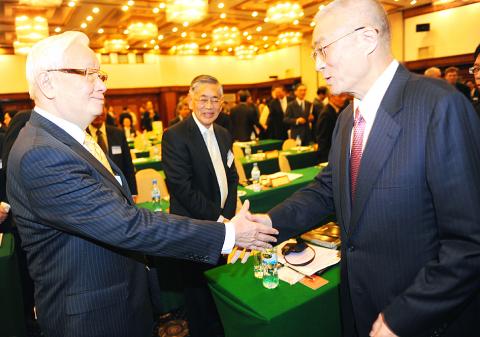 Premier Wu Den-yih, right, shakes hands with Taiwan Semiconductor Manufacturing Co chairman Morris Chang during the closing ceremony for a technology consultants meeting at the Cabinet yesterday.
Photo: Chang Chia-ming, Taipei Times
The "surge [in demand] was so strong that despite our utmost efforts in spending and ramping up manpower, we could not completely meet customer demand this year,"Chang said in a speech at the annual supply chain management forum organized by TSMC in Hsinchu.
Chang said emerging economies, such as China, have been a very important source of growth and recent news from developed economies, which have recovered at a slower pace, was encouraging.
US PICKING UP
Next year, the US economy is forecast to grow at an annual rate of 3 percent to 4 percent, returning to a normal growth range for the world's biggest economy, he said, citing an unspecified projection from US economists.
That could explain why Chang has recently raised his outlook for TSMC's first-quarter revenues.
Chang said on Wednesday that TSMC would have a better than seasonal first quarter, during which its revenues would be flat, or down 5 percent quarterly, compared with the fourth quarter.
TSMC shares yesterday jumped to a two-and-a-half year high at NT$68.30, the highest since May 2008.
TSMC's 12-inch capacity would grow 37 percent this year and it would expand its capacity by more than 30 percent next year, Chang said.
GlobalFoundries Inc, which is funded by Abu Dhabi, has a more aggressive plan.
The chipmaker said earlier this year that it planned to double its 12-inch capacity within two years and triple it in four years.
CAPACITY RISE
TSMC estimated that its 12-inch capacity would rise to 2.52 million wafers after boosting operations with a new factory, dubbed Fab14, and the start of operations in another new plant, Fab 15, next year.
Last year, the chipmaker had a capacity of 1.84 million 12-inch wafers.
TSMC's capacity expansion is based on its forecast for the contract chip manufacturing -industry, which is expected to grow 14 percent year-on-year next year in revenue, Chang said. TSMC would outgrow its peers, Chang added.
Overall, semiconductor industry revenues would grow 5 percent year-on-year next year, Chang said.
Comments will be moderated. Keep comments relevant to the article. Remarks containing abusive and obscene language, personal attacks of any kind or promotion will be removed and the user banned. Final decision will be at the discretion of the Taipei Times.