Motech upbeat on demand for solar cells
CONSERVATIVE: While rival Gintech agreed that demand would rise in the near term, it said visibility for December was unclear given rising wafer prices
Motech Industries Inc (茂迪), the nation's biggest solar cell maker, yesterday said strong customer demand would help keep its factory in full operation this quarter and next, contrary to expectations that the industry was heading for a downturn.
Motech said solar cell prices could hold steady this quarter.
"It's not going to happen in December as some have thought," Motech chief executive Chang Ping-heng (張秉衡) said, referring to some observers' expectations that prices would collapse.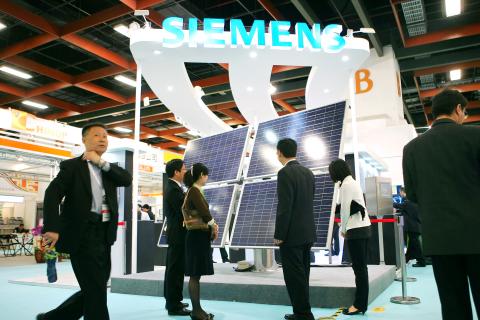 Visitors look at solar panels in the Siemens booth at the Taiwan International Photovoltaic Forum and Exhibition in Taipei yesterday. The show ends tomorrow.
PHOTO: MAURICE TSAI,BLOOMBERG
Chang said prices held up in June and last month instead of falling as some had forecast.
MANAGEABLE
He added that even if solar cell prices were to drop at an annual rate of 10 percent, it would still be manageable for Motech.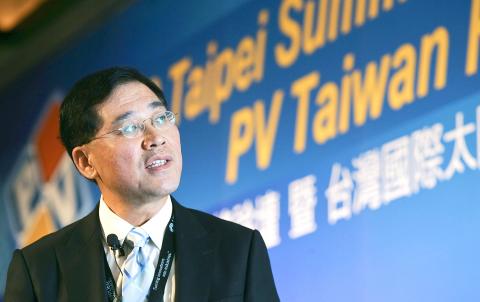 Motech chief executive Chang Ping-heng speaks at the PV Taiwan 2010 forum in Taipei yesterday.
PHOTO: MAURICE TSAI, BLOOMBERG
"The visibility for the fourth quarter is quite clear. It is going to continue the uptrend over the past three quarters," Chang told the Taipei Times on the sideline of a photovoltaics forum in Taipei. "There is no sign of a cutback ... Customers are increasing orders in terms of volume."
Chang said Motech was expanding capacity, but was unable to meet customer demand this quarter and next. He did not provide financial details as the firm is set to release its third-quarter earnings tomorrow.
Next year, demand in Germany might weaken after the government cut solar subsidies, but demand in the US and Canada are expected to pick up, which could partly offset the decline in Europe, Chang said.
Motech is aiming to expand its solar capacity to 1.75 gigawatts next year from 1.1 gigawatts this year.
UNCERTAINTY
Motech's local rival, Gintech Energy Corp (昱晶), agreed that solar cell prices would go up this month and next, but said that visibility for December was unclear.
"There is uncertainty in December as long as solar wafer prices continue to rise," Gintech chairman Wenent Pan (潘文炎) told reporters on the sideline of the forum.
Industry latecomer Topcell solar International Co (聯景光電), a solar cell subsidiary of the world's No. 2 contract chipmaker United Microelectronics Corp (聯電), also participated in the forum.
Company president Allen Guo (郭俊華) said the company's focus now was expanding its capacity.
Topcell, which started mass production last month, aims to boost annual capacity to 800 megawatts in the middle of next year, Guo said.
Guo was a former president of another local solar cell maker, E-ton Solar Tech Co (益通光能).
Comments will be moderated. Keep comments relevant to the article. Remarks containing abusive and obscene language, personal attacks of any kind or promotion will be removed and the user banned. Final decision will be at the discretion of the Taipei Times.