Japanese papers eulogize inventor of instant noodles
FOOD PIONEER Born in Taiwan in 1910, Momofuku Ando put the first instant noodle product on the market in 1958. He died of heart failure on Friday
Japan yesterday bade farewell to Momofuku Ando, known as the inventor of instant noodles that have become a global household product, after he died aged 96.
Ando died of acute heart failure on Friday, said Nissin Food Products Co, the company he founded in 1948 in the aftermath of World War II and built into a multi-billion dollar empire.
Japanese newspapers published lengthy obituaries of the businessman yesterday with the influential Asahi Shimbun praising him for bringing "instant noodles to the world and into space."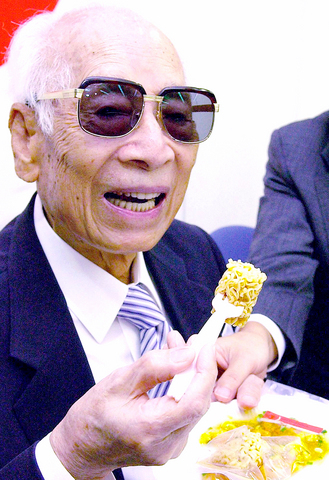 Nissin Foods founder Momofuku Ando samples noodles developed in collaboration with the Japan Aerospace Exploration Agency for Japanese astronaut Soichi Noguchi's mission aboard the space shuttle Discovery during the unveiling in Osaka, western Osaka, on July 27, 2005.
PHOTO: AP
The mass-circulation Yomiuri Shimbun said Ando started from scratch in developing an instant noodle which has "grown with the age of mass consumption" and added "a new chapter in the history of the world's food culture."
Born Wu Bai-fu (吳百福) in Chiayi, Taiwan, on March 5, 1910, Ando initially owned clothing companies in Taipei and Osaka while he was a student at Ritsumeikan University in Kyoto.
After founding the precursor of Nissin, Ando put on the market "Chicken Ramen," the first instant noodle product, in 1958. The chicken-flavored dried noodle cake could be served in minutes by pouring hot water over it in a bowl.
He invented the product, which soon became a hit, at a time when his business ventures were in trouble. As managing director of a credit union that went bankrupt, he had given up his assets to cover the debt.
In his biography, Ando said he was inspired to develop the product when he saw a long line of people waiting to buy a steaming soup noodle at a black market stall in a war-ravaged city.
"Peace prevails when food suffices," he said.
Sales of Chicken Ramen rocketed after Japan's number-one general trading house Mitsubishi Corp was commissioned in 1959 to help promote the product as the country was taking off on its rapid post-war industrialization.
In 1970, Nissin established its US subsidiary, Nissin Foods (USA) Inc, and in the next year launched the "Cup Noodle," a pre-cooked slab of noodles in a waterproof styrofoam container.
Nissin has led the global instant noodle industry which sells 85.7 billion servings each year. Nissin's annual sales of instant noodles amount to 10 billion single servings in 10 countries.
Ando opened a museum of instant Ramen in Osaka in 1999 and retired from the chairman's post in 2005 to serve in an honorary role as founder-chairman.
In 2005, Nissin supplied a vacuum packed instant noodle or "Space Ram" to Japanese astronaut Soichi Noguchi aboard the US space shuttle Discovery.
"It is like a dream that people from rivaling countries can eat Ramen together in space," Ando told reporters at that time.
According to the Mainichi Shimbun, Ando was last seen in public on Wednesday when he made a New Year's speech at Nissin's head office in Osaka and had a lunch with executives, a bowl of Chicken Ramen with rice cake.
Comments will be moderated. Keep comments relevant to the article. Remarks containing abusive and obscene language, personal attacks of any kind or promotion will be removed and the user banned. Final decision will be at the discretion of the Taipei Times.