First Bank planning expansion
First Bank was named Bank of the Year 2006 in Taiwan by British magazine 'The Bankers' last month. It is the first state-controlled lender to win such an honor. Michael Chang, chairman of parent company First Financial Holding Co, talked with 'Taipei Times' staff reporter Amber Chung and other reporters yesterday and gave an outline of the bank's future development.
Question: Do you plan to expand First Financial Holding Co (第一金控) and flagship unit First Commercial Bank (第一銀行) through mergers and acquisitions (M&As)?
Michael Chang (張兆順): We plan to beef up our share in the banking market by assets to 10 percent through organic growth and acquisitions over the next three years.
This means that we need to boost the bank's assets to NT$2.6 trillion (US$80.5 billion) from the current NT$1.7 trillion within the planned timeframe, and M&A is the best and fastest way to achieve it.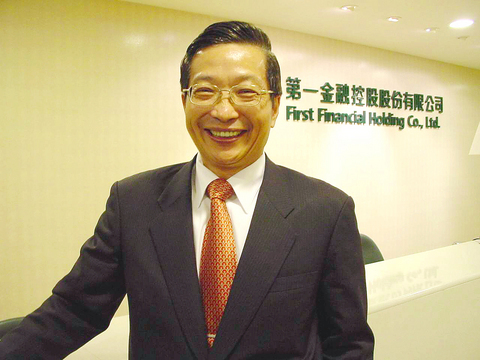 First Financial Holding Co chairman Michael Chang greets reporters in January. The company's subsidiary, First Bank, became the first state-controlled lender to be named Bank of the Year by the British magazine The Bankers.
PHOTO: CHEN LI-CHU, TAIPEI TIMES
We conducted several acquisition evaluations this year and made preliminary contact with several consumer banking prospects.
But the talks did not go any further, as the prices and premium that they were asking for were too high, especially after Standard Chartered Bank acquired Hsinchu International Bank (新竹國際商銀) at NT$24.5 per share in September.
Even so, we will continue to look into M&A opportunities next year.
Taking over troubled banks is not an option, since we want to enhance our return on equity (ROE) to 15 percent from the current 13 percent. Our foreign investors have also expressed their concern in this regard.
We prefer targets of complementary strength in wealth management and the treasury marketing business, the two areas that we are eager to develop and are critical to our future growth. The market size of derivatives trading, for instance, is estimated to reach NT$7.3 trillion in Taiwan, while First commercial currently has only NT$90 billion in this business line. There is huge room for us to grow.
Q: First Financial is forming a joint venture with Aviva Plc, the biggest insurer in the UK, to enter Taiwan's bancassurance market by the end of this month. Will you extend the strategic alliance into equity investment in First Financial?
Chang: We are not in any equity investment talks at the moment. The alliance is simply designed to set up an insurance joint venture.
The startup is expected to help us break into the nation's life insurance market and further into the development of pension fund products that can enhance our wealth management business.
The potential for pension planning product business is massive, considering the fact that the scale of the nation's pension fund is increasing by NT$8 billion per month, or nearly NT$100 billion per year.
Q: Do you have any plan to introduce international strategic investors?
Chang: We welcome purely financial investors, either local or international, who are stable and not looking for speculative gains.
We will continue to lure foreign investors with our earnings performance and plan to boost their shareholding in the company from the current 15 percent.
I will go on my first overseas tour since taking over the helm last year in Hong Kong and Singapore next week.
First Bank has a solid performance compared to rivals, with net income reaching NT$9.9 billion for the first eleven months of this year and lending balance rising to NT$940.6 billion from NT$869.1 billion with a net interest margin of 2.05 percent.
Q: What are your overseas development plans?
Chang: We have obtained a green light from the Financial Supervisory Commission to set up our first branch in Australia where sees robust overseas Taiwanese investment. The bank will tender the application to the Australian regulator three to four months from now and we expect the branch to be opened next year or 2008.
We are also planning to get a foothold in Canada and India in the future. We have just sent two people to conduct an on-site evaluation in Mumbai and Delhi in India. Our US subsidiary is opening more branches next year on the top of the current five outlets across the country.
Our expansion of overseas networks is tied to providing our Taiwanese corporate clients with global financial services. We have seen decent returns from our overseas operations -- income increased 25.63 percent this year over last year.
Q: Since the bank has set up a representative office in Shanghai, what is your blueprint for China's market?
Chang: We do have a plan for the Greater Chinese markets that comprises Taiwan, Hong Kong and Vietnam, and have identified hundreds of key customers to be closely tracked in order to boost our business in this aspect.
Comments will be moderated. Keep comments relevant to the article. Remarks containing abusive and obscene language, personal attacks of any kind or promotion will be removed and the user banned. Final decision will be at the discretion of the Taipei Times.