Merger of Sinopac, IBT well received
`POSITIVE DEVELOPMENT' Observers say that the merger was a setp forward for the administration's plan to halve the number of financial holding companies
Analysts lauded SinoPac Financial Holdings Co's (建華金控) takeover of International Bank of Taipei (IBT, 台北國際商銀) yesterday, saying the marriage helps to consolidate Taiwan's scattered banking market.
"This is a positive development to help solve Taiwan's over-banking problem," said Victor Shih, who helps manage US$2.4 billion at HSBC Asset Management Taiwan. "We're finally seeing some progress in Taiwan's financial reform."
SinoPac, Taiwan's 10th-biggest lender, on Thursday agreed to buy IBT for NT$48 billion (US$1.5 billion), advancing the government's plan to halve the number of finance companies by the end of next year.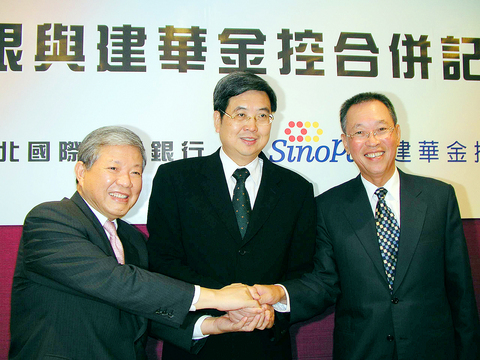 Financial Supervisory Commission chairman Kong Jaw-sheng, center, shakes hands with International Bank of Taipei chairman Ho Shou-chuan, left, and SinoPac Financial Holding Co chairman Edward Chien after the companies signed an agreement to merge yesterday.
PHOTO: LEE CHING-HUI, TAIPEI TIMES
SinoPac offered 1.36 of its shares for each IBT share. It's the fourth financial merger in the past three months in Taiwan, and will create the nation's eighth-largest financial holding company.
Taiwan wants its lenders to merge to help them compete with foreign rivals, such as Citigroup Inc and HSBC Holdings Plc. Ho Shou-chuan (何壽川), chairman of IBT, took control of SinoPac's board in May and forced it to spurn a higher offer by Taishin Financial Holding Co (台新金控).
"Ho rejected Taishin's better offer as he prefers to stay in control of SinoPac," said Kevin Yang (楊師銘), who manages the equivalent of US$100 million as vice president of International Investment Trust Co (國際投信) in Taipei. Ho controls 17 percent of SinoPac.
The government is offering the nation's almost 50 banks and 14 financial holding companies, which serve 23 million people, incentives to merge, such as easier approval to sell products.
Taiwanese banks have some 3,200 branches plus some 1,200 credit cooperatives and foreign bank branches, even more than the some 3,600 7-Eleven outlets in the country.
On May 10, SinoPac named Ho to take charge of the board. Two weeks later he backed the election of Edward Chien (簡弘道) as SinoPac's chairman, replacing Richard Hong (洪敏弘) who wanted a merger with Taishin Financial, which offered to pay NT$23.50 in cash and stock.
Chien is a former chairman of Hua Nan Commercial Bank (華南銀行), the flagship of Hua Nan Financial Holdings Co (華南金控), Taiwan's fourth-largest financial holding company.
After the merger, SinoPac will have combined assets of about NT$1 trillion and control 3.6 percent of Taiwan's loan and deposit market, becoming Taiwan's fourth-largest publicly-owned bank with 129 branches. The nation's top five banks by assets are all government-controlled.
"The two banks are complementary," Ho said in a statement. "The merger can create better value and returns."
The deal is expected to increase annual pretax profits by as much as NT$3 billion, according to SinoPac. IBT shareholders will account for 42.3 percent of SinoPac after the merger.
SinoPac and IBT will hold shareholder meetings on Aug. 26 to approve the plan. International Bank will also pay its shareholders a NT$0.9 dividend.
Taiwan is aiming to shrink the number of financial holding companies by half to seven in two years and have each of the top three dominate at least 10 percent of the market.
The government also plans to have at least one financial institution run by an overseas investor, or to sell shares abroad in a financial company, by the end of 2006, according to the statement released after a meeting between President Chen Shui-bian (陳水扁) and his economic advisory panel last year.
On June 24, Chang Hwa Commercial Bank (彰化銀行), Taiwan's sixth largest lender by assets, said it plans to sell NT$25.2 billion of preferred stock, or 1.4 billion shares at NT$17.98 each in a private placement. The government is the biggest shareholder in Chang Hwa with a 23 percent stake.
The government wants to sell its stakes in three other financial services companies, including Central Trust of China (中央信託局).
Comments will be moderated. Keep comments relevant to the article. Remarks containing abusive and obscene language, personal attacks of any kind or promotion will be removed and the user banned. Final decision will be at the discretion of the Taipei Times.