Mister Donut eyes permanent spot on Taiwan's culinary landscape
Three months after the first Mister Donut opened in Tianmu, critics are questioning whether the doughnut fad has staying power. But the Japanese chain insists it's in Taiwan for the long haul
Taiwan's latest culinary fad has actually been around for a long time. It is, however, being rediscovered this year with a few twists and with a little help from the recently opened doughnut shop Mister Donut. \nJust arrived from Japan, the doughnut shop created a stir in Taiwan when it first opened for business, attracting both the uninitiated and long-time doughnut lovers seeking to satiate a craving. People waited for hours, despite the rain and cold weather, to get a taste of the fried confection, and came out carrying large paper shopping bags filled with doughnuts. \nJust three months after Mister Donut opened its doors in Tianmu, it established another location in the East District. According to Mister Donut Taiwan public relations manager Anita Lai (賴文琦), more than 10,000 doughnuts are sold daily on average at each location. Mister Donut has even had to limit the number of doughnuts that each customer can purchase per visit and employ interns to help regulate lines and maintain order. \n"After all the hype, I expected the doughnut to be incredible, like manna from heaven," one consumer joked, describing the buzz the doughnut shop was creating. \nMonths after it first opened its doors in Taipei, long lines have persisted outside the doughnut shop. Thomas Fu (傅恩弘), a self-professed doughnut lover, told the Taipei Times that he had stood in line for over three hours last month, almost four months after Mister Donut's grand opening in October. Fu hails from the southern city of Tainan but traveled to Taipei just to visit the doughnut shop. \nAnother Taipei city dweller surnamed Su (蘇) said that while he had been interested in trying Mister Donut, the incredible lines he invariably saw while passing the store always kept him away. \nIts popularity seems to indicate that Mister Donut has managed to bring renewed novelty to an old favorite. Other popular chain outlets, such as Dante Coffee Shop (丹提), have already begun to jump on the trend by adding doughnuts to their menus. \nBut given Taiwan's history of gastronomic fickleness, is Mister Donut just the fashionable trend of the moment or if it is likely to become a more permanent fixture in Taiwan? Portuguese-style egg tarts (葡式蛋塔), bagels, cream puffs, and Hong Kong-based shaved ice chain Hui Lau Shan (許留山) all had their turn in the limelight before all but disappearing from the market. \nIt is perhaps useful to note that US doughnut giant Dunkin Donuts had an unsuccessful stint in Japan in the 1970s before pulling out. Despite a global presence spanning at least 30 different countries, South Korea is the only nation in East Asia that continues to boast Dunkin Donuts shops. The viability of the business in the region is questionable. \nLai said that she was confident that Mister Donut would catch on in Taiwan. She stressed that unlike other doughnut shops, Mister Donut offered breakfast pastries that were tailored to the preferences of its Asian consumers. \nPerhaps confectionery offerings such as seaweed-flavored doughnuts would be written off as appealing only to the gastronomically daring, but for Mister Donut, it is perhaps the secret of its success in Taiwan. Other flavors you wouldn't find at Dunkin Donuts include red bean and peanut. \nLai explained that Mister Donut had conducted surveys to ascertain what kind of doughnuts would be most popular with consumers in Japan and Taiwan. \n"For starters, our doughnuts are not as sweet," she said, "and all of our ingredients come from Japan." \nShe explained that in addition to the wide variety of flavors, toppings, and fillings that can be found at Mister Donut, its doughnuts also come in three different textures. In addition to the more traditional cake and bread-like doughnuts, Mister Donut also offers mochi-textured doughnuts. Mochi is a Japanese dessert made of glutinous rice. Mister Donut's selections are also smaller in size when compared with their counterparts at Dunkin Donuts. \nMost who braved the lines to try the doughnuts found them satisfactory, if a little on the chewy side. \n"It's the best donut you can get in Taiwan, but it's not as good as Dunkin Donuts," Fu told the Taipei Times. "If someone bought some for me, I'd eat it," he said, but indicated that he would not buy the doughnut again for himself. \nHe noted that the doughnuts, priced between NT$25 to NT$35 each, were acceptable even in comparison with similar food products sold at local vendors and bakeries. \nAnother consumer however said indignantly, "They were chewier than I expected. I don't want my doughnut to taste like mochi." \nBut despite these complaints, the franchise's success in Japan indicates that Mister Donut might be here to stay. There are currently 1,319 outlets in Japan. Mister Donut Taiwan is a joint venture formed between Taiwan's Uni-President Enterprises Corp (統一企業) and Japan's Duskin Co. The partners plan to take Taiwan on a similar trajectory, aiming to open 100 outlets within the next three years. \nA cursory glance at the rapid expansion of the 7-Eleven convenience stores in Taiwan also suggests that the nation is franchise-friendly. \nJapan and Taiwan boast, perhaps not coincidentally, the largest number of 7-Elevens in the world. According to the convenience store's Web site, Taiwan is second only to Japan in terms of the total number of stores per nation. Since the establishment of the first 7-Eleven in 1980, the franchise has opened upwards of 3,470 locations in Taiwan whereas there are just under 1,000 7-Eleven outlets in the US and Canada together. Japan has over 10,000 outlets. \nApart from 7-Eleven stores, the Uni-President family also introduced the Starbucks coffee chain to Taiwanese consumers in 1998. \nWhile the lines that have formed outside the shop should be testament enough to the popularity of Mister Donut, the franchise relied on nothing but the power of word of mouth to promote itself. Lai confirmed that no advertisements were placed on television or in newspapers. \n"The lines that have formed have been beyond what we expected," she said. \nHowever, whether the doughnut chain can keep people in line and coming back for more will be critical to its future success. \n"Just as Starbucks created a sort of `coffee culture,' our doughnuts offer people new choices. And these new choices will soon become new consumer habits," Lai said, citing the wide variety of flavors available at Mister Donut. \nWhether Mister Donut will be able to continue expanding its turf in Taiwan and become an established "consumer habit" in the future remains unclear. But for the time being, those who want a doughnut will just have to get in line.

A customer inspects the tasty treats on display at Mister Donut.
PHOTOS: SEAN CHAO, TAIPEI TIMES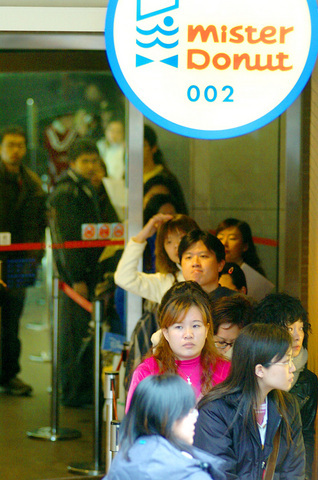 Customers brave long lines to get their doughnut fix.
Comments will be moderated. Keep comments relevant to the article. Remarks containing abusive and obscene language, personal attacks of any kind or promotion will be removed and the user banned. Final decision will be at the discretion of the Taipei Times.