Webcasters about to face royalty fees
INTERNET It will soon be time to pay the piper as the US Copyright Office considers rates that online music broadcasters will have to pay for the music they play
Earlier this year, Onion River Radio, an Internet radio station that describes itself as "classic rock, singer-songwriter, with slightly granola leanings," was optimistic about its chances of surviving as an alternative to the usual broadcasting available in its home market of Montpelier, Vermont. Its audience was growing fast, and advertisers were slowly beginning to take an interest.
Then in February, a panel appointed by the US Copyright Office recommended music licensing rates that would compel Onion River, along with thousands of other fledgling Webcasters, to pay more than half its revenue in royalty fees to the recording industry.
"It's a bankruptcy royalty," said Frank Schliemann, Onion River's founder, who traveled to Washington to complain to Senator Patrick Leahy. "It's a losing situation."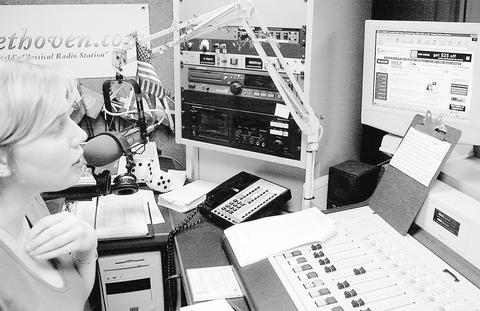 Nicole Marie is a disc jockey on an independent Internet station, Beethoven.com, based in Hartford, Connecticut, which may soon have to pay US$100,000 a year under a proposed royalty formula.
PHOTO: MY TIMES
The proposed royalties, which the copyright office has until May 21 to revise or approve, have radically dimmed the prospects for the legions of entrepreneurs and hobbyists whose radio stations -- from MinistryofSound.com to Radio Margaritaville -- have for the last two years provided free access to a startlingly wide range of music. Last week, lawyers for the Webcasters and the recording industry submitted their final comments to the copyright office, with the record labels urging the agency to increase the rate and the Webcasters pleading for a lower alternative.
Internet stations have plastered their sites with requests that listeners write to Congress and with links to www.saveinternetradio.org, an advocacy and information site. "It's not an exaggeration to say the number of Internet radio stations will shrink from tens of thousands to four or five if this goes through," said Kurt Hanson, editor of Radio and Internet Newsletter.
Recording industry representatives dismiss such predictions as alarmist. They say they want to see Internet radio flourish, but not at the cost of subsidizing it.
"Webcasters have certainly found a way to pay for every other cost that is necessary for their business," said Steven Marks, senior vice president for business and legal affairs at the Recording Industry Association of America. "They pay for the bandwidth, they pay for their computers, they pay for the streaming software. There's no reason they should not be able to pay for the very music they're building a business on."
Record labels have been reluctant to license their music for online distribution, not wanting to supply listeners with more material to copy free over file-sharing services like Napster and Morpheus. But Webcasts are similar to conventional radio and do not carry the same risk of being recorded and copied.
Different standards
In a 1998 copyright law, Congress gave Webcasters an automatic license to stream copyrighted music so long as they paid a royalty fee to be agreed on later. Like broadcast radio stations, Webcasters already pay about 4 percent of their revenue to compensate composers and music publishers.
But US broadcasters have never paid a royalty for using sound recordings, which are typically owned by a record label, successfully arguing that record labels are already compensated by the promotional benefits of having their music played over the air.
Webcasters argue that the recording industry should recognize that it derives a similar benefit from music that is streamed over the Internet. In an arbitration panel proceeding supervised by the copyright office, the Webcasters proposed a royalty rate about equal to those paid to composers and publishers, 5 percent of revenue. The recording industry asked for 15 percent of revenue, or a comparable per-performance fee.
In February, the arbitration panel proposed a formula of 0.0014 cent per song, per listener. Conventional broadcasters who stream simultaneously on the Internet would pay half that rate. The rate falls between what the two sides asked for. But because there is no option to pay a percentage of revenue, and because so few Webcasters are making money on advertising, it works out in some cases to far more than a station's total revenue.
For Beethoven.com, one of the highest-ranked independent Internet radio stations by the Arbitron ratings service last year with more than 100,000 unique listeners each month, that could mean an additional US$100,000 in costs a year, at a time when the station has yet to break even. The Webcasters are also accountable for four years of retroactive payment.
Kevin Shively, director of interactive media for Beethoven.com, thinks his station's market will grow as classical music becomes harder and harder to find on broadcast radio.
He says the Internet would seem to be an ideal distribution medium for an audience of devoted fans who are geographically scattered. But he said the station, which is owned by Marlin Broadcasting, might well go under before that happened.
"What really baffles us is why they would see us as an enemy and not a friend," Shively said, adding that listeners bought US$20,000 in compact discs through the site last year. Especially in genres being played less now on broadcast radio stations, like classical music, jazz and blues, "we can provide an avenue of promotion that they would not otherwise get."
Compared with broadcast radio, of course, the market for Internet radio is tiny. A study by Arbitron found that 95 percent of Americans listen to broadcast radio in a given week, while only 9 percent listen to Internet radio. Webcasts over America Online, Microsoft, Yahoo and RealNetworks have the largest audiences, and the royalty payments are unlikely to pose a problem for such large companies, which can afford to subsidize their radio operations until they become profitable.
But critics say that such a scenario will simply re-create on the Internet the pattern of consolidation that has lumped conventional radio under a handful of owners and led to rigid formats in every major market that has been widely criticized as formulaic.
Arguing that it is in the interest of listeners to promote more choices, Bill Rose, general manager of Arbitron Webcast Services, wrote to Representative James Sensenbrenner and chairman of the House Judiciary Committee, advocating a five-year moratorium on royalties for Webcasters.
"Since streaming media has almost a zero cost of entry," Rose said in an interview, "one of the beauties of this is you have the ability to have an infinite number of voices -- music of the Caribbean or Celtic music or klezmer music for people who have a passion, but can't get it from other sources. The danger is that these fees will put that diversity at risk."
Some Webcasters argue that the real danger is not so much to the diversity of music but the diversity of radio ownership. The record companies have begun offering their own music over the Internet, and may start radio stations of their own.
"Will Internet radio exist one way or another? Yes, probably," said John Jeffrey, executive vice president of Live 365, a network of 47,000 radio stations. "It's the opportunity for anyone to create businesses outside of the few companies who already control the copyrights that is really at risk with this rate-setting."
But Marks of the recording industry association said consumers would be better off with Internet radio companies that could support themselves. "Is it better for them to be in business and pay nothing?" he said.
"I don't think artists and record companies would agree with that. They're not in the business of subsidizing people who want to use their music. They want to survive."
For Deborah Milliken of Newburgh, New York, that will almost certainly mean abandoning her DJ identity -- Java Jane -- and the 1,000 listeners a day she has attracted over the last year to her station, Generation 80s Retro Radio. Milliken, a mother of two, estimates that the royalty fees, if approved, will cost US$200,000 a year.
"I love my hobby," she wrote in an e-mail message, referring to bands like Bauhaus, the Alarm and Bronski Beat. "This music cannot be found compiled anywhere else except on the Web. There are no terrestrial stations playing this sort of music at all."
The prospect of the fees and the reporting requirements that would come with them has already caused some Webcasters to remove their streams from the Web. Jack Daray, a jazz buff in Olympia, Washington, who says his local jazz station is too predictable, recently discovered that the college radio station in San Diego he had been depending on for new music had been removed from the Web.
"Webcast Down!" a message on the KSDS-FM site reads. ``Although the music of Jazz88 was enjoyed and highly regarded beyond our broadcast range, larger forces are exerting their influence."
"It's really disappointing," Daray said. "You sort of feel like somebody shut down the library on you."
Comments will be moderated. Keep comments relevant to the article. Remarks containing abusive and obscene language, personal attacks of any kind or promotion will be removed and the user banned. Final decision will be at the discretion of the Taipei Times.