BA, Iberia seal long-awaited merger
LONG PURSUIT The two loss-making airlines hope the deal will give them the scale they need to survive, while US Airways and United Airlines may also merge
British Airways (BA) and Spanish carrier Iberia signed a merger agreement yesterday, sealing a long-awaited deal to create the world's third-largest airline by revenue.
The deal, which creates a group with a combined market value of around US$8 billion, majority owned by BA shareholders, ends the British company's long pursuit of Iberia, and will allow it to emulate rivals Lufthansa and Air France, who have successfully acquired smaller peers.
"The terms and conditions of the merger agreement are in accordance with the memorandum of understanding signed by both airlines in November," the companies said in a joint statement.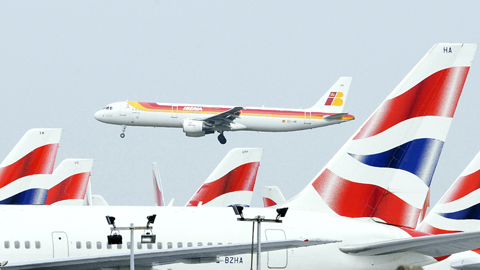 An Iberia Airlines passenger jet passes over British Airways aircraft as it lands at ­Heathrow Airport in west London on March 21.
PHOTO: REUTERS
The merger will give the two loss-making airlines the scale they need to ride out the industry downturn and compete with larger rivals and budget carriers such as Ryanair.
BA and Iberia shareholders will be asked to approve the deal in November and the merged company will be headquartered in London.
The new firm, which will have annual revenues of around US$20 billion, combines BA's strong position in Europe to North America with Iberia's Latin American business, and could be reinforced by a planned alliance with American Airlines.
The agreement comes after recent strikes by BA cabin crew in a dispute over pay and jobs, which cast doubt on BA's future.
The merged entity, which will fly with 408 aircraft and 200 destinations by the end of this year, could cut less profitable short-haul flights and compete better on the routes it retains.
BA and Iberia target annual synergies of about 400 million euros (US$532 million) by the end of the fifth year as one company.
The pair began merger talks in July 2008 in response to slowing passenger demand.
US AIR, UNITED IN TALKS
UAL Corp's United Airlines is in merger talks with US Airways in a deal that could create the ­second-largest carrier in the US, two sources familiar with the matter said.
The discussions, aimed at cutting costs and competing with a combined Delta-Northwest, have been going on for a few weeks, and could fizzle or lead to talks with other carriers, the sources said. The talks are not in advanced stages, they said.
This would not be the first time the two airlines have tried to merge: In 2000, they announced a US$4.3 billion deal that fell apart on opposition from labor unions and the Department of Justice.
In 2008, sources had told Reuters that US Airways was in parallel talks with United and Continental Airlines Inc about a possible merger, when Delta Air Lines was merging with Northwest to create the world's largest airline.
The talks ended as United chose to pursue an alliance with Continental instead.
Airline industry consultant Michael Boyd said United's talks with US Airways might be intended to signal to Continental that they are ready to renew merger talks.
"If you take a look at those two carriers, there's a tremendous amount of overlap," Boyd said, referring to United and Continental. "This is likely to get Continental, which would be a better fit, out of the barn to start talking."
Many airline executives have called for consolidation, saying it is a necessity for the industry to return to profitability.
The airline industry has lost US$50 billion in the past 10 years, including US$11 billion last year, according to the International Air Transport Association.
The industry has been struggling with high fuel prices and a pullback in consumer spending amid a weak economy.
US Airways and Continental declined to comment.
UAL spokeswoman Jean Medina also declined to comment, but added: "We've been consistent on our position on consolidation generally for several years, and that position is well known."
Comments will be moderated. Keep comments relevant to the article. Remarks containing abusive and obscene language, personal attacks of any kind or promotion will be removed and the user banned. Final decision will be at the discretion of the Taipei Times.