Buffett-backed BYD to launch hybrid car sales in China today
Chinese car and battery maker BYD Co (比亞迪), backed by US billionaire investor Warren Buffett, said it would start sales of plug-in hybrid cars with solar panels to the public in Shenzhen today.
The company said it will go ahead with the plan to sell the car to mass consumers as planned, despite rumors that it might postpone the date while waiting for the government to announce new consumer subsidies for new energy cars.
"There had been some rumors that we might delay," BYD spokesman Paul Lin (林密) said in a telephone interview yesterday. "This will be an upgraded version of the F3DM that we have sold to government and corporate clients."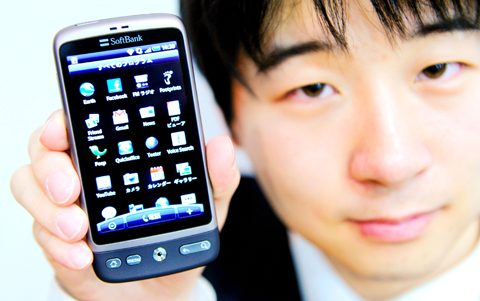 An employee of mobile communications operator Softbank introduces the company's new smartphone, called "HTC Desire," during a press preview in Tokyo yesterday.
PHOTO: AFP
The company has sold several hundred F3DMs, a hybrid vehicle, to the Shenzhen government and companies such as power producers to help cut emissions in the bustling south China city.
BYD's new F3DM is a low emission version with a solar panel on the top of the car, allowing it to run on gasoline, electricity and solar energy.
"The price tag will be announced tomorrow and the cars will be launched in Shenzhen and other cities," Lin said.
Ordinary F3DMs are priced at nearly 150,000 yuan (US$21,970) each.
The solar panel can collect energy for the car in daytime, although it is not designed to power the car alone, Lin said.
Analysts have said the car's success will depend on government subsidies due to its relatively high cost compared with BYD's other models that start from 30,000 yuan.
Individual car buyers were expected to get 3,000 yuan to 60,000 yuan in subsidies for new energy cars and the policy will be formally announced next month, local media reported on Friday. Lin said the government subsidy plan was still in discussion but he expected it would be announced soon.
Separately, Lin said BYD began to deliver its first 100 e6 electric cars this month, for use as taxis. It will launch the e6 for sale to pilot customers later this year.
Comments will be moderated. Keep comments relevant to the article. Remarks containing abusive and obscene language, personal attacks of any kind or promotion will be removed and the user banned. Final decision will be at the discretion of the Taipei Times.