Japan eyes 4 million new jobs within next decade
A YEN FOR BUSINESS The Hatoyama government aims to create new demand worth more than US$1.1 trillion as it seeks to resuscitate the world's No. 2 economy
Japan unveiled an ambitious goal yesterday to create more than 4 million jobs by 2020 and achieve robust economic growth with steps to boost the tourism, environment and health sectors.
Japanese Prime Minister Yukio Hatoyama, battling sinking poll ratings and a political fund scandal, unveiled a target of annual economic growth of more than 2 percent, adjusted for price changes, over the next decade.
The government has forecast a 2.6 percent contraction in real GDP in the current fiscal year to March next year.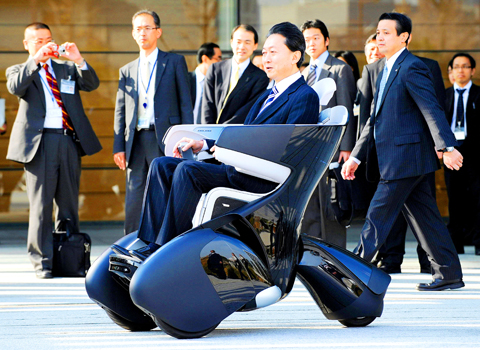 Japanese Prime Minister Yukio Hatoyama drives an electric-powered personal vehicle called "i-Real" from Japanese auto giant Toyota Motor at his official residence in Tokyo yesterday.
PHOTO: AFP
His three-month-old government aims to create new demand worth more than ¥100 trillion (US$1.1 trillion), seeking to resuscitate the world's second largest economy after its worst recession in decades.
It was vague about exactly how it would achieve the lofty goals, saying it would come up with more concrete measures by around June.
It hopes 1.4 million jobs will be created in the environment and energy sectors by encouraging development of new technology, such as fuel-efficient cars, along with an additional 2.8 million jobs in the healthcare sector.
Hatoyama's government, which took power in September, also plans to develop a new indicator that would gauge how happy people are, reflecting worries that traditional measures such as gross domestic product are becoming obsolete.
Surveys have shown that despite Japan's status as the world's second-largest economy, many people are unhappy with their standards of living.
Japan's jobless rate hit a record 5.7 percent in July. Although it has since retreated somewhat, last month it worsened for the first time in four months, rising to 5.2 percent.
Policymakers are increasingly worried that renewed deflation might threaten the country's economic recovery prospects.
Hatoyama's center-left Democratic Party of Japan swept to power in August elections, ousting the long-ruling conservatives.
He has pledged to focus on improving people's incomes through measures such as increased childcare allowances, rather than aiding big business.
The political blue-blood last week marked a troubled first 100 days in office that has seen his public approval rating sink below 50 percent, compared with more than 70 percent in his first weeks in office.
Last week he apologized after one of his former aides was indicted for allegedly misreporting millions of dollars of political donations.
Comments will be moderated. Keep comments relevant to the article. Remarks containing abusive and obscene language, personal attacks of any kind or promotion will be removed and the user banned. Final decision will be at the discretion of the Taipei Times.